'Begin as you mean to go on, and go on as you began' ― Charles H. Spurgeon
Sue Higginson, who has been chipping away at environmental injustice for decades, is about to make Parliament sit up and take notice, and more importantly: take action.
Local mother, grandmother, partner, activist, farmer, and lawyer, Sue Higginson, can now add NSW MLC to her list of hyphenates.
Sue Higginson was sworn in last Thursday, May 12, at 10.30am, at the Legislative Council Chambers in Sydney. Greens MLC Faehrmann did the honours by proposing Higginson as an eligible person to fill a vacant seat. 'Mr President, I move that Ms Susan Higginson be elected as a member of the Legislative Council to fill the seat in the Legislative Council previously vacated by Mr David Shoebridge. I indicate to the joint sitting that if Ms Susan Higginson were a member of the Legislative Council, she would not be disqualified from sitting or voting as such a member and that she is a member of the same party, The Greens, as David Shoebridge.'
Member for Ballina, Tamara Smith, seconded the motion.
First speech
Anyone watching knew that it was the beginning of something historic, when last night, Higginson made her first speech in the New South Wales House of Parliament – and if the saying 'start as you mean to finish' is anything to go by, Sue intends to (eventually) go out with a bang.
Ms Higginson began by acknowledging that she was on the land of the Gadigal people of the Eora Nation, paying respects to their elders past and present – but her acknowledgement of Country wasn't just a cursory nod to current 'political' correctness.
Higginson's heartfelt sentiment was the foundation of a truthful, pull-no-punches speech that exposed the status  of the institution she is about to turn on its head.
'This land like all land across this state was never ceded. It always was and always will be Aboriginal land, and until there is truth, treaty and voice for First Nations people, the work done in this place, like everywhere in this state, is done under the dark cloud of the brutal aspects of continuing colonialism.
'We must all work together for truth, treaty and voice and not simply because it is the right thing to do, which of course it is, we do it because it makes things better for everyone, and that is our job here.'
Life in a northern town
Ms Higginson, like so many in the region, became a flood refugee in March. 'I'm from the Northern Rivers. I live, love, farm and work on the lands of the Galibal and the Widjabul Wia-bal people of the Bundjalung nation. It's upon those lands that I found my spiritual homelands. I pay my respects to the elders past and present of the people of those lands. I acknowledge First Nations people across the land and the tens of thousands of years of connected, responsible and sustainable land management and custodianship, and recognise that we all benefit from this today.
'I have worked with and represented First Nations people in courts across New South Wales, as we have fought against the destruction of their cultural heritage.
'The laws that have been posited in this place, that claim to be for the protection of cultural heritage are woeful and grossly unfair. They don't protect, they facilitate destruction. It's an indictment that we are the only state that does not yet have standalone cultural heritage laws. Let's all work together to change this to enact cultural heritage laws, determined and administered by First Nations people and to improve the many other laws that stand in the way of First Nations justice in this state.'
Proud to be Green
Ms Higginson said that she stood in the chambers as a very proud Greens representative. 'I am humbled and excited to join my colleagues and dear friends in this place. Ms Cate Faehrmann and Ms Abigail Boyd, and in the other place, Ms Tamara Smith member for Ballina, Miss Jenny Leong, Member for Newtown and Mr Jamie Parker Member for Balmain.
'As Greens we are committed to, and held up by four pillars – ecological sustainability, grassroots participatory democracy, social justice, and peace and non-violence. These four pillars bring us together as a party that is representative of an innovative, caring, brave, complex and growing movement.'
She also acknowledged the roots of the party and almost joyfully enumerated the achievements of the past and the current standing of the Greens within Australian politics. 'Bob Brown is the embodiment of all things we of the Greens are and represent.'
From the formation of the Greens in New South Wales in 1980s, the Australian Greens in 1992, to Ian Cohen riding the bow of a warship, to the formidable work of Lee Rhiannon, Jan Barham, the late John Kaye, Sylvia Hale, and Mehreen Faruqi, 'who continues to serve as one of our awesome Green senators'.
These boots
Ms Higginson also acknowledged the boots she was about to slip on. 'Most recently departed from this place and sorely missed is David Shoebridge, whose seat I now take and apparently whose shoes I have to fill. David's tireless contribution to this place has been outstanding in every single way. I have a very strong sense that he will continue on his journey at the forefront of Greens politics in the Australian political landscape after this coming Saturday. We certainly need him to do that.'
Ms Higginson said that today the Greens are not just the party for the environment. 'We are the party at the forefront on the wider platform of justice and inclusion – justice for First Nations people, children, people with disability, refugees, women, students, LGBTQI people and individuals and families living in poverty.
'We now have ten Federal MPs, 23 state MPs and more than 100 greens councillors, including mayors, and it's highly likely that after this Saturday the 21st of May, we will have more greens MPs in the Australian Parliament, making us a substantial and sustained growing force in Australia's political landscape.'
Detrimental past, terrifying present and hopeful future
As ever, Higginson tied together her summation of the detrimental past, the terrifying present and a hopeful future, with unfailing passion and well researched science.
'Unlike the Coalition and Labor, we've played by different rules, we've refused those corporate and dirty donations. We haven't acted through fear or favour. We haven't formed a compromised coalition, we haven't fallen victim to the lust for power. Instead, we have worked upon those four solid pillars and taken positions based on science, evidence and principle – staying true to the practice of grassroots democracy and the politics of justice, love and hope.'
Did you now there's an election this Saturday?
In a moment of pertinent humour, Higginson spoke about this weekend's election. 'It's here I remind everyone if you haven't already voted, make sure you Vote 1 Greens in this coming federal election. Do it for our momentum, and if you're not into momentum, it's not your thing, do it because this is the climate election and we are the force that can and will escalate climate action, the action we need.
'Climate change is not coming. Climate change is here.
'We must do what we need to do to stop the impacts of climate change getting worse than what is already locked into our future. The warning time is spent, the code red for humanity has been given.
Higginson said she stopped reading the IPCC reports and background documents for advice on predictions and models, when the Gondwanan ancient rainforests of the north caught fire in 2019. 'Those forests don't catch fire.'
'I have read well and desperately the report's adaptation pages. However, the words and advice on adaptation that I'm looking for now are simply not yet written. If you don't know what I mean, it's because you are not from Lismore, the Northern Rivers or a bushfire ravaged community.
'On the 23rd of February this year, I found out I was to become the next Greens member of this parliament. I was very excited. I was at home in the Northern Rivers. I live 10 minutes out of Lismore where my children and grandchildren were were born. It's our hometown.
The day everything changed forever
'On the 28th of February, everything changed forever.
'We found ourselves on the frontier of the climate crisis, subject to a most frightening, extreme, climate-induced, catastrophic weather event. As soon as daylight hit, my friends, family and community were in tinnies – risking their lives to rescue our friends and their friends who were on their roofs, holding on for their dear lives.
'Our region was consumed by a cut-off low, otherwise known as a rain bomb.
'The Northern Rivers is devastated. Lives are lost, my town of Lismore has been wiped off the map. The upper catchment has been disfigured by landslips never seen before. Water courses are in places they were not before, farmlands are decimated, and our poor, poor river is a scoured, brown, injured scar.
'My community is displaced, thousands of people are without a home and thousands more are traumatised. The trauma is compounded by the inexperience and lack of preparedness.
'I curse the Abbott government for abolishing the Climate Commission in 2013, who at the time, was leading the world on adaptation work.
Long, hard and unknown recovery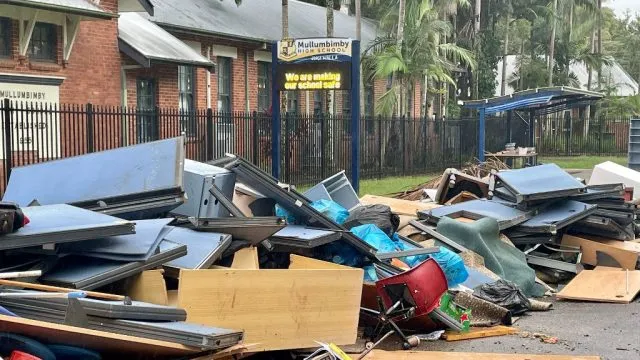 'Our recovery is long, hard and unknown.
'This is the human face of climate change.
'It is not the first time we've seen it in this state. It is harrowing, it is messy, expensive and it's going to keep happening. And I will be asking everyone in this place to help my community on our journey of recovery and adaptation, because the lessons we learn, and we will learn them on this journey, will be vital for the next community and the next and the next as we all brace ourselves for a future of more extreme events.'
I've been watching this place [indicating the chamber] through an environmental and social justice lens for about 30 years now. Some of what I've seen here has been inspired, hopeful, responsible, and some of it, particularly over the past decade, has been short-sighted, harmful, the product of state capture, and is at the very heart of what is fueling the climate extinction and inequality crises upon us.'
The path to the Chamber
Ms Higginson went on to take about her own path to the chamber, including her time as a frontline forest activist at the beginning of the 1990s – on the frontline in the Chaelundi State Forest, to being a young single mother studying law to help that place and others like it, to many years on the front line of public interest environmental law at the intersection of science and law, to pioneering the first regional office of the Environmental Defenders Office where she became the principal solicitor, then CEO.
'We had some great successes which are now revered by many places now protected and valued and harm avoided, and we had many losses. But, for every win – playing by the rules, holding government to account, under the rule of law – the full force of vested interests would seek to remove our environmental protection laws, that bit more, and to marginalise, delegitimise and attack us, and heck, we were even referred to once, by the then Attorney General, as vigilante lawyers.
'When the first law officer of the country puts those two words together, because you upheld the rule of law, you know democracy is in a bit of trouble.
'We had other successes that were unfairly and undemocratically taken away by this place. Within days of the court handing down a judgement someone from the executive in this very parliament would jump to the floor, pass special legislation, or tweak some reg, to interfere with the court's decision allowing the development the environmental destruction that we had averted to go ahead.
The real offence
'The real offence was to learn that the push for the executive to jump to the floor comes through the influence of some vested interest that has been lurking in the hall and lobbies of this parliament; the same interests that donate directly to the party of the executive. I now understand it goes even deeper than those direct donations, that there is a thing called state capture. It is real. I have experienced it firsthand. It's happening right here in this building, and it's an affliction on our democracy.
'So, I have now entered this place through a journey largely of environmental justice. Underpinning every step on my path here has been the fight for justice for the planet, and the people who do not seek to profit from its exploitation.
'Every step of the way, we have been faced by a system that for too long has been stacked against us all – a system that is captured by vested interests, and the privileged proponents of neoliberalism.
'Now that I am here, I intend to work day and night to satisfy the insatiable appetite for justice that I hold, and together we will do inspired and hopeful and responsible work here.
'We will face the extinction crisis, protect our forests, recover our threatened species, build a valuable protected area network, repair our catchments, stop approving and relying on coal and gas that is killing us, build our renewable and circular economy, deliver truth, treaty and voice for First Nations people, restore our many ailing rivers, support the regenerative agriculture and agro-ecology movements across the state to work with the land and nature, for our food and fibre security.
Joining her brothers and sisters in arms
'I am so excited to now join my fellow Greens inside and outside of this place in our work for justice together; to end the housing crisis; stop the over-policing and incarceration of First Nations people, and the overreach of the police state; eliminate all forms of discrimination – include people with disability in everything and with pride; make this state safe for women; provide nurses, paramedics and teachers, safe and fair work; support the arts, and build our public sector in partnership with community.
'We do this as the neoliberalist economic project unravels, which it is – because it is not the vehicle that can, or will safely carry us on our new journey of adaptation together, where we embrace the best parts of the world we have made whilst dealing with our brutal errors.
'As Greens, we fight together for justice. Not simply because it is the right thing to do, which it is, but because it will make things better for everyone. And that is our job here.
'Finally, the other thing, the most important thing that has underpinned every step of the path here are the fellow travellers, of which there are just so many. You all know who you are and I thank and I love you all. I especially thank my family who have travelled here from the Northern Rivers today to share this moment – my daughters Lani, and Hannah, my darling little grandson who has fallen asleep – I will not take that too deeply – and my partner in all things, Adam.
'To all of you, I say "strap in" because the next part of the journey begins right here.
'Thank you'
---
You can see Sue Higginson MLC's entire speech here.