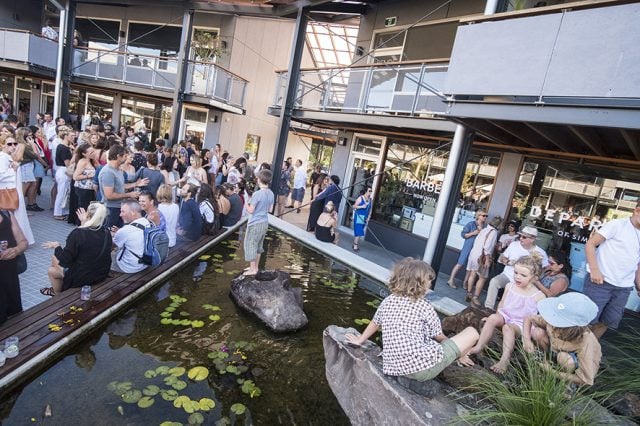 Could an area of land opposite Habitat in Byron Bay become the site of the next Council-owned affordable housing development in Byron Bay?
Byron Mayor, Michael Lyon, is proposing that the Council investigate the feasibility of building housing on part of a forested plot at 42 Wallam Place, which lies between Sunrise and the Byron Arts & Industry Estate.
In a Notice of Motion to be debated at this week's planning meeting, Cr Lyon says the Council-owned site could provide much needed housing for key workers and low-to-moderate income residents in the Shire.
'Byron Shire is under enormous pressure to provide affordable housing for key workers and lower income residents,' Cr Lyon said in the notice of motion.
'In such a crisis, it is our responsibility to come up with solutions that utilise our community resources in the best way possible.'
The area of land in question has a B4 zoning, and was previously identified, alongside the Habitat site, as being appropriate for a bespoke village development.
It is within walking distance of the Byron Solar Train, and is close to bus routes and cycle paths.
'This site represents an excellent opportunity to provide a significant amount of much needed affordable housing in a timely and straightforward manner,' Cr Lyon said.
However, comments from Council's Director of Environment and Sustainable Development, Shannon Burt, suggest developing the site may be more complicated.
Coastal wetlands buffer zone

 
In a statement accompanying the Notice of Motion Ms Burt noted that the site was subject to a series of environmental designations, including that it was part of a coastal wetlands buffer zone.
Specific parts of the site were also designated, variously, as coastal swamp forest, threatened fauna habitat, and an area containing High Environmental Vegetation.
'…the site is subject to multiple environmental constraints that require further thorough consideration prior to any decisions on development suitability being made,' Ms Burt said.
Ms Burt also noted that part of the land was subject to a particular type of zoning review that applies to land that is owned by public authorities and traditional owners.
'Initial engagement [with the traditional owners] has commenced and is likely to go into 2023,' she said.
'Notwithstanding the above, the Notice of Motion seeks preparation of a report to investigate and outline the planning controls that apply to the subject land, and the constraints and opportunities that are relevant to the development of the B4 Mixed Use part of the site for Affordable Housing.'
Council is currently in the midst of planning another affordable housing development on a Council-owned car park in the centre of Mullumbimby.
This is the latest in a series of attempts by Council to develop affordable housing in the Shire. This includes the Lot 22 site near the Mullumbimby Community Gardens, which was shelved following extensive investigation by Council staff.