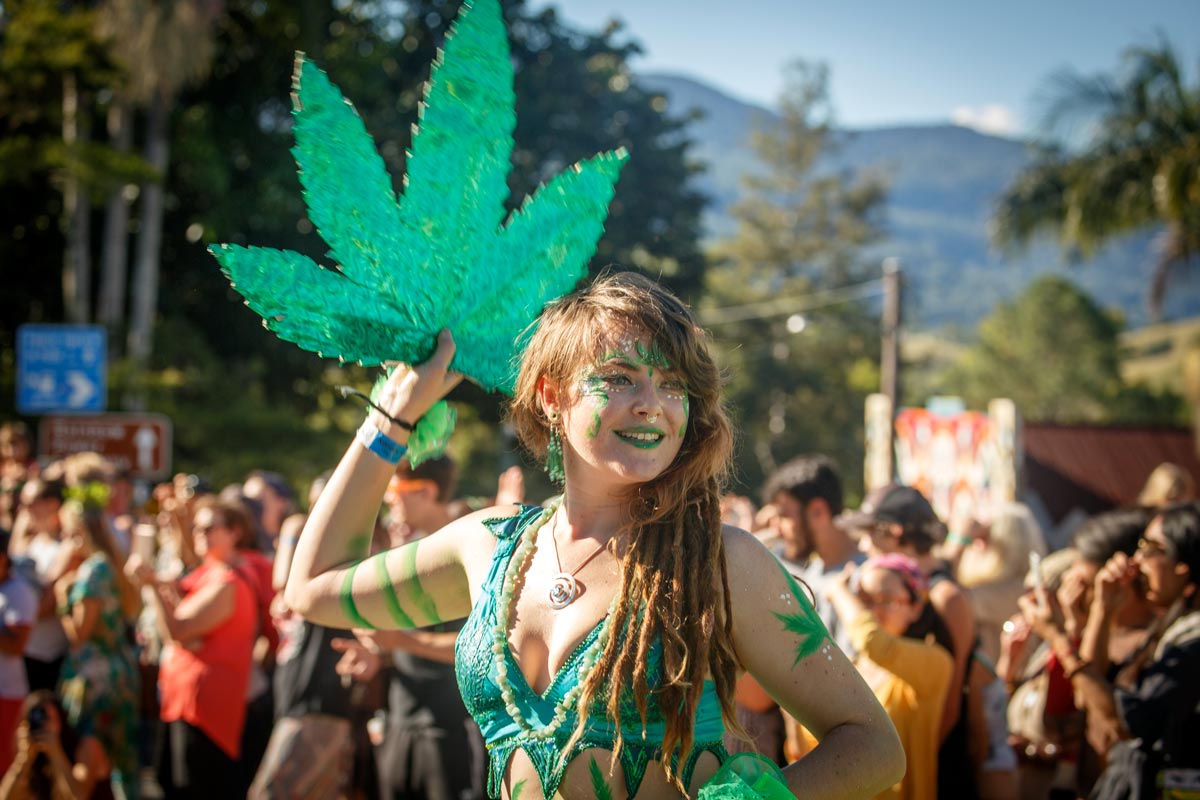 Everybody carrying legal weed should also carry with them some evidence that it is legal next weekend say organisers of Nimbin's 30th MardiGrass.
Nimbin's HEMP Embassy President, Michael Balderstone, says thousands of locals now have legal medical cannabis prescriptions. 'They are not allowed to drive with any THC in their saliva which is the major issue we are protesting about.
'Many have organised drug-free drivers and we urge fellow protesters to help each other get to the big weekend. Please pick up hitchhikers headed to the village if you see them on the road.'
Only country testing driver saliva
'We are the only country on Earth testing drivers' saliva for the mere presence of cannabis, nothing at all to do with being impaired. In fact the majority of stoned driving tests ever done show cannabis users are better drivers with their medicine inside them than not. Of course! Same as everybody else taking their daily prescribed medications to make them function better.'
Mr Balderstone says it is just sheer bullying. 'It's most likely driven by people believing the lies and propaganda still being spread by Big Pharma who is pulling out every stop to keep cannabis illegal because it threatens their massive profits. 
'How come vested interests still have so much power in the situation?
'Where are you on this Albo with your promises of a fair go for everyone?
'We invited him (the Prime Minister) to send a representative to MardiGrass but didn't even get an answer, very disappointing. Half a dozen state and federal politicians are speaking at MardiGrass but no one is getting any traction on changing the driving laws.
A Drug Summit in Canberra
'What about a Drug Summit in Canberra Albo – along the lines of Bob Carr's Sydney Summit in 1999? Bring in the experts from around the globe where so many countries now have legal weed. Perhaps because he knows they will say exactly what we are saying!
'Finally we have some recognition that cannabis is fantastic medicine after decades of denial and being told we are idiots. But there is no decline in the arrest rate or jail numbers. Plenty to protest about!'
There is a fantastic program on nimbinmardigrass.com of real experts with experience on all aspects of the cannabis plant, as well as comedians, musicians, performers and protesters of every sort.
'What will you be saying when your grandchildren ask you what you did to end the drug war?
'Please help your choofing friends to get there!'
MardiGrass runs from Friday to Sunday. For further info phone Nimbin's HEMP Embassy on 6689 1842 or look on the website.