A recent report into the NSW native forest logging sector has highlighted that it is time to support the transition from forestry-to-plantations for the Forestry Commission of NSW (FCNSW). 
The overall downward trend in logging native forests in NSW was accelerated by the impact of the 2019–20 Black Summer fires which has led to a significnat decrease in the capacity of the forests to sustain the current levels of logging. This was highlighted by the Natural Resources Commission's (NRC) report in 2021 that stated timber harvesting needed to be suspended 'for at least three years in extreme risk zones'.
The Frontier Economics report, released at The Vanishing Koala conference on the weekend, on behalf of World Wide Fund Australia (WWF-Australia) 'calls for a just transition from forestry-to-plantations, that engages industry, along with climate scientists and eminent ecologists'. 
'NSW is the second largest producer of logs harvested from native forests in Australia. Victoria and Western Australia have made commitments to transition out of native forest logging, however NSW is yet to do so,' states the report. 
'The report makes it clear that we would be far better off economically if we stopped logging public forests,' explained North East Forest Alliance (NEFA) spokesperson Dailan Pugh.
According to the report recent analysis by the Australian National University (ANU) and Frontier Economics has shown that in just the South Coast and Eden areas, ceasing native forest logging would produce a net economic benefit to the state of approximately $60 million, while also reducing net greenhouse gas emissions by almost 1 million tonnes (Mt) per year over the period 2022-2041.
'By stopping logging of public native forests we can re-direct the immense public subsidies into assisting affected workers and communities transition, while realising real economic and environmental benefits from avoiding CO2 emissions, increasing carbon storage, increasing tourism, increasing water yields and restoring habitats of threatened species, such as the koala,' said Mr Pugh. 
'Just stopping logging is likely to be beneficial to the NSW budget, though inclusion of the wider natural capital benefits to the economy from increased carbon capture and storage, tourism, water production, improving threatened species habitat, and mental health benefits make ending logging of public lands of real and lasting economic and environmental benefit to the people of NSW.
'A 2021 study by the University of Newcastle found that protecting 175,000 ha of State Forests between Coffs Harbour and Grafton as the Great Koala National Park would, over the next 15 years, generate additional regional economic output of $1.2 billion and create more than 9,800 extra full-time jobs compared to logging.
'A 2021 study by Frontier Economics found stopping logging of public native forests in southern NSW would produce a net economic benefit to the state of approximately $60 million, while also reducing net greenhouse gas emissions by almost 1 million tonnes per annum over the period 2022-2041, compared to logging.
'Under the NSW Koala Strategy the NSW Government proposes paying $3,353 a hectare to buy 15,000 ha of private properties over the next five years. By this metric protecting the more than 300,000 ha of potential high quality Kkoala habitat on State forests is worth over a billion dollars, and is essential if we want koala populations, as well as Greater Gliders, Yellow-bellied Gliders, Gang Gang Cockatoos, Glossy Black-cockatoos and a host of other species to recover from logging and wildfires.'
The report states that:
'FCNSW's ability to supply public native forest hardwood has been substantially reduced by the 2019–20 bushfires. Recent analysis by the NRC demonstrates the profound impacts: 
The South Coast subregion has suffered severe loss of native forest which could reduce supply by up to 90 per cent

The expected reduction of wood supply from the Eden subregion is 40 per cent and 35 per cent from the Tumut subregion 

The impact on the North Coast has been less severe, but is expected to have a 20 per cent reduction in wood supply.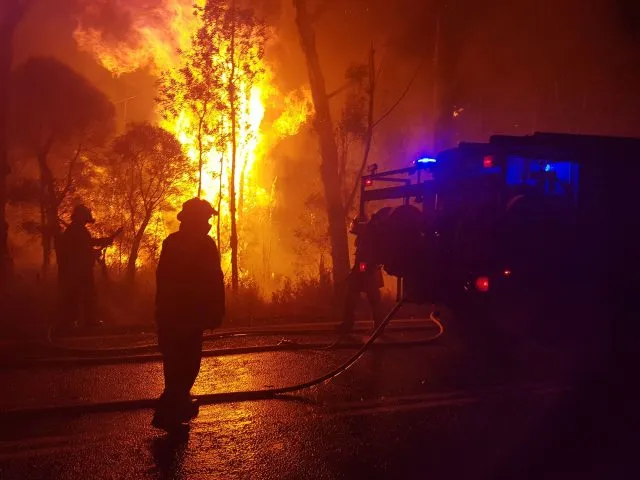 The NRC reports that the loss in wood supply is undermining the viability of a number of hardwood mills, including those in Nowra and Narooma. The NRC report that 74 jobs have been stood down as at March 2021.'
NEFA are calling for a commitment from the NSW Government to 'immediately commit to a truly independent cost-benefit assessment of the logging of public native forests, with the principal aim of building on the work of Frontier Economics in developing a fair and equitable structural adjustment package for affected workers and communities.
'If they continue to refuse to, we call upon the NSW Labor Party to commit to immediately undertaking such a review should they win government at the next election.
'The need for such a review is supported by the September 2022 recommendations 4, 5 and 19 of the NSW Upper House 'Inquiry into the long term sustainability and future of the timber and forest products industry' for a cost-benefit assessment of public native forests and development of strategies to support workers and communities transition away from native forests.
'In light of our current extinction and climate crises taxpayers cannot afford to go on paying to log animal's homes and cut down trees essential for storing and sequestering carbon on public lands any longer, the time for action is now,' Mr Pugh said.