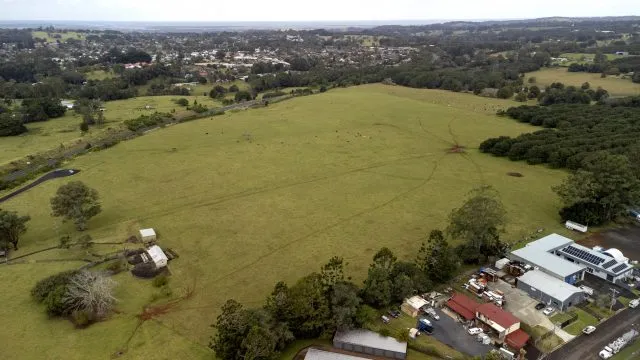 Hopes for new private health service buildings and a new water security project on the Alstonville plateau in the Ballina Shire's hinterland were revealed at the council's ordinary meeting last week.
Suggestions of a new private hospital on State Significant Farmland [SSF]  between Alstonville and Wollongbar had been touted by independent Councillor Rodney Bruem on social media and were brought to the meeting during public access when a developer representative gave a deputation.
Karl Mayoh said he was from commercial construction company Erylyan Pty Ltd and had spoken with a Sydney-based surgeon interested in building a new, relatively small, single-level hospital.
Mayor Sharon Cadwallader later said she was aware of ideas for a new 'water security' project*** on council-owned land next to the Alstonville Industrial Estate.
The mayor, also deputy chair of the region's water security authority, the Rous County Council, said the project would likely be a partnership between the two councils.
The ambitious development ideas were declared as part of a hotly anticipated debate over whether to add the 23 hectares of SSF to the council's list of Strategic Urban Growth Areas [SUGAs]. 
Rescission motion on State Significant Farmland fails
Councillors were first presented with a revised SUGA list leading up to August's ordinary meeting and deferred the vote until after a briefing before revisiting it at an extraordinary meeting held earlier this month.
A last-minute effort to overturn the subsequent vote to include the SSF was defeated last week.
Staff at the extraordinary meeting had recommended deferring the vote again, pending further investigation, prompting independent Cr Eoin Johnston to vote against both inclusion and exclusion of the land near the Russellton Industrial Estate in two separate respective motions.
The council didn't end up voting on the deferral recommendation at the extraordinary meeting but Greens Councillor Simon Chate presented a rescission motion against the new SUGA at last Thursday's ordinary October meeting.
Cr Johnston was absent from the meeting and independent Cr Jeff Johnson seconded Cr Chate's rescission motion, having previously failed to gain enough support to exclude the land from consideration.
Call for data-based decision-making
Cr Chate said he'd 'received numerous communications from constituents quite distressed about the outcome' of the extraordinary meeting vote.
'I was disappointed when I saw at the extraordinary meeting how easily some of the councillors dismissed the concerns of the community members as not mattering anymore,' Cr Chate said at the ordinary meeting.
Public submissions had earlier shown support for preserving 'village' characteristics of Wollongbar and Alstonville by keeping the SSF, echoing results of a public survey carried out in the late 'eighties.
Cr Chate said he wanted time for council staff to review how much light industrial land was predicted to be needed in the shire by 2041.
'Council has stated that they will gather the latest information from our most recent census data,' he said, 'and bring it back to us by around December this year'.
New North Coast Regional Plan on horizon
The Greens councillor referred to eight undeveloped hectares of council-owned land next to the Russellton Industrial Estate but outside the boundaries of the SSF.
'We keep mentioning this, but it seems to go unnoticed every time,' Cr Chate said, 'you can get a lot of light industrial development into eight hectares.'
Including the SSF as a SUGA would 'definitely bring rezoning one step closer', Cr Chate said, since local government SUGA lists were to be included in the state government's review of its North Coast Regional Plan.
'Rezoning for light industrial development in this section of the buffer zone will be seen by the NSW planning authority as something that Ballina's council actively wants to do,' Cr Chate said.
Developer rep shows up to announce hopes for new private hospital in Alstonville
Community debates about the proposal, including a deputation during public access from Mr Mayoh representing Erylyan Pty Ltd, featured suggestions of a new private hospital on the plateau.
Erylyan had built private hospitals and clinics in Westmead, Wollongong and the Southern Highlands.
Mr Mayoh said he'd spoken to a surgeon in Sydney who had resigned from the Ballina area and said he would 'love to get back to the to the Shire and roll out some sort of health care'.
'With the flooding, the investment opportunity, there's people that are afraid, there is people who don't want to invest money from outer regions into the region and young people that are constantly heading to Melbourne, Sydney,' Mr Mayoh said.
'There's a fantastic opportunity that we've identified in the region,' Mr Mayoh said, 'there's a cracking opportunity in the Alstonville area, we understand that there's a motion to convert that to a green buffer zone'.
'The area where we've identified is in between the industrial zone and the highway, that there is a fantastic opportunity and I can't divulge too much because other competitors would get wind of it,' Mr Mayoh said.
The developer representative said a new private hospital on the plateau would be 'a great opportunity to bring local services to the area and bring local surgeons and local healthcare professionals back to the region to allow them to practice, to allow them to raise families'.
He said the hospital would be low-rise and 'sustainable', with Erylyan responsible for Australia's 'first six-star Green Star healthcare precinct'.
'The area is crying out for a development of similar nature,' Mr Mayoh said.
'I just think we're at the genesis stage of identifying regions and knowing that this, this opportunity could be lost, this is why I'm here at such an early stage.'
New private hospital in Alstonville 'fake news', says Greens cr
But Cr Chate said while he wasn't against the idea, it was 'fake news'.
'Let me be very clear, there was no proposal, there is no proposal, a DA, for a private hospital before us, apart from the deputation we've had this morning,' Cr Chate said, 'it's a non-issue'.
Staff recommendation for deferral fails to trigger vote
Cr Stephen McCarthy, who was absent from the extraordinary meeting, said he was uncomfortable with mention of the project.
'I just feel uneasy about having a submission here today from someone proposing something that may go there,' Cr McCarthy said, 'this looks like, from the outside, somebody's getting a backdoor in'.
Cr McCarthy said he supported the staff recommendation for a decision deferral.
'The recommendation actually would keep us transparent,' Cr McCarthy said.
'I just think if we went through this procedure, we will still get the outcome of getting rid of the buffer, or whatever came, but at least we're going down the right line.'
Young families and jobs highlighted in push for development
Independent Cr Phillip Meehan voted against the rescission motion, saying times had changed since the villages were first established and a survey nearly forty years old.
'I'm actually concerned about our current residents,' Cr Meehan said.
'I'm concerned about our youth, I'm concerned about young families, I'm concerned about people who are wanting jobs, places to work, the provision of services and goods,' he said.
'This is why we need to be looking closely at the expansion of the industrial area at Russellton.'
Think of the floods… not 'holy grail buffer zones', says Cr Meehan
Cr Meehan repeated predictions he'd made at the extraordinary meeting of extra demand for industrial land in the Ballina Shire owing to floods in Lismore.
'We know that businesses down there need – some businesses down there need – somewhere to go and they don't have anywhere to go,' Cr Meehan said.
The Independent also criticised the desire for so-called 'green belt' buffer zones in general, describing the one on the plateau as a 'holy grail buffer zone'.
'It's not fair to the rest of Ballina Shire,' Cr Meehan said, 'it's not fair to communities like Lennox Head, Skennars Head, Ballina, to say we're not having any development up here because we voted not to do it 40 years ago'.
Cr Rodney Bruem, also speaking against the rescission motion, referred to comments made by Cr Eoin Johnston at the extraordinary meeting.**
'He said there's no environmental protection built there,' Cr Bruem said.
'It's mostly a monoculture of macadamia trees and this parcel, if it was actually to be used for high value agriculture, would become a macca tree site as well and we all know the level of chemicals and pesticides that go into that'.
Cr Bruem said he respected Cr Johnston's suggestions he wanted to stand up for younger generations rather than older people who had already paid off their mortgages.
Fish and chips enter the fray over industrial land expansion
He then referred to the owner of Trident Gyozas Byron Bay and the Trident Fish and Grill in Alstonville.
'Excuse me, they're the best fish and chips on the plateau,' Cr Bruem said*.
'It's one of Alstonville's most outstanding businesses, currently employing 28 people,' Cr Bruem said.
'He's outgrown his main street premises and there's nowhere to go in terms of the food production side,' Cr Bruem said.
'The gyozas, that production facility is in Byron Bay, and it's there because there was no location for it in Alstonville after it outgrew the limited space he had there.
'Chris also operated a commercial bakery supplying the major supermarkets and restaurants right up and down the East Coast with Turkish bread, and he had a second facility in Tasmania, he had to sell that business.
'He wanted to have it here in the Ballina Shire but he had to sell that business because there's no space available and I think that's a travesty.'
'You know, a lot of councils go after businesses like that, because they're good for their shires, government, state governments, pay money to get businesses like that in their state and here we are just letting it go.'
Think of the floods… again
Cr Bruem added to Cr Meehan's flood references, saying Ballina businesses were also looking for higher ground.
'Stalling the growth of the industrial area can have damaging impacts to already established businesses wanting to grow and upscale and we risk losing those businesses,' Cr Bruem said.
Cr Bruem dismissed references to existing council-owned industrial land in Alstonville, saying he understood there were around 20 blocks available.
'That's a drop in the bucket, they'll be snapped up very quickly,' Cr Bruem said.
Cr Bruem supports private hospital and 'Health Campus' in Alstonville
The independent, who appeared on Mayor Sharon Cadwallader's ballot form last year, spoke in support of the hospital idea, confirming he had posted about it on social media and received positive responses, after the mayor first raised it an the extraordinary meeting.
'I was inundated with correspondence from people saying not only do we need a private hospital in this region, so families no longer have to go to the Gold Coast for important procedures, but the existing Ballina hospital is desperately inadequate and needs to be upgraded,' Cr Bruem said.
'So if there was to be a Health Campus, both could be co-located,' Cr Bruem said.
Cr Bruem referred to a recent local government conference, saying former state chief scientist Professor Mary O'Kane, who co-led the government's recent commissioned independent flood report, had singled out Ballina Hospital as a piece of state infrastructure in 'the wrong place' and needing to be moved.
Cr Bruem said he rejected Cr McCarthy's suggestion that it somehow looked 'dodgy' that he and others were 'trying to push this through'.
'It's come along,' Cr Bruem said, 'and as we heard from one of the gentlemen associated with it today, he reckons it's the ideal site'.
'We can't afford to ignore our responsibility here, Madam Mayor, to make sure our community is served by necessary services,' Cr Bruem said.
Plateau local votes for 'prosperity' i.e. development
Cr Nigel Buchanan, who also appeared on Cr Cadwallader's ticket last year, said the matter was contentious and 'a difficult one' for him as he'd lived in Alstonville, owned a business there and in Wollongbar, and raised his children in the area.
Cr Buchanan said he'd spoken to many residents about the SUGA suggestion and understood concerns raised against it but had decided to support it.
'I'm gonna lean the way I always lean,' Cr Buchanan said, 'in favour of prosperity, and vote against the rescission motion'.
Mayor brings 'water security' project to industrial land debate
The mayor also spoke against the rescission, saying she understood 'the importance of this to those that have lobbied hard to keep the green buffer zone'.
'But as I said, last meeting, it has already been dissected, with the bypass going through it,' Cr Cadwallader said.
The mayor returned to the matter of existing council-owned land at Alstonville, saying she believed a proposal was forthcoming in the council's commercial services division about 'a very important project of water storage'.
'We all know water is life,' Cr Cadwallader said, 'and without enough water, we know we're facing water shortages by 2024'.
Cr Cadwallader said the Rous County Council was drilling into the Clarence Morton basin and needed somewhere to store the water.
'There may be a partnership between Council and Rous County Council that can try and secure a future water supply, at least in the interim period, until a more permanent solution can be found,' Cr Cadwallader said.
'So there is definitely moved support for that land for very good reason.'
The mayor voted against the rescission motion, along with Crs Meehan, Bruem, Buchanan and Eva Ramsey.
Crs Chate, Johnson, McCarthy and Greens Cr Kiri Dicker voted in support, while Cr Johnston was absent.
The revised list of 28 SUGAs for the shire was to be submitted to the state's planning department for approval.
NB: This article was originally published with the title: 'Talk of private health services and a new dam on Ballina Shire's Alstonville plateau as State Significant Farmland threatened'
*an earlier version of this article accidentally said 'planet' instead of 'plateau'
** the article has been updated as of 11.30am 03-11-22 to reflect the fact Cr Bruem was referring to comments Cr Johnston made at the extraordinary meeting on 10.10.22, rather than to a conversation held since, as previously suggested.
*** the article was updated at 3pm on 03-11-22 to replace the term 'dam' with 'water security project'