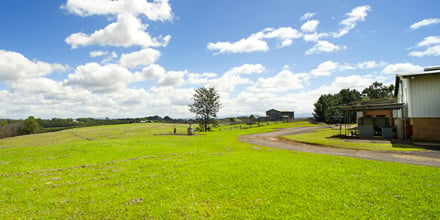 Chris Dobney
A new complaint has been lodged against Goonellabah-based alternative healthcare provider Universal Medicine, this time focusing on a charity run by the group.
A spokesperson for the Office of Liquor Gaming and Racing (OLGR), which also investigates complaints against charities, yesterday told Echonetdaily it had received a complaint 'alleging contraventions of the Charitable Fundraising Act 1991 by the College of Universal Medicine.'
'OLGR has completed an initial assessment of the complaint and has commenced an investigation into allegations the College of Universal Medicine may have breached charitable fundraising laws,' the spokesperson said.
'The complaint also contains serious allegations in regard to conduct beyond the scope of NSW charitable fundraising laws and will be referred to NSW Police for consideration,' he added.
The complaint was lodged by Bangalow man Lance Martin, who told Echonetdaily the basis of his complaint was 'whether the charity is operating for the sufficiently wider public benefit.'
'Under the newly amended act it also requires charities not to act against public policy,' he added.
'It is my belief that Universal Medicine's ideas are against public policy.'
Mr Martin said that charitable donations to the organisation centred on a fund to build a college on land owned by Universal Medicine founder Serge Benhayon.
The college's Fiery Building Fund claims to have raised more than half a million dollars so far.
Director of The College of Universal Medicine, Charles Wilson, released a statement yesterday saying the college 'is aware from media reporting that a complaint has been lodged with the NSW Office of Liquor, Gaming and Racing'.
'The college has not received notification from OLGR about the matter and is unaware of the grounds of complaint.'
'However, the college is informed by News Ltd journalist, Jane Hansen who has seen the complaint that it was lodged by a local businessman, Lance Martin who has been conducting a "hate" campaign against Universal Medicine over the last two years.'
It describes the complaint as 'simply the last in Mr Martin's series of abuses of public sector agency complaints processes.'
Mr Martin responded that, 'they are seriously misinformed as to the number and nature of complaints I have actually made. Contrary to conducting a "hate campaign" I am simply seeking that they be as accountable as any other business or member of the community.'
The college says it 'will fully co-operate with OLGR's investigations' and 'is keenly aware of and strictly abides by its charitable fundraising obligations'.
The OLGR spokesperson said it was not possible to provide a timeframe for completion of the investigation 'at this stage'.