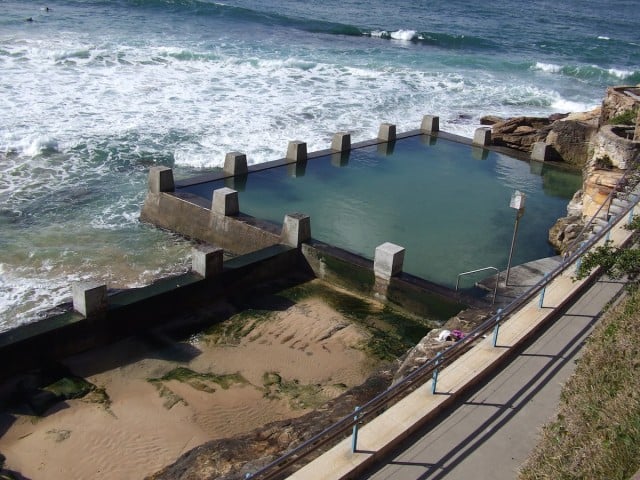 Darren Coyne
Ballina shire council staff will meet with state government officials next week to discuss the possibility of building an ocean pool at Shelly Beach.
The ocean pool has been added to the agenda of the quarterly meeting following lobbying from Greens councilor Jeff Johnson.
Cr Johnson said he had been approached by a number of people asking about the possibility of an ocean pool.
'Having grown up in Sydney's eastern suburbs I have swum in many ocean pools including Mahon Pool at Maroubra and Wiley's Pool at Coogee, as well as a number of ocean pools at beaches including Coogee, Bronte and Malabar, ' he said.
'An ocean pool would be relatively inexpensive and provide a safe 'ocean' swimming experience all year round. '
Cr Johnson said Ballina council's two existing public pools cost the community approximately $500,000 per year to run.
The council is currently consulting with ratepayers about a proposal to introduce a special rate to meet those costs.
Cr Johnson believes an ocean pool would provide an additional swimming experience, be free of charge, and would have minimal maintenance requirements.
'I have spoken with the general manager Paul Hickey and it has been put on the agenda for next week's meeting,' he said.
'An ocean pool would need the support of the state government because it would be in the Crown reserve.'
Cr Johnson said there was already a rock wading pool at Shelly Beach that could be enlarged
'To have a free saltwater pool available all year round with minimal maintenance would be a real attraction for visitors and residents,' he said.
Cr Johnson said the last ocean pool to be built was at Yamba in the 70s.
He said if the officials from the Crown Lands department said an ocean pool was a possibility, he would lodge a motion at the December meeting of the council to explore the possibility further.