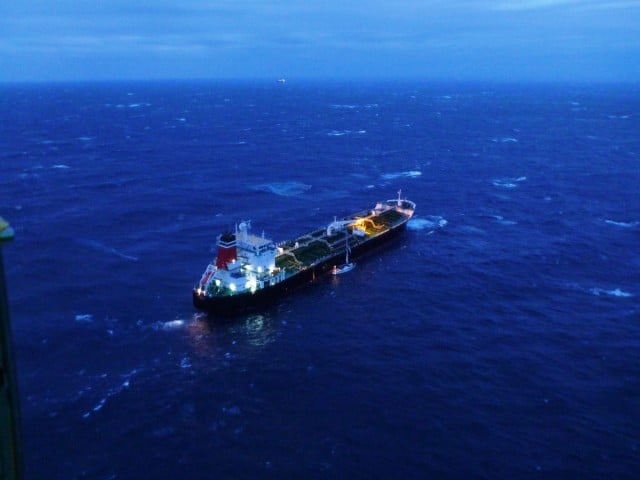 A merchant vessel has saved the lives of four crew from a 50-foot private yacht who got into trouble 19 kilometres off Evans Head overnight.
The yacht, Red Sky,began taking on water in heavy swells and its bilge pump could not keep up. Around 3am the crew let off a distress beacon, radioed a mayday call and phoned emergency services asking to be rescued.
The Life Saver Rescue Helicopter was tasked to the area with a life raft and a lifeline if necessary.
But helicopter crew member Mark Sewell said that by the time the rescuers arrived the boat was already sheltering in the lea of a large oil tanker.
The British Loyalty, which was in the vicinity, managed to come along side the stricken boat.
They attached safety lines to the boats bow and stern and the four yachties climbed up rope ladders to safety on board the merchant vessel
'It was quite rough – a good two- to three-metre swell, the wind we're estimating was close to 30 knots out there. I'm sure very scary for those people, especially until daylight broke through,' Mr Sewell told ABC radio this morning.
The yacht has now been abandoned off Evans Head and anyone in the sea around that area is warned to look out for it. Mr Sewell said he believed it would be washed ashore later today.