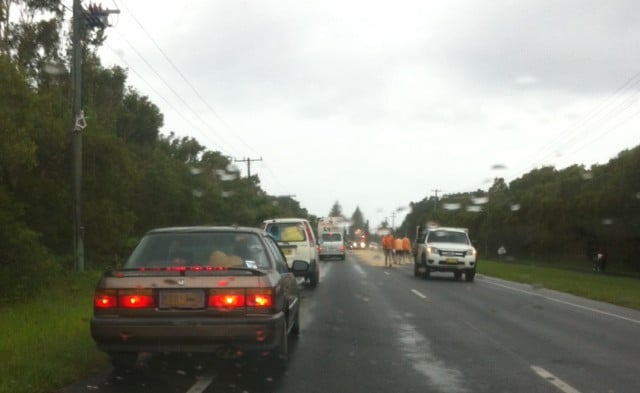 Updated, 3:45pm: Ewingsdale Road is now open to traffic and both lanes are open after an oil spill early this morning closed it for much of the day.
Council road crews have cleaned the site with a specialised soil and sand that has absorbed the truck oil from the road pavement. Street sweepers were then used to clean up the soil and sand.
We apologise for the inconvenience this has cause motorists today. Motorists are advised to drive with caution as the road surface may be slippery, particularly in wet weather.
Staff will be monitoring Ewingsdale Road over the coming weeks.
Original story: The main entrance way to Byron Bay township is closed in both directions, possibly up until lunchtime, as Byron Shire Council staff battle an oil spill on the roadway.
A council spokesperson said the oil spill from a truck had occurred on Ewingsdale Road between the Woolworths service station and the arts and industrial estate.
'Traffic is being diverted. Police and council staff are in attendance. The cleanup is expected to take at least a few hours,' the spokesperson said.
An Echo drudge on the way to work this morning said there was 'sand all over the road' apparently used by council to mop up the spill and that traffic was 'at a standstill'.
'I had my engine off for about 20 minutes,' she said, adding that traffic into town was slowly moving but traffic out of town was at a standstill.
Byron Shire Council has apologised for the inconvenience and asked motorists to observe all traffic controls in place.