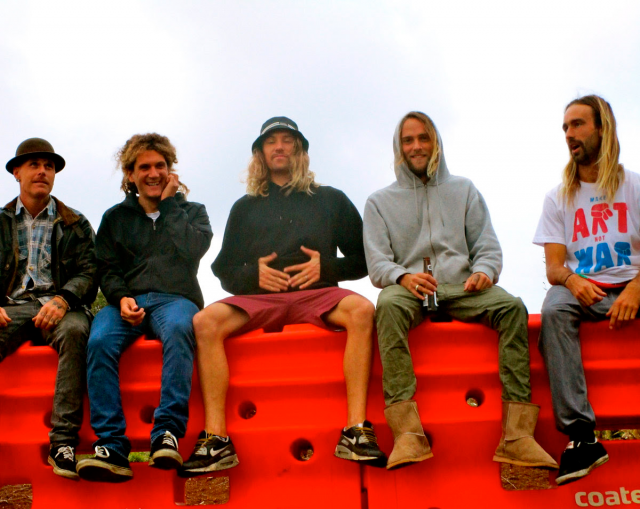 Byron's Drop Legs have just released a song depicting the story of a friend unfairly criminalised by drug-test laws. Just after the song premiered on Triple J and, ironically, after they recorded it, the band were pepper sprayed after a gig in Sydney and taken for questioning and a van search. It seems if they'd had the GoPro they would have had the video clip in the bag.
So why did you decide to write a song about the drug-test laws?
Well firstly I want to say we don't condone driving under the influence, though lately we have been hearing about more and more ordinary hard-working citizens being severely penalised, losing their licences and facing criminal convictions for having trace amounts of THC in their system from sometimes weeks ago. We feel this is more of a revenue-raising attack on lifestyle than a road safety initiative. As is penalising people for choosing to not lock their own car for example. These kinds of laws we feel are negatively affecting good people's lives, doing more harm then good.
What does it feel like to be subjected to a search like that? Is it humiliating?
Twice on tour in Sydney we were aggressively approached by a squadron after a gig; they ripped through the van and created a really tense and unnecessary situation from nothing. You feel pretty freaked out and confused by the situation.
Why do you think you were targeted?
Because we looked and dressed differently and we seemed to having too much fun!
How do you think this sort of interaction with the police affects young people in the community?
It makes people fear and avoid police instead of respect and rely on them. Our general experience with the police of Byron Bay has been great – though unfortunately there have been a few times on the road where we've been unfairly targeted.
Has the track gained national attention?
We we're very fortunate to have it premiered nationally on Triple J by Sara Howells, which meant so much for us, and we were all so stoked. Also the legends at Bay FM have been supportive as always. All down the coast on this current tour people have been really vibing with the message, especially in Sydney. People were actually singing along to the lyrics; that was a huge moment for us!
How would you describe the music that you play?
It's reggae hip-hop with a few other spices thrown in.
How do you work a song up from scratch?
Sometimes from a fat drum and bass groove, sometimes from some lyrics, or sometimes we hear a dope track and that inspires us!
What's in store for Drop Legs for the rest of 2016?
After this east coast tour we plan to record a few more tracks before a national tour in August, then continue recording towards a full-length album.
What should we expect for your live show at the Northern?
Two epic support bands (Hemingway and Quazi Smith). Lots of pistol-grip pumped-up jams, jumping and an all-out jungle boogie.
Drop Legs play the Hotel Great Northern on Saturday.