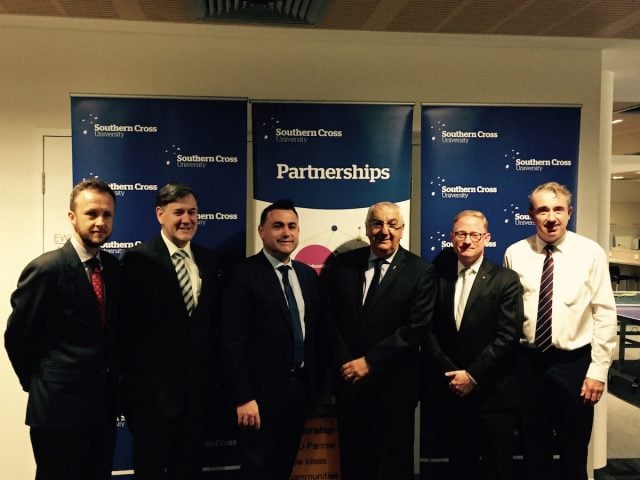 An 'innovation hub' will be established at Southern Cross University in Lismore in an effort to create new ideas about sustainable business development in the northern rivers region.
The state government has entered into a two-year $1 million partnership with the university to establish the hub.
NSW Minister for Regional Development John Barilaro, who toured the campus this week, said the hub would enable students, researchers and entrepreneurs collaborate on new ideas.
'Collaboration and sharing ideas is a key driver of innovation in small business and this program will ensure start-ups and entrepreneurs in the Northern Rivers have access to a space that will allow them to do this, parallel to those in the Sydney metropolitan area,' Mr Barilaro said.
'Small business is the engine room of the NSW economy and this partnership with Southern Cross University will create new business ideas, new job opportunities and new industries for the Northern Rivers region.'
Lismore MP Thomas George said the funding would also support efforts to develop local talent to support business needs and build on the University's particular research strengths.
'This funding will help Southern Cross University further promote and develop its research capabilities in collaboration with local businesses, as well as helping to accelerate local industry development and local business networks throughout the Region,' Mr George said.
SCU vice chancellor Professor Peter Lee said the enterprise lab provided a wonderful opportunity for the region's entrepreneurs.
'The best innovation ecosystems are those where new industries and opportunities are delivered through collaboration between research, industry, business, community and government partners,' said Professor Lee.
The co-working space in Lismore is expected to be open to businesses for university-industry engagement before the end of the year.
For more information on support available to industry visit: www.industry.nsw.gov.au/