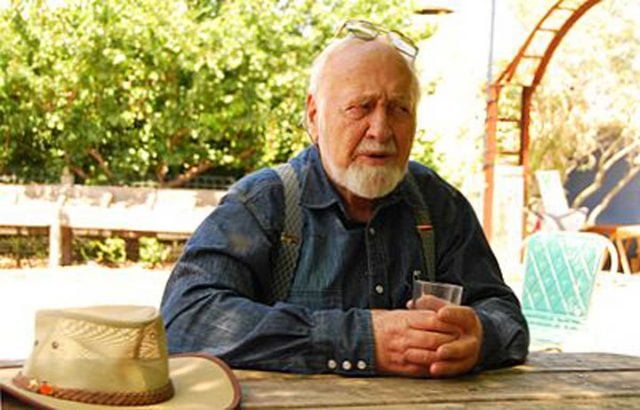 Australian educator, author and co-inventor of Permaculture, Bill Mollison, who died on Saturday aged 88, has been praised for his visionary work.
Mollison, who established the Permaculture Institute at Pumpenbil in the Tweed Valley in the 1980s, was one of the world's most influential thinkers on community-led approaches to sustainable development.
The author, educator, academic, researcher and innovative thinker died peacefully in Hobart, Tasmania, on 24 September.
Mollison has been described as one of Tasmania's leading intellectual exports.
A Permaculture Australia obituary says that Mollison, who was born in 1928 in the Bass Strait fishing village of Stanley,' leaves behind a worldwide movement of remarkable resilience'.
'From its humble beginnings in Hobart, Tasmania, the permaculture design system, which Bill co-created with David Holmgren, spread world-wide, inspiring individuals and communities to take initiatives in fields as diverse and food production, building design, community economics and community development,' the Permaculture Australia website says.
'Bill Mollison left school at fifteen to help run the family bakery. In the years following he worked as shark fisherman and seaman, forester, mill-worker, trapper, tractor-driver and naturalist.
'His lack of formal education gave him many learning opportunities in how the world works.
'Bill joined the CSIRO Wildlife Survey Section in 1954 and gained extensive research knowledge.
His time in Tasmania's rainforests and natural systems gave him the founding structure for what became
his life's major innovation — the Permaculture Design System: the idea that we can design sustainable systems that enable us to live within our economic and ecological means and enjoy a modest prosperity.
'Later, he taught at the University of Tasmania.
'In 1974, in Hobart, he and David Holmgren began to develop the permaculture concept, leading to the publication of Permaculture One in 1978.
'He traveled the world in the 1980s and 1990s, teaching thousands of students. Bill contributed articles, curricula, reports, and recommendations for farm projects, urban clusters and influenced local governments.
'In 1981 he received the Right Livelihood Award, sometimes called the 'Alternative Nobel Prize'.
'Bill later featured in the documentary series, In Grave Danger of Falling Food, which was broadcast nationally and, following repeated requests, rebroadcast twice.
'He authored a number of books on the permaculture design system, the best known being The Permaculture Designers' Manual, published in 1988.
'After establishing the Permaculture Institute in the Tweed Valley of northern NSW, Bill returned to his Tasmanian homeland to spend his final years at Sisters Beach on the Bass Strait coast.
'The final words represent Bill in his true classical way: "If you hear that I am dead tell them they lie.
'Next week, Bill Mollison will be honoured at the Australasian Permaculture Convergence in Perth,
WA.
'This afternoon an old friend of Bill's imagined him saying: "In view of the Australasian Convergence coming up, I thought I'd go a bit early – just to keep you on your toes".'
More on Bill Mollison: https://en.m.wikipedia.org/wiki/Bill_Mollison
In Memory of Bill Mollison Facebook group: https://www.facebook.com/groups/618041141700206/?ref=ts&fref=ts
Australasian Convergence: http://apc13.org
https://en.m.wikipedia.org/wiki/Bill_Mollisonhttps://www.facebook.com/groups/618041141700206/?ref=ts&fref=ts