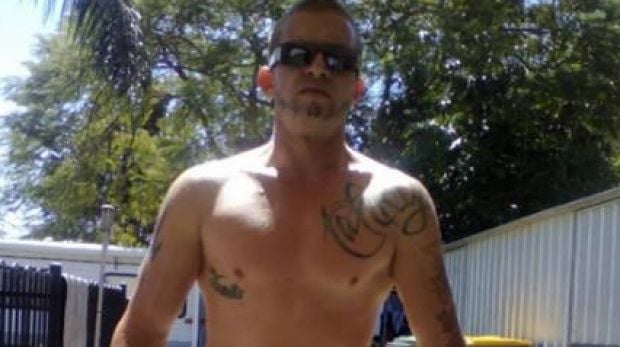 Evidence against Phillip Becker over the alleged murder of a bikie 'debt enforcer' in June is still being compiled, while yesterday his partner was extradited from Queensland and charged by police.
The 33-year-old, who is charged with the murder of Ace Hall, had his appearance in Lismore Local Court on Tuesday via videolink from jail cancelled.
It is alleged Mr Becker shot 31-year-old Mr Hall in the stomach at a Tweed Heads industrial area on June 24.
Mr Hall was taken to Tweed Heads hospital by his girlfriend and another man but died during surgery.
He was not known by police as a member of an outlaw motorcycle gang, but an associate of a club who police believe was a 'debt enforcer'.
Police secured the scene of the incident and forensically examined a car believed to be linked to the shooting and a number of other items in Steep Street.
Investigations by police led to the arrest of Mr Becker on June 26.
When he appeared at Southport Magistrates Court on June 27, his extradition to NSW was granted.
After being charged with Mr Hall's murder, Mr Becker was refused bail.
Mr Becker's partner Emma Thorley was arrested by police on Monday after police established a joint strike force between the NSW State Crime Command's Homicide Squad, Tweed Byron detectives and Queensland police to investigate Mr Hall's death.
She appeared in Southport Magistrates Court on Wednesday October 18, where her extradition to NSW was granted.
Ms Thorley, 27, will appear before Tweed Heads Local Court today.
On Tuesday, Mr Becker was represented at Lismore Local Court by solicitor Cameron Bell.
The court heard there was still essential material outstanding from the brief of evidence against Mr Becker, and his partner had been arrested over the incident.
Mr Bell did not apply for bail for Mr Becker, which was formally refused by Magistrate R Denes.
Magistrate Denes ordered the brief of evidence against Mr Becker to be served on the defence by November 21.
She adjourned his matters until December 5 at Lismore Local Court.