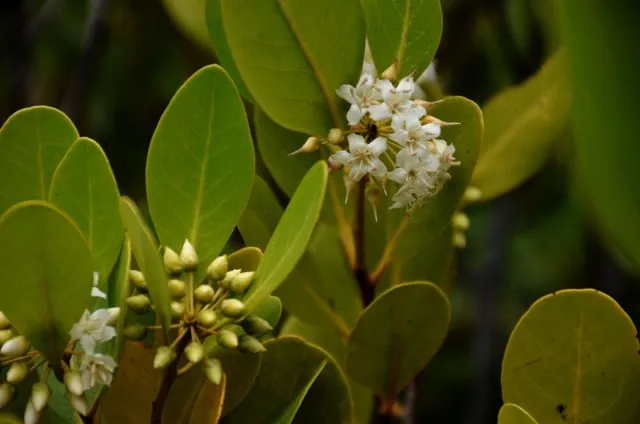 Though I am on my way to somewhere else, I pause at the mangroves. They are a steadfast shelter as the fierce winds shift. Their roots steady the muddy bank under my feet. Among the quiet leaves,  their white flowers are starting to blossom. The bees already have the message. Now I'm on the lookout for the other changes of the season.
Right now, anyone can see the effect of this season's strong winds and rainfall. Before the recent rain, the plants underfoot were so dry they crunched. Now, they are revived. The long range weather forecast to December was 50/50 to be dry or wet. Such uncertainty about water is a big part of Australian climate.  It requires changes to Australian life.
Water wise
The dry has already made residents size up potable water supplies. Regional supply from the Rocky Creek Dam, courtesy Rous Water, is 88 per cent full, though it was falling 1–2 per cent per week. Altogether, the region's residential use totals 76 per cent of the overall supply; more than half of the remaining use is by tourist accommodation.
Living in the subtropics – even as a visitor – means becoming weather wise. Of course there's a fire ban. No open fires, especially on the beach. No tossing of cigarettes either.
Becoming water wise is important too. How much less water can you use at your residence or business? Make a habit of 'three minute showers'. Retro sponge baths for washing the car. Use recycled water around your house or business.
No purple pipe of recycled water handy to your place? Talk with your councillors and get a pipe installed.
Seasons of the sea
Meanwhile, the season also changes at sea. The animals of the great winter marine migration to the north turn and now travel south. Leopard sharks, manta rays and more sea turtles return to our region. They join our resident turtles and dolphins.
In waters of the Richmond, Belongil and Brunswick, female bull sharks will be giving birth to live young. For another month or so, white pointers might still be near the beaches. Some follow the humpback whales, snatching at the vulnerable babies or a sea turtle or two.
Marine life goes on. For more than a decade, thanks to Ballina's Australian Seabird Rescue Centre, some animals unexpectedly get a second chance. Pelicans are healed of injuries with fishing hooks. Sea turtles are cured of plastic bags they unwittingly swallowed. Then, surrounded by cheering children, they are released back to the ocean.
Shark nets
But this year, contrary to the work of the centre, shark nets are set in beaches and hooked drum lines placed even in the marine park. The nets catch more of these same sea turtles, rays and even whales than they do sharks. A baby humpback was caught in such a net on the Gold Coast recently. The drum lines require constant attention by crews from shore. Who can successfully tend such things at all hours on the rough Tallow Beach and in the temperamental Byron Bay?
Being sea smart is another trait required to live in the subtropics. For starters, it means accepting that some places, conditions and seasons are not safe for swimming or surfing. Sites where sharks give birth can't always be the best for board riding. Why should they?
Murky water. Waves near the river mouth. Beaches in the first two or three days after a great rainfall. Winds moving onshore blow in the stinging bluebottles. All these are places and times to stay out of the water. Other things are happening. Other beings have the upper hand. Why not?
Attaining ocean literacy is not a given. Witness the perverseness of our government actions in spite of evidence: beach nets, changing rules to allow hooked drum lines, expanding exploitation not only in Australian marine parks but throughout the seas. Then factor in new blanket permission for use of any new chemical and the push to extend the use of fossil fuels.
But still, coastal experiences and marine knowledge await every person who dares. Start by stopping. Restrain yourself. Reconsider your fears. Pause long enough and begin to smell the mangrove flowers.
For more information:
Tamara Smith MP petition 
Australian Marine Conservation Society