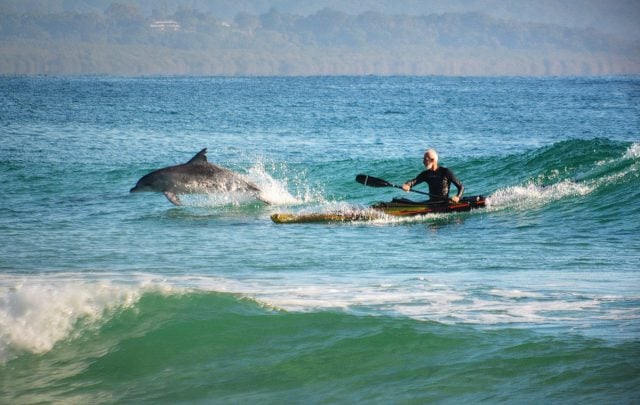 Paul Bibby
Byron's sea kayak tour operators have been granted an extra tour each day during school holidays to help them stay afloat amidst a sea of cancellations.
The tour operators were granted the exemption at last week's full council meeting, after revealing that they were being forced to cancel more than a third of their tours.
The owner of Cape Byron Kayaks, Alice Livingston, told the meeting the cancellations were generally owing to poor weather conditions such as high winds and swells, and occasionally because of shark sightings.
'We can't charge people for tours that get cancelled owing to bad weather,' Ms Livingston said.
Her counterpart at Go Sea Kayak Byron Bay, Kurt Tutt, said his company had been forced to cancel 35 per cent of tours over the past six months.
'It's 195 cancellations a year and it's starting to push into an area where we're struggling to maintain feasibility,' he said.
Byron Mayor Simon Richardson said he supported increasing the number of tours to support the operators, which had a 'soft footprint'.
'The influences on their business can be out of their control as they're at the whim of mother nature,' Cr Richardson said.
'It employs locals and has very little impact on anyone else.'
Councillors voted unanimously to support the proposal for a variation to the operators' licences to allow for one additional sea kayak tour each day during overlap of NSW and Qld school holidays during April and October, and for the whole period of December 26 to Jan 26.