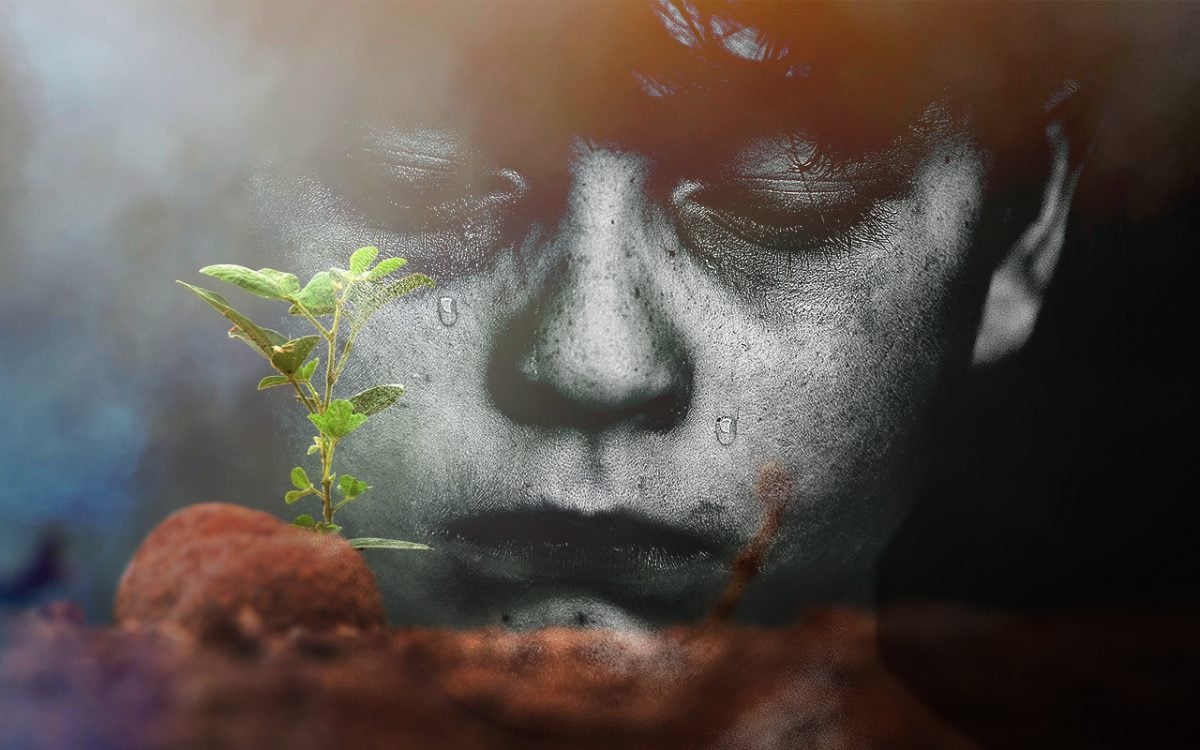 Thirty years ago scientists started talking about global warming from human induced emissions of CO2. Thirty years ago REM prophetically sang 'It's the end of the world as we know it… and I feel fine…' The irony of the 'I feel fine' only occurred to me today when I hummed along, watching smoke fill the valley. I realised I wasn't feeling very fine at all.  I had that pit of doom feeling. That dark foreboding that resides at an almost cellular level. The sense that all is not right, and I'm powerless to do anything about it. The End of the World isn't a popular conversation in the Rainbow Region where I live. We've always believed that love would set us free. That we'd spiritually evolve ourselves into a higher vibration, a dimension where we manifested solar power with our third eye on our yoga-powered fast track to sustainability. But it hasn't happened. Apparently prayer flags and not wearing shoes inside will not protect your family from the apocalypse.
Turns out that saving the planet takes radical revolutionary action. Not something achieved by writing letters or signing email petitions, or by following regulations. It was so much easier in the 'I feel fine' years. My friends have evacuated their properties. I can't see the giant mountain that usually looms majestically in front of me through all the smoke. Right now it really does feel like the end of the world… was Michael Stipes a modern day Nostradamus? How can we have known so much and done so little? What were we doing dancing to a song about our demise? We've shopped and mined and driven and flown and cut down trees and pumped out chemicals like there was no tomorrow. Because thanks to us, there very well may not be one. There's this quote from the Bible that says 'Ye shall know the truth and the truth shall make you free.' Apparently it made us free to do sweet FA.
Gloria Steinem has a much better swing on it, she says 'The truth will set you free, but first it will piss you off.' Well ain't that the truth. Interesting how much the climate conversation has been pissing people off. Especially the denialists. To date, in the climate change conversation, truth hasn't had a chance. Denial has shown itself to be the most powerful narrative of all because of the social affliction of believing what you 'choose' to believe. It's crack cocaine to critical thinking.  It's what has kept us anaesthetised until the eleventh hour. How do you create the architecture for change when the architect is in a coma? When you've got Michael McCormack as deputy Prime Minister.
To date, climate change hasn't seemed that scary. It's a bit like a slow carbon monoxide leak. After the first few whiffs you get used to it, and then it's too late. But things feel like they're changing quickly now. 70 per cent of Venice is under water, with ten of their worst floods in history happening in the last 20 years. 99 per cent of NSW is in drought, and now we're on fire. It's hard to be in denial when you're on fire, or drowning. The reality is right there. Even the usually positive David Attenborough has conceded that our future is bleak – aka on the brink of extinction – if sudden and complete change doesn't happen right now.
At the time when Extinction Rebellion actions are increasing around the world, there's a backlash in NSW – where, I remind you, we're in almost 100% drought and on fire – under the Right to Farm bill, environmental activists can be fined to $22k and jailed for up to three years if they 'hinder' business. But if we don't hinder business, how are we going to ever effect change?
The other day, a local doctor diagnosed a friend of mine with Climate Change Anxiety. The doctor has diagnosed four people this week. 'Eco-anxiety' is now a recognised mental health condition. Is it a mental health issue? Really? Or is it just that these are the first in a wave of people waking up from the climate change coma the rest of us are in 'feeling fine'. Maybe we all need to experience the terror, the lack of a sense of future – and the despair – so that we'll actually do something radical.
Action stations.  Big change is coming. It has to. If it doesn't – we're fucked. These are dangerous times and we need to be dangerous. We can start by planting one trillion trees (and watering them with our tears). Then, we bring down the government and create a new economy. You ready?