Smash Parade
Brunswick Picture House  |  Friday 24 January  |  7pm  |  $30/35
Smash Parade is a circus, cabaret, absurdist, world-funk mash-up! A supreme line-up of contemporary circus, physical theatre artists and musicians, all smashed together and served up in a twisted cut-up concoction. Part gig, part improv theatre, part circus, with a slice of psychedelia.
Smash Parade features the incredible sounds of musicians Ben Walsh, Shenzo Gregorio and Matthew Ottignon: three award-winning, international musicians and performers who will set a score of world funk grooves and cinematic sounds. Pair this with the awesome physical artistry of David Carberry, along with a select pick of circus artists, from the likes of Circa, Gravity & Other Myths, Company 2, and 360 All Stars – including Alice Muntz, Alicia Maccarone and Rhys Miller.
This is mash-up, improv, underground circus and live music at its finest. Bringing roots circus and cabaret back to the Northern Rivers – and a unique opportunity to see this amazing collection of internationally acclaimed artists together in one room – in Smash Parade's world premiere at the Brunswick Picture House, Friday at 7pm. Tix are $30/35 at brunswickpicturehouse.com
---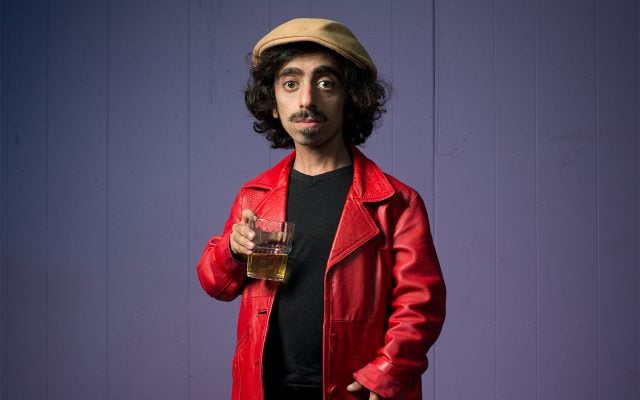 Bruns Does Burlesque starring Imogen Kelly & Imaan Hadchiti
Brunswick Picture House  |  7pm  |  $32/35
It's about time! With the ongoing success of its signature show, The Cheeky Cabaret, it was inevitable that the team behind the Brunswick Picture House would put together its very first all-burlesque show… so get ready for the very first Bruns Does Burlesque show!
Featuring some of Australia's hottest contemporary burlesque artists… with a very special twist – as only the Brunswick Picture House can do.
Sexy, sassy, stunning and innovative, the cast of Bruns Does Burlesque is truly representative of the breathtaking beauty the world of burlesque performance can bring, right here in Brunswick Heads.
Starring Imogen Kelly – Australia's first lady of striptease, who is not only renowned as Australia's Queen of Burlesque, but also crowned World Queen of Burlesque in 2012 (Burlesque Hall of Fame, Las Vegas).
Imogen has performed in The Sydney Opera House several times in the grand operas as well as directing or performing several shows in The Opera House Studio (The Studio launch, Sleepless Beauty, Music for The Eyes, Close you Little Eyes, La Soiree and Club Swizzle).
Imogen Kelly has headlined at The New York Burlesque Festival and The Burlesque Hall of Fame three times, The Noumea Burlesque Festival, Helsinki Burlesque Festival, the New Orleans, Dallas, Austin, Toronto, Hamburg, Berlin and Australian Burlesque Festivals.
In 2008 Sydney Festival shut down the city to see Imogen Kelly and her husband wed in a public ceremony before thousands of people. The following year she was a featured artist in Festival First Night's opening night concert in Hyde Park.
Imogen is a passionate Breast Cancer campaigner and is about to launch her own campaign – Dukes Up – in conjunction with the Chris O'Brien Lifehouse in Newtown.
Imogen has been keeping a tally of the number of people who have seen her undress and vows that when it reaches one million, she will retire. Until such a time Imogen Kelly will continue to provide provocative whoopee, and set the world ablaze with her outrageous characters.
The night also features Imaan Hadchiti, Australia's biggest new thing in comedy as the host! Saturday 25 January at 7pm. Tix from brunswickpicturehouse.com
---
Flickerfest
Mullumbimby Civic Hall
Thu 30 th Jan: 7pm opening-party | 8pm Best Of International Shorts, $25/22
Fri 31 st Jan: 7pm doors open | 8pm Best Of Australian Shorts, $16/14
Sat 1 st Feb: 3pm doors open | 4pm Byron All Shorts, $14/12
Sat 1 st Feb: 7pm doors open | 8pm Shorts Laughs Comedy, $16/14
Season Pass: $55/$45
Highlights of our Byron All Shorts finalists for 2020 includes the heart warming 'Wine Lake' written by and starring Brunswick Heads resident Ailis Logan, which had its Australian premiere in competition at Flickerfest Bondi and The Men That Come by Broken Head resident Clare Sladden which also featured in our Australian competition in Bondi. Other highlights include the touching and positive documentary Limitless from local Mullumbimby production company We Are Explorers and the visually stunning and insightful short The Nightside by Bangalow Resident Sophie Hexter. All are NSW premieres.
Finalist are: Bob, Daryl, Finding Home, Home, Limitless, Manus, My Life To A Tee , The Nightside, Roulette, The Men That Come, Welcome To The Machine and Wine Lake.
Mullum Flickerfest at the Mullum Civic Hall | Thur 30 Jan – Sat 1 Feb 2020. Byron All Shorts, Sat 1 Feb 4pm. 
---
Trip of Compassion
Byron Theatre, Community Centre  |  Saturday 7 March  |  8pm
Don't miss the Byron Bay screening of Trip of Compassion, Saturday 7 March at 8pm at Byron Theatre, followed by a Q&A panel and conversation. The film is a critically acclaimed Israeli documentary on MDMA-assisted psychotherapy for the treatment of Post-Traumatic Stress Disorder (PTSD) and follows patients participating in clinical trials. As the first feature documentary to show footage from within psychedelic-assisted therapy sessions, it offers a fascinating and rare insight into this ground-breaking treatment.
This special event will hold enormous interest for many in the progressive Byron Bay community. Stay tuned for more info next week! Tix from byroncentre.com.au
---
2020 People Power Campaign
The 2020 People Power campaign will ask supporters to donate a minimum of $20 on the People Power Campaign site
On 26 January, 2020 (Survival Day), the 2020 People Power Campaign will be launched online to help raise funds for a very important independent documentary titled, Luku Ngarra; Our Law Since Before Time Began.
This documentary will capture the life and vision of Rev Dr Djiniyini Gondarra, a senior Yolngu elder of the Dhurilli nation of Northeast Arnhem Land in the Northern Territory, who has spent the last 50 years of his life as a civil rights activist for Indigenous Australians. Like his own heroes, Nelson Mandela and Mahatma Gandhi, Dr Gondarra has a profound gift for speaking about bigger picture issues and of the beauty of humanity, while shedding light on grave injustices. With his gentle power, he sets the record straight on Yolngu law and culture, which many anthropologists and historians have not been accurate in documenting. Significantly, he speaks in awe of Yolngu women and of their highly revered role in their law and culture, which is deeply complex and refined, and that has held their society in cohesion; and in balance with the natural environment since before time began.
Dr Gondarra's voice is best known from the documentary Our Generation, which revealed the shocking human rights violations of the NT Intervention, and which won Best Campaign Film at the London International Documentary Festival 2011. Ten years after Our Generation, Director Sinem Saban and Dr Gondarra join forces once again in Luku Ngarra.
Dr Gondarra's dream for this film is to present the need for diplomatic dialogue with the Australian Government around a treaty with First Nations peoples, with the intention of correcting the wrongs of Australia's colonial history and paving the road toward justice and empowerment for his people. Ms. Saban's dream is to make an inspiring documentary that will uphold Dr Gondarra's legacy, as well as to create more truth-telling educational resources for classrooms, loungerooms and beyond.
Luku Ngarra is an independent production, with around half of the footage already filmed in 2019, and thus-far self-funded by Ms Saban and the Arnhem Land Progress Association (ALPA). A total of $400,000 is needed to complete filming in Arnhem Land, as well as to cover the post-production costs; which is when award-winning editor Tania Nehme (10 Canoes, Charlie's Country) will weave her magic to help tell the story.
The 2020 People Power campaign will ask supporters to donate a minimum of $20 on the People Power Campaign site: https://www.gofundme.com/f/2020-People-Power