Dire Straights, the New Normal
At the moment it feels like we are living in the pages of a dystopian novel. Life as we know it – the freedom to gather, to be close to others, to travel to countries far away, to touch the skin of our friends, to hug, to kiss, to hold, to stand in a mosh pit – drenched, not just in your own sweat, but the sweat of others… is suddenly gone. In its place is social distancing – the approach to limiting the spread of COVID-19 that is sending us all home. This has been a week of heartbreak for performers, event managers, venue owners, tour managers, publicists, engineers… in fact anyone touched by the entertainment industry. This week I have the curious job of writing the entertainment pages for the many who have cancelled, postponed, or who are struggling to stay operational with new and ever-changing regulations. What was okay in the morning, is often not okay by the evening. These are uncertain times, but the industry, although on its knees, is responding with positivity and a view toward a glorious golden boom, once we can get back to business as usual. But right now, it's business unusual… here is how some of our local operators are faring.
A lot of performers are going online to do shows – being innovative, to keep performing – for their own mental health, and that of the community. Do what you can to support them! For anyone promoting an online performance – let us know [email protected]
---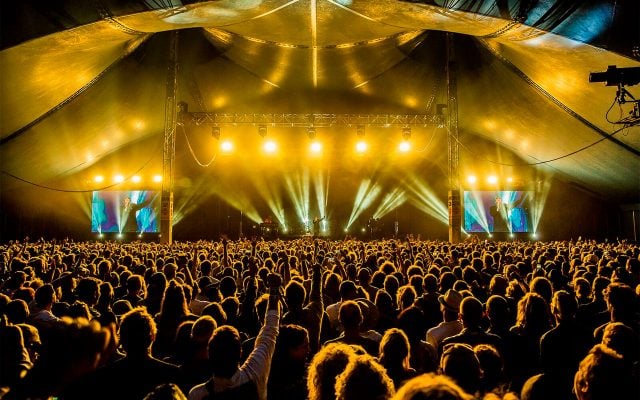 Bluesfest
The biggest player in our local entertainment industry was instructed to cancel their Easter festival last week. Bluesfest brings in a staggering $79 million dollars to our local North Coast economy – so that's a blow to the entire region that will leave businesses and the community reeling. The greatest fear, when an event of this size is affected, is that when the Goliath is felled that it won't get up again. Fortunately, Festival Director of Bluesfest, Peter Noble, has confirmed that this won't be the case; 'We will find a way to continue, and present Bluesfest 2021' he says. Mr Noble is sensitive to the global situation and the sentiment of the population right now, 'People are feeling afraid and alone and uncertain. It's a time when we all need to be available for close friends and family.'
The impact of the COVID-19 closure has come after the much-needed rains, themselves on the back of a hellish and extended bushfire season. For a few weeks there it looked like we'd made it through our season of catastrophe. Not so.
'We went through from November with the fires, and that was a serious three months of people in Australia with their heads down, and it wasn't appropriate to be buying tickets to events – and rightly so – then we had an amazing turn around; after the rains we had incredible ticket sales – the best in four years! We had around four or five weeks of this before COVID-19 became a major issue for our nation and the world.
'I personally walked into my office last Monday – it was our load-in day for Bluesfest. We had an order from NSW Health Department that we couldn't operate. And rightfully so. Everyone was in shock. But we had to work toward messaging everybody – from the artists, to the ticket buyers, to suppliers, and all of our staff.'
Bluesfest employs 18 permanent staff in their office, along with a fluctuating casual workforce. 'We put together a management team that was constantly communicating so we could go out and address issues, as they presented, on their level of importance. There were so many people wanting answers.'
Although admitting this is the most dire situation he has ever faced in the entertainment industry, Peter has been encouraged by the positive comments,  'When you see the level of support and love it's amazing. The good will is so inspiring – it's clear we are all in this together and that is how we get through troubled times.'
It's not just Bluesfest 2020 that is cancelled, there were also 25 tours on the back of the event, comprising 80 shows. Fortunately Bluesfest had Pandemic Insurance, 'It's one of only two claims in Australia our insurer is handling – it guarantees our ticket holders get their money back.' Although many punters have offered to roll their ticket over until 2021 to support the much-loved event, and an industry that is clearly going to struggle in the months ahead.
But Peter believes this is a time when it is important to look forward. 'If we don't focus on the future, we won't be ready for when it comes'.
The Future for Bluesfest is 1–5 April, 2021. With over half of this year's artists committing to come back for next year's event, the future looks bright!
---
Bello Winter Music 2020
It is with heavy hearts that organisers announce the 2020 Bello Winter Music festival will be cancelled. The small scale, multi-venue festival was scheduled to take place throughout the town of Bellingen on NSW's Mid North Coast 9–12 July.
'We are disappointed for the artists, the workers, the ticket holders and the town of Bellingen. Unfortunately we can't see any way around cancelation. We did look at the option of postponing, but decided that promoting an event in the current health emergency, with no clear end in sight, was not possible' says Festival Director, Glenn Wright.
Last week the NSW Health Minister issued a Public Health (COVID-19 Public Events) Order 2020.
With the current ban on gatherings of more than 500 people for outdoor, and 100 people for indoor events, we must do our part to ensure the safety and health of our ticket holders, artists, and staff, with the trajectory of the current crisis leaning towards being an evolving situation for the months ahead.
Red Square music would like to thank all of our venues, artists announced so far, staff, our loyal patrons, ticket buyers and the community of the Bellingen Shire for their ongoing support, and we look forward to presenting our sixth event in 2022, after the planned refurbishments of the Memorial Hall precinct.
Please stay tuned for updates and further information on our socials pages and website www.bellowintermusic.com
---
The Bruns Picture House
Since it opened a few years back, the Brunswick Picture House has become one of the most loved venues in the area. Offering something entirely unique, the owners, Brett Haylock and Chris Chen, are connected to a vast international circuit that our local crowds become privy to when they swing through town.
COVID-19 is hitting hard. 'Every person we know in the industry, and every person we have ever encountered is going through the same thing' says Brett of the current circumstance. 'I can't recall that in my lifetime. The entire globe has shut down. And we as people in the entertainment industry are vulnerable as our entire schtick is to assemble a group of people who may, or may not, know each other and get them humming –  I've spent my life bringing people together, so this is a new frontier.
'Something like this reveals how old fashioned our craft is, especially as, at its heart, its about bringing people together.' The crew have spent the last week processing refunds for upcoming shows before the planned closure. 'Many people donated the ticket money towards the Picture House. It's a reflection that they admire what we do.'
Cheeky Cabaret was to go ahead 10–11 April but has been postponed. 'It became obvious that, as advice was changing, so was the public sentiment, and we couldn't deliver a Cheeky Cabaret.'
In a stroke of good luck, they had planned to close over Easter, until December, for renovations.
'We will be putting in roof steel for aerial rigging, demolishing the toilets and building accessible toilets and an office and dressing room. It will transform this place. Most importantly we are aware of the currency of The Picture House – so the experience won't change. They'll have a posh new toilet but with all the retro-charm of the building still intact.'
---
Hotel Great Northern and The Rails
Over at the Hotel Great Northern and the Rails they've adhered to the AHA (Australian Hoteliers Association) guidelines, stringently enforcing social distancing – so bands haven't been playing.
As the Rails is an outdoor venue, and there was space, soloists had one more week of playing gigs before their closure this week.
---
The Byron Theatre, Community Centre
The Community Centre is now closed to the public. Tanja Greulich, who manage the venue says 'Staff are doing random hours, predominantly from home. We have cancelled some events, and rescheduled those that can be, for later in the year. The office is shut for community services, and volunteers are encouraged not to come in. Everything in the theatre is cancelled. We still have some things on the website happening in mid-May, but obviously that will have to be reassessed. We are using this time to think creatively. Maybe looping in with filmmakers, to do streaming. We are also doing maintenance over this time, and looking at bringing a new state-of-the-art theatre to the community when we return.'
The Liberation Larder is still accepting deliveries from people, and they are running Monday and Thursday. They are focusing on takeaways, and they will give out meals in take away containers, including the breakfast for homeless people on Wednesdays.
---
Ballina RSL
When I spoke with Ballina RSL CEO, Bill Coulter, last week he was leading the charge in trying to stay open for business – to ensure that staff could be paid and that the many people who rely on the club for meals and social contact could still come along. As of this week, with venues being closed, all of that has changed. The Big Gig was going to run with the two-metre personal space adhered to, but that is now cancelled.
'We are in a strong position financially to work through the process, but I am concerned we haven't hit the winter season, and the worst is yet to come for us,' says Mr Coulter. 'We have been trying to promote good will throughout this whole challenge. We will come out of it in due course, and that turn-around is going to be dramatic. We do need to have discussions with bankers and auditors about what a relief package is going to look like.'
---
Byron Brewery
Lion Australia closed all their public breweries last Tuesday. Along with Little Creatures in Fremantle and Geelong, and the XXXX Ale House and our local The Byron Brewery. They were just too close to key breweries and the company didn't want to risk any contamination to their facilities so the breweries are still making beer its  – just the social gathering aspect that has been affected – the beer will go on!
---
NORPA
Three weeks ago Artistic Director of NORPA Julian Louis was at an International conference in Melbourne talking about creating work in a regional setting and how a small theatre attracts so many internatonal practitioners. There was a new Courtyard bar about to be launched, a full time Kitchen and diner about to start and NORPA were waiting to hear back about a four year funding arrangement.  Thats all changed.
' I have a responsibility to a lot of people particularly staff so I need to be as strong and focused as I can and I am reaching out in the industry to colleagues and government agencies to get the best updates and to give the full picture of what is happening. Many organisations may not come back from this' says Julian.
'We had one of the most exciting seasons and now its plummeting. We are a non for profit and we are very worried abut survival. It would be amazing for people not to ask for their money back on cancelled shows. If they can donate it it can help us survive. We also have a foundation tax deductible donation on our website.'
'I am looking at how long we an sustain. We have already let a number of casual staff go and we have around 12 regular employees. Its a small dedicated team who are the core and we have to try and save their jobs. We are part of a bigger engine – and we are in partnership with Lismore City Council. We need to be ready to resume when things pick up. Lismore City Council can play a vital role to make sure we can survive this.'
'This is a $22 billion a year industry that is crippled. Just like the airlines have been grounded. The performing arts have been grounded. We often get overlooked when it comes to government support because we are considered non essential. But culture has economic impact – we had 150 artists coming to Lismore in the next 5 weeks – staying in accommodation, eating at cafes and restaurants – we now restaurants do well when we have shows on. Culture has economic impact.'
While trying to stop the boat sinking, Julian is currently budgetin, programming and putting in grants for 2021.
---
The Palace
The Palace cinemas have closed at all locations until further notice. They ask that to support the cinema purchasing Place Movie Club Membership or online gift cards would be a huge help!
---
Byron Comedy Festival
The Byron Comedy Festival is off. Festival directors, Mell Coppin and Zara Noruzi, said 'After a sold out inaugural festival last year, we have become another Coronavirus casualty and have had to cancel Byron Comedy Fest 2020.
'Scheduled for 14–17 May, our festival cannot go ahead as a 200 seat venue. We are obviously disappointed for the community, the artists, the production crew, and ourselves, but we will bounce back in 2021 – virus free, and ready to deliver loads of laughter!'