Rous County Council's Future Water Project 2060 proposal has been on public exhibition for a week now. Echonetdaily caught up with Rous County Council Chairperson Keith Williams to dig into the detail.
Councillor Williams said the responses have been largely positive so far, with people recognising it's been a thorough process. 'People can see that there's a lot of work behind it, but we haven't had a lot of detailed feedback yet. There's a lot to absorb there.'
He acknowledged there are concerns about indigenous heritage issues and environmental impacts, and says he expects discussion.
Cr Williams said that there will soon be new interactive graphics on the Rous website to make it easier for people to understand what's being proposed without going through reams of paper.
'It's cutting edge stuff,' he said. 'We're working with QUT, who've got this detailed model of the landscape. They've placed all this infrastructure in it and showed how it might connect and what it would do.
'That ability to present it in a way that's digestible for the community is really important.'
Widjabul-Wiyabal impacts
In terms of the indigenous heritage impacts (there are scar trees and graves in the area to be impacted, with 18 sites identified so far) Cr Williams said, 'the point is to talk to the local people who are concerned, not just everybody around who's got an opinion, but the people for whom this is actually a special place, who may have some relationship to the things that are there.'
He said that attempts to reach out to the relevant people, including Mickey Ryan, have so far been unsuccessful, but Rous Water was serious about addressing these issues via its Reconciliation Action Group.
'We know this is one of the key issues we need to resolve,' he said, 'and we have to resolve it directly with people. It's about being genuine in that process, and saying "if this is the best solution for our community, for our long term water supply, will you allow us to do this?"'
Why another dam?
Cr Williams said that with a background in environmental studies, he's 'not a big fan of dams' and doesn't think they're a solution for a lot of things, but in this circumstance it makes sense.
'It wasn't my first choice,' he said. 'I  wanted recycled water to come out on top, and I've been upfront with people. To me, that was a good long-term solution, but we can't actually include it in the Future Water Plan because not a single facility in NSW has been licenced for potable reuse, anywhere.
'Some people are using it for environmental water replacement,' he continued. 'That doesn't work for us because Rocky Creek Dam doesn't have an actual environmental water release strategy. It was built in the '50s and it's a solid wall. There's no structure for letting water out. So we can't replace environmental water, it's not doing that.
'We can encourage the local councils to do purple pipe systems. That's happening in Ballina and Byron, and it's good to see. But there's limits to what we can do.'
He says the problem is at the NSW government level.
'There's a regulatory roadblock at the moment, and we can't cost it. They've said that if we did get it to that standard, for potable reuse, we would be required to put it into the catchment system somewhere upstream, so that it took six months to flow into the dam. Even if you've got it to drinking water standard!'
What about desalinated water?
According to Cr Williams, 'Expense and brine are big problems. The brine is a serious issue. You can't just pump that back out to sea. It's also heavily energy intensive. The fallacy is that you can run it only when you need it. It doesn't work, because the membranes will clog up. There are huge maintenance issues if you don't keep it running.
'So you've got the most expensive possible source of water you can have, and it has to run all the time, not just in drought conditions. To me, it doesn't make sense.'
What about extra efficiency?
Cr Williams acknowledged efficiency 'helps a bit' but said the situation changed in October last year.
'That was the point at which we started to hit peak demand, in the dry. Suddenly water carters could not keep up with the demand from people that needed their water tanks filled. Everybody at that point, at the early stage of the drought, was reliant on the potable water supply. People with water tanks were running out.'
He added, 'We ended up tripling the number of trucks that were licenced, there was a five time increase in the amount of water that was sold to commercial water carriers. We added the ability for households to take 1,000 litres of water at a time.
'There was suddenly huge demand. Most people can't have water tanks with the capacity to last the drought.'
Rous Country Council data shows the next big crunch coming in 2028, when projected population growth and climate change means the Northern Rivers will be running dry, hence the need for additional groundwater to carry the population over to when either the Dunoon Dam is built, or another solution is found.
Are properties being resumed where the inundation is planned?
Cr Williams said no properties have been compulsorily resumed, but nine properties in the affected area have been purchased by Rous Water by mutual agreement since this particular dam site was identified in 1995.
Another eleven properties remain in private hands.
He said the existing Rocky Creek dam wall cannot be raised because of engineering and environmental issues, and also wanted to emphasise that the areas of the catchment under the control of Rous County Council are the healthiest in the system, according to ecohealth reports.
Cr Williams said the organisation is determined to continue that legacy, with native rainforest vegetative buffers planned for the new dam.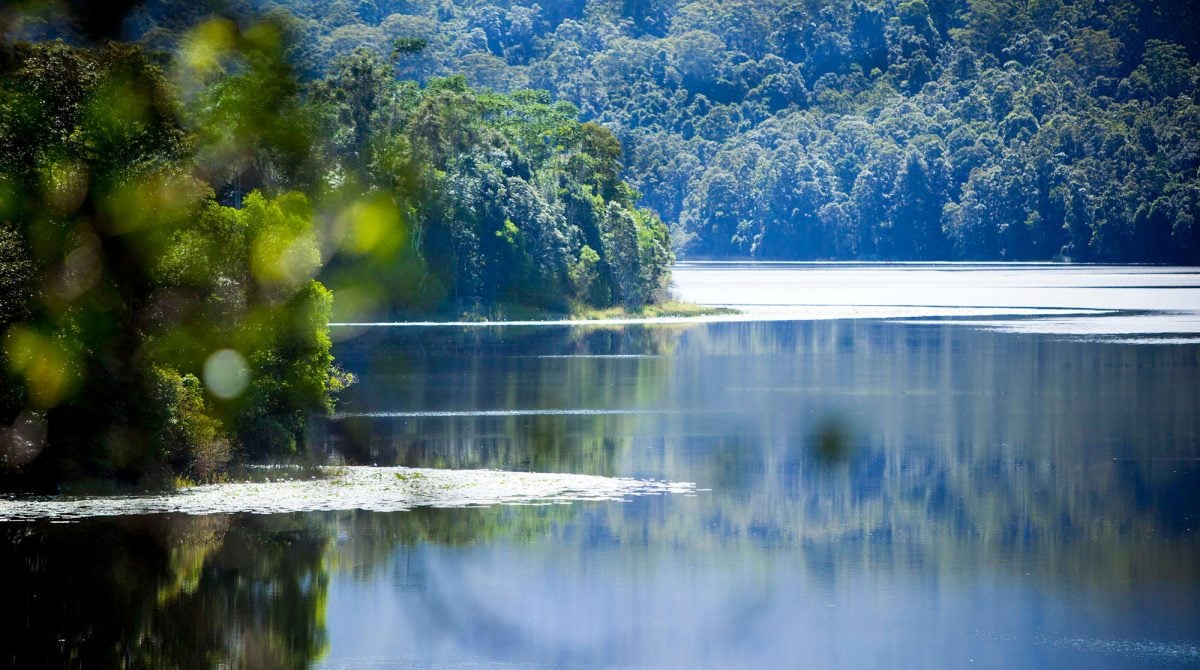 'This dam would be on the same creek and seven kilometres downstream, he explained. 'We build a modern dam, with environmental water flows, we run that through a small hydro plant so we recover energy, we power our site from that.'
Cr Williams said the new dam would be designed to minimise environmental impacts. 'You don't want cold water stunning fish immediately downstream of the dam. There are things you've got to look at in terms of temperature integration and whether you're drawing water from high enough in the column, so all of those things.
'If you're a genuine public organisation you look at that, and you build it in.'
What about the Whian Whian swimming hole?
Cr Williams says the map circulating on social media showing the swimming hole being inundated is wrong, and the proposed dam does not extend that far up the creek.
He added that Rous County Council owned that area already and would be looking at doing more rainforest restoration downstream of the falls. He also said people would still be able to swim, because the new dam would not be a protected catchment, unlike Rocky Creek.
The Dunoon Dam would be available for public recreation, including swimming and rowing.
What about groundwater as a standalone solution, instead of another dam?
Cr Williams said that was groundwater was the very first approach Rous looked at.
'The problem is they have to be bore fields,' he explained, 'because a single one won't be enough. So you'd end up with wellheads all over the coastal plain, like at Tyagarah, which is a wetland area that is intensely valuable in its own right.
'And we would have to stick pumps under it and suck the bejeezus out of them to meet our town water supply. To me as an environmentalist there's a whole bunch of environmental risks there. I really don't want to see those ephemeral wetlands suddenly just disappear.'
He said the plan to draw upon the Alstonville aquifer and carry that water to the Marom Creek treatment plant doesn't carry those risks, but is only a temporary solution, as the population of the Northern Rivers continues to rise and climate change bites harder.
'With the climate change scenarios and the chance of those longer extended droughts, we've got to have more storage in the system and we've got to have more water put away for the bad days.
'I understand a lot of climate science. It's not belief, it's knowledge, that this is going to hit us hard.
'We've relied on being one of the wettest spots in NSW, we get lots of rain, we've got a dam that's well-located, surrounded by rainforest so it gets filled regularly, but we can't rely on that any more. Last year was the wakeup call.'
He said that when the rainforests started burning, it made the climate change point even more brutal. 'The future is looking drier and hotter and that's what it looks like. It's scary.
'We have to be prepared. This is coming at us and it's coming at us fast.'
Public submissions on Rous County Council's Future Water Project 2060 are welcome. You can get more information and lodge them here. Submissions close 12 August 2020.
---
More stories about the Dunoon Dam