Dr Willow Hallgren
With so many environmental crises occurring, it's hard to focus on just three issues to provide an update on to satiate Planet Watch readers. What with the Greenland ice sheet having passed the point of no return (even if global warming stopped tomorrow, even if global temperatures cooled a little, it would continue to melt), and watching the unprecedented megafires (all too familiar to Australian viewers) rage across California, as calls are made for Australian reinforcements to join their fire fighting efforts.
1 – The Great Barrier Reef: Going, going, gone?
The Great Barrier Reef (GBR) has experienced it's third major bleaching event in five years, following on from the widespread mass bleaching events in 2016 and 2017. The highest monthly sea surface temperature ever recorded on the GBR since records began was recorded in February this year.
This year's bleaching event was severe, and more widespread than earlier events. It has now extended its impact and is the first mass bleaching event that has affected all three regions of the reef simultaneously; not only the northern and central parts of the reef, but now 'large parts of the southern sectors' have experienced severe bleaching as well.
Earlier this year, Professor Terry Hughes, director of the Centre of Excellence for Coral Reef Studies at James Cook University, conducted an aerial survey of 1,036 reefs and found that 25 per cent of reefs were severely bleached.
Although mild or moderate bleaching doesn't necessarily kill corals, which can recover and survive such events, many corals die when bleaching is severe. More than half of the shallow-water corals have died in the northern part of the GBR.
The time between recurrent bleaching events is shrinking, hindering a full recovery. Scientists at James Cook University have found that damaged coral reefs need at least 9–12 years to fully recover from bleaching events, depending on the species of coral.
The greatest threat to the Great Barrier Reef is climate change and the deadly underwater heatwaves it is fuelling. Runoff from land clearing is also undermining the Reef's resilience to the impact from climate change. More about that later…
2 – Koalas: On track to extinction in the wild within 30 years
Koala populations in southeast QLD, NSW and the ACT have been experiencing severe declines since the 1990s that led to their listing as a 'threatened' species in 2012.
Even before the 2019–2020 Black Summer bushfires, koala populations were already in catastrophic decline in many areas in eastern Australia. Chlamdyosis, trauma related to human activities (predation by pets, car collisions etc), and wasting owing to starvation are the main causes of death and injury.
The report Koala populations and habitat in New South Wales released in June this year by the Parliament of NSW gave us this stark assessment of the current plight of the koala:
'The ongoing destruction of koala habitat through the clearing of land for agriculture, development, mining, and forestry has severely impacted most koala populations in the state over many decades.'
The report found that 'this fragmentation and loss of habitat poses the most serious threat to koala populations'. A recent spatial analysis by the Wilderness Society of which land use activities in southeast Queensland are contributing the most to koala habitat destruction revealed that 76 per cent of 275,775 hectares (2,758 square kilometres) of 'likely Koala habitat' was cleared between 2013–2018, primarily for beef-related land use, and 14 per cent for sheep-related land use.
Prolonged severe drought conditions in NSW saw many koala populations suffer ongoing stress, and then the 2019–2020 Black Summer bushfires decimated these struggling populations. Conservative estimates suggest that at least 5,000 koalas, and potentially many more, were killed in the fires.
The Parliamentary report estimated 24 per cent of koala habitats on public land were 'severely impacted' by the fires, with koalas declining by up to 81 per cent in some areas.
The report states that 'climate change is having a severe impact on koala populations by affecting the quality of their food and habitat', and that 'climate change is compounding the severity and impact of other threats, such as drought and bushfires, on koala populations'.
However, perhaps the Parliamentary reports' findings, which are the most confronting are those that convey the urgency of the situation:
• 'Given the scale of loss to koala populations across New South Wales as a result of the 2019–2020 bushfires and without urgent government intervention to protect habitat and address all other threats, the koala will become extinct in New South Wales before 2050.
• 'The future of koalas in the wild in New South Wales cannot be guaranteed unless the NSW Government takes stronger action to prevent further loss of koala habitat.'
3 – Deforestation and land clearing
is contributing to

a drier, hotter climate

These first two issues are underpinned by a third major issue: land use change. Land use change, including rampant deforestation around the world, is a major driver of climate change, which is also killing the Great Barrier Reef and koalas. Also, regional deforestation and land clearing is contributing to runoff which is impacting parts of the Great Barrier Reef making it more stressed and more vulnerable to climate change.
Australia as bad as the Amazon…
Australia has lost about half of its forest and bushland since 1788, and much of what remains is degraded.
Yet Australia has the highest level of deforestation of any developed country, which is at levels on par with what is occurring in the Amazon, the Congo basin and Borneo. 500,000 hectares is cleared each year, equating to an area the size of the MCG being cleared every two minutes, as illustrated recently by the excellent ABC documentary Fight for Planet A.
Much of the deforestation is primarily driven by agricultural clearing for beef and sheep production, mining, and urban development.
We know that this deforestation is only going to exacerbate the climate change-induced warming and drying trends that are already so apparent right across eastern and southern Australia. Scientists have known for decades that deforestation in tropical and sub-tropical regions can have a considerable warming and drying effect on regional climate.
Cost of reducing rainfall
Scientists have shown that when Australian native vegetation is replaced by (non-irrigated) agriculture, the result tends to be reduced evaporation, increased mean and maximum temperatures, decreased cloudiness and reduced rainfall. By clearing their land, farmers and graziers are ensuring drier, hotter conditions on the land, and a greater vulnerability of their land and business to drought.
Australian farmers would do well to factor in the costs associated with the reductions in rainfall and increases in maximum temperatures when calculating the cost effectiveness of bulldozing the native vegetation from their land.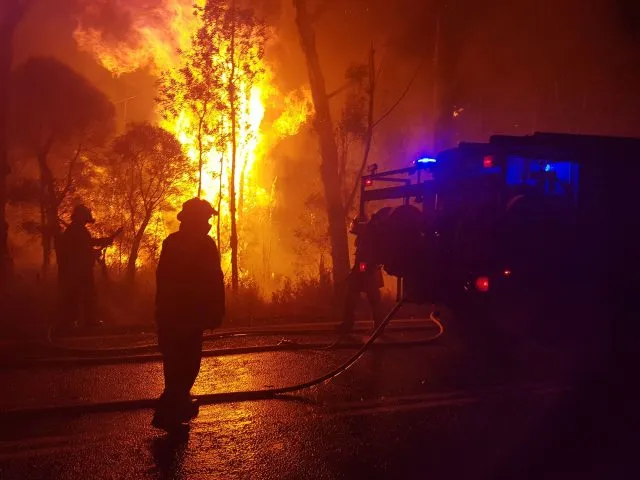 Fire risk
Adding to the pressures on our forests owing to deforestation is the increasing susceptibility of our forests to fire; it has been estimated that more than one-fifth of Australia's forests burned during the 2019–2020 Black Summer fires – a proportion which is unprecedented anywhere in the world.
Sadly, if climate change continues unabated, the sort of record temperatures and fire conditions we saw during this last (2019–2020) fire season could become the norm within 20 years, and be considered below-average within 40 years.
As bad as this all sounds, the Earth may yet have a negative feedback up her sleeve. With continued destruction of the Earth's forests and conversion of land for industrial agriculture, there is a greater likelihood of new epidemics emerging. As we are currently experiencing with COVID-19, pandemics can have profound impacts on human societies, slowing human population growth and economic activity, and potentially, humanity's impact on the environment.
---
Author
Dr Willow Hallgren is an earth-system scientist who studies the impact of climate change on ecosystems and biodiversity, the feedbacks between vegetation and the climate, and how policy can influence climate change, by changing how we use the land.
Willow has previously worked as a climate and biodiversity scientist in government, industry, and academic roles in both Australia and the USA at the Massachusetts Institute of Technology (MIT). She was also previously the Science editor of Monash University's student newspaper Lot's Wife.
She is a city escapee of many years now and is currently hiding out among the hill tribes of the beautiful Tweed Valley.
---
More Planet Watch articles