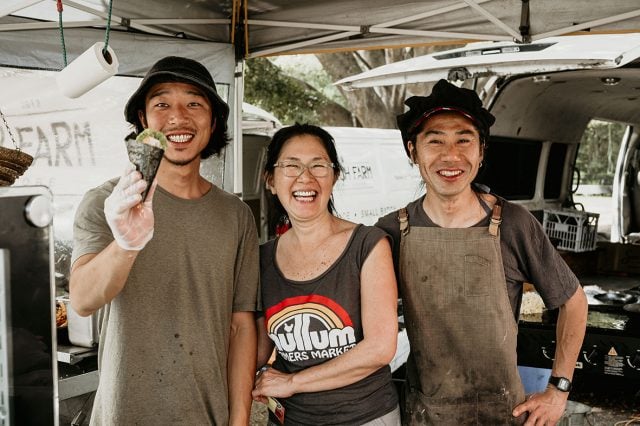 Story & photo Melissa Butters
The Japanese Kitchen brings an 'easy healthy' ethos to the markets each week.
Their unique menu, inspired by the teachings of a Japanese monk, uses fresh Australian seasonal produce. This popular little stall was started by humble Japanese sushi chefs, Takayuki Kuramoto and Takashi Yaguchi, who fell in love with Australia. They have a passion for creating nutritious local cuisine.
Takayuki began as a chef at the age of 15. He worked in Tokyo and America before venturing to Byron Bay in 2004 on his honeymoon, and beginning a working holiday. Here he met Takashi at Sushi-O in Byron. They had a vision to feed the community and give back to the place where it all began. 
Keen to expand his skills and knowledge, Takayuki regularly returns to his homeland. He has been visited by a chef from Munakatado, one of the best bakeries in Japan. They spend time together perfecting recipes and techniques.
Taka began experimenting with Rakkenji, which was invented by a Japanese monk. This special culture is 100% fermented and therefore good for the gut. It is a key ingredient for his rare signature dish, a savoury pancake called Okonomiyaki.
The monk's teachings used stretching and exercise between two people for developing good health from the outside. He also stressed the need to be healthy on the inside.
At the markets you'll find sushi cones made with biodynamic brown rice and dishes using seasonal sprouts, avocados, tomatoes, sauteed mushrooms and tempura market veggies. Manabu, Satomi and Tetsuo, who assist Takayuki and Takashi, arrive early each week to grab what's fresh and start prepping and chopping.
They've now expanded to Doma in Federal and Qudo in Bellingen, but Taka pays tribute to the markets where it all began. 'I love the atmosphere, the people. It felt special to be a stallholder and making food for the community'.
The New Brighton Farmers Market is on every Tuesday from 8am to 11am, and the Mullumbimby Farmers Market every Friday 7am to 11am.