The Greens' Byron Shire mayoral candidate says he's drafting an apology to current deputy mayor and fellow party member Sarah Ndiaye, after publicly defending Fast Buck$ after he was accused of intimidating her.
Former Byron Shire Councillor Duncan Dey spoke to ABC North Coast on Monday saying John Anderson, also known as Fast Buck$, appeared to be approaching Cr Ndiaye with 'good will' at last week's council meeting.
Mr Dey went on to say he had 'huge respect' for Mr Anderson's perspectives on council matters and that a lot of people didn't 'understand his history'.
'I mean, going back decades, he exposed corruption in relation to land development in huge swathes of Byron Shire,' Mr Dey told ABC North Coast, 'he single-handedly is a detective, a lawyer, and, you know, virtually an unpaid court barrister, he's that good'.
The mayoral candidate said people saw 'the grumpy side' of Mr Anderson, before later telling The Echo he regretted his comments.
Byron deputy mayor in state of shock
The Echo contacted Mr Dey after Cr Ndiaye said on Monday she was in a state of shock thanks to hearing his interview with the ABC's Bruce McKenzie directly after hers.
Cr Ndiaye had told both ABC North Coast and Bay FM's Community Newsroom women had a right to feel safe in their workplaces, regardless of their jobs.
Mr Anderson is a regular participant in public access at Byron Shire Council meetings but has twice been asked to leave the chambers this year after accusations he was trying to intimidate Cr Ndiaye.
Greens mayoral candidate promises to make workplace safer for women in local government
When recanting his ABC interview, Mr Dey told The Echo his earlier observation of Mr Anderson's so-called 'good will' was irrelevant.
'It's how Sarah felt about it that mattered,' Mr Dey said, 'she was busy engaged in her duties as councillor and Mr Anderson should be aware that his presence and behaviours upset her'.
Mr Dey said Mr Anderson should have 'had the brains not to approach Sarah'.
He said the chambers used to have a rail separating the gallery from the lowest level where the staff and councillors sit.
'That meant you had to come out to the centre before you got down to the lower level,' Mr Dey said, before saying he wanted to know why the rail was removed and would make it his business to find out if he became mayor.
Council staff to investigate banning Fast Buck$
Police were involved in the first incident on 22 April, when Mr Anderson was recorded 'mansplaining' the pronunciation of Cr Ndiaye's last name and refusing to pronounce it the way she does.
A second incident last week led to the new mayor moving for the general manager to investigate options for Mr Anderson to be officially banned from the chambers until at least the end of September.
Attendees at the meeting have described Mr Anderson moving towards Cr Ndiaye and invading her personal space.
'In the middle of public access John Anderson stood up and proceeded to walk around the councillors' desks straight towards Sarah, leaning over,' Tashi Lhamo told The Echo on Monday.
Ms Lhamo said public access was immediately halted and Mr Anderson was asked to step away but that 'in the end Sarah had to get up and move away from him'.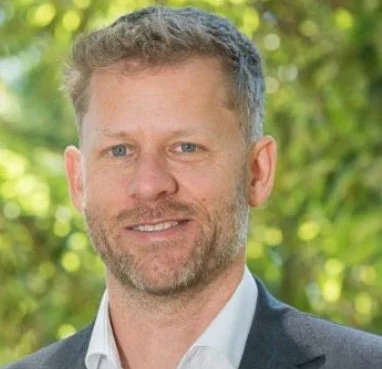 Mayor Michael Lyon told Mr Anderson his behaviour was inappropriate but Mr Anderson refused to leave when asked.
Ms Lhamo said councillors eventually left the chambers and adjourned the meeting.
'I've seen his performance now a number of times and it's very concerning to me,' Ms Lhamo said, 'he has repeatedly behaved in what I consider quite an aggressive and dominating way towards Sarah, not just about her name, literally calling and singling her out in council meetings and using his body to dominate, walking and standing over her'.
Ms Lhamo said Mr Anderson's behaviour was probably the most misogynist public display she'd ever seen.
Fast Buck$ was 'verbally aggressive' says Byron Baes activist
Her sentiments were shared by Tess Hall, well known in the Byron community for launching a petition against the production of a reality television series about social media influencers called Byron Baes.
Ms Hall was at the April meeting and said as she was sitting in the gallery she saw Mr Anderson behaving abusively towards Cr Ndiaye.
'He was verbally aggressive, refusing to say her name correctly,' Ms Hall said, 'I'd never attended a council meeting prior to that and it was quite clear to me that no person, whether a man or a woman, should suffer like that in their workplace'.
'I embrace every resident's right to partake in local government,' Ms Hall continued, 'however the behaviour I witnessed was abusive in nature and I don't think it's appropriate for anyone to be subjected to such behaviour'.
'I hope with absolute sincerity Cr Ndiaye doesn't have to put up with that any more'.
Council staff report 'bad behaviour' from Fast Bucks too
Last week, Cr Michael Lyon used his new position as mayor to move for the general manager to investigate options for banning Mr Anderson from both council chambers and the staff administration buildings on grounds of 'on-going threatening behaviour'.
The council had earlier heard staff reports of Mr Anderson's 'bad behaviour' in administration buildings
'It's reprehensible, it's unbalanced,' Cr Lyon told fellow councillors.
Independent Councillor Basil Cameron asked the council's legal advisor, Ralph James, as to the council's authority to ban Mr Anderson.
'Generally people have the right to be on council premises,' Mr James replied before explaining the council had similar rights to shopping centre operators when it came to classifying someone as a trespasser, thereby revoking their public licence to be on-site.
Mr James said 'offensive', 'obscene' and 'threatening' behaviours were possible justifications for banning someone from an otherwise public place.
'Girls should respect their elders': Fast Buck$
Mr Anderson has rejected the accusations against him and speaking to The Echo, accused Cr Ndiaye of pretending to be afraid and getting 'all the boys to rally'.
'Would I be so stupid as to go up to Cr Ndiaye in a room full of people and intimidate her?' Mr Anderson asked rhetorically.
He also labelled Cr Lyon a liar.
Mr Anderson said he was trying to distribute information to councillors related to an item on the meeting agenda that he couldn't address in public access because he'd already fulfilled the one-item per verbal address limit that governs Byron Shire Council public access.
He said he and Cr Ndiaye were on the same side on the particular issue and that it was ironic he was being accused of threatening behaviour.
Mr Anderson denied 'picking' on Cr Ndiaye but continued to mispronounce her name during the interview.
He then accused of her having 'a big mouth', referring to comments Cr Ndiaye had made about the council lacking resources to pursue property owners in court over short-term holiday letting and saying she had 'no right' to make them without evidence.
'There is no policy or authorisation for her to make that statement,' Mr Anderson said, 'so now I'm the arsehole misogynist for calling her out'.
When Mr Anderson heard other women at both meetings had described his behaviour towards Cr Ndiaye as threatening, he called them girls and said they should respect their elders.
Fast Buck$ is 'misogynistic and mean-spirited' says independent councillor
Cr Ndiaye told The Echo Cr Cate Coorey had been the first to signal Mr Anderson's close physical presence at last week's meeting and named several other women who she says later expressed support for her.
The Echo has contacted them all but was unable to get comments from everyone.
Cr Coorey said it was unfortunate Mr Anderson misread the room when it came to bullying women, trying to make 'some now obscure point'.
'If he hadn't persistently targeted Cr Ndiaye over the years then it perhaps may not have been so controversial that he approached her in the council chambers but he has and he has caused her to be upset on several occasions,' Cr Coorey said.
'A more humble person would have apologised if any injury was caused but instead he has doubled down and insisted he is just being political rather than personal,' she continued.
Cr Coorey said she appreciated satire but actively making someone feel uncomfortable in their workplace was misogynistic and mean-spirited.
'I think every woman in the chamber saw it that way – as did a good majority of the men,' she said, 'Fast Buck$ must have missed the memo'.
Workplace safety
Mr Dey said he supported Cr Lyon's motion last week and it was on his agenda to look into workplace safety in a local government context.
'One of things I'll be campaigning on is listening to the science, what makes workplaces safer for women, women councillors and women on staff,' Mr Dey said.
'I would go further than that and allocate a budget and get some experts and get some results,' the Greens mayoral candidate said.
♦ Cr Ndiaye has also been contacted for further comment.