A small gathering of RFS members recently joined Tom Maye, his wife Carmel and their family, to celebrate an enormous milestone of 70 years of service.
Cudgen Brigade member Tom Maye AFSM was recognised for service to the NSW Rural Fire Service (NSW RFS) last Saturday.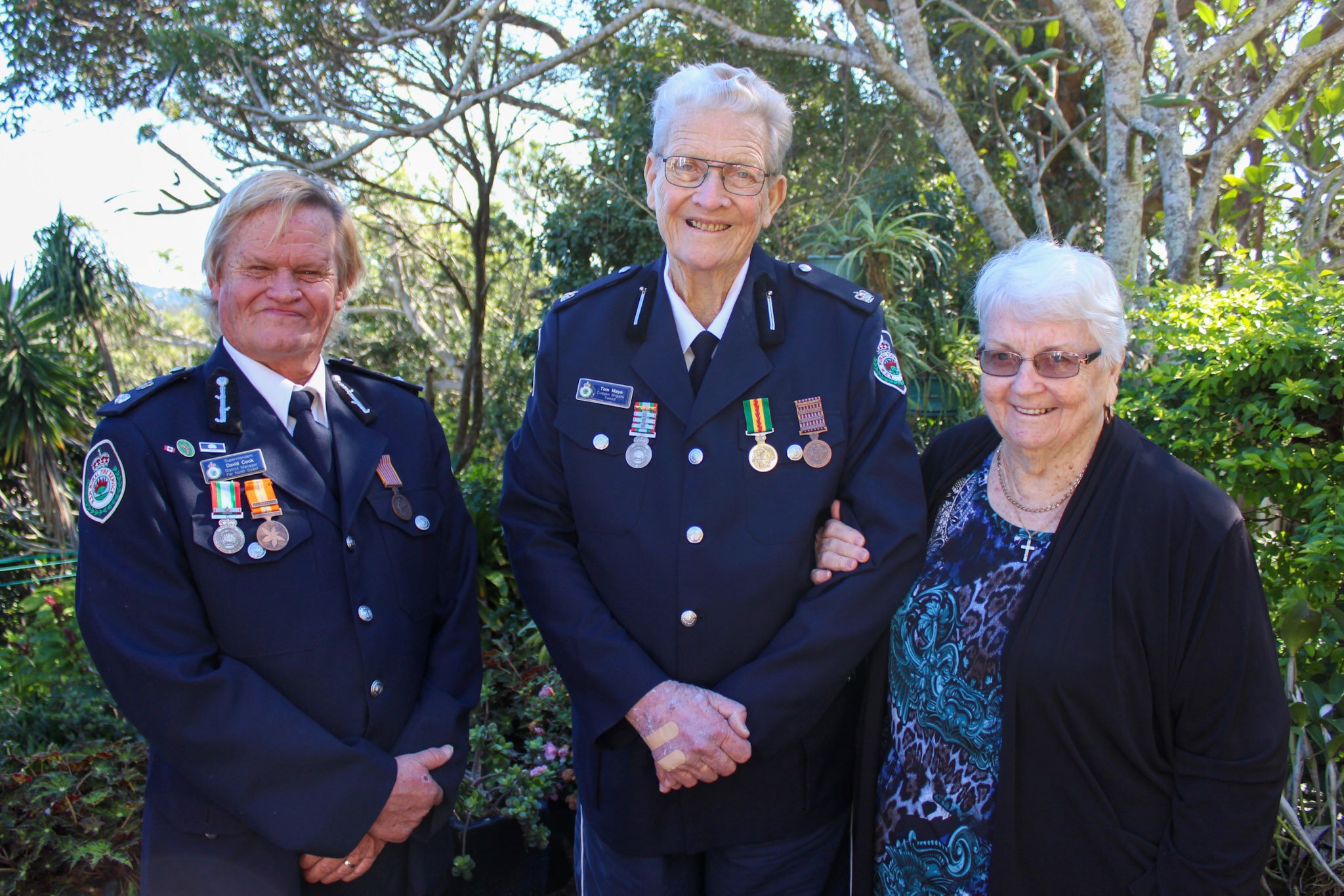 Superintendent David Cook presented Tom's 70 Year Long Service Clasp and thanked Tom for his dedication, friendship and commitment to the NSW RFS noting that achieving 70 years of service was so rare, his clasp had to be requested as a special order.
'Tom started his service with the NSW RFS when he joined the Duranbah Volunteer Bush Fire Brigade in 1950 at the age of 11. His first fire was fought barefoot with the use of farmer's tractors to create fire breaks and eventually contain the fire; a world away from the state of the art personal protective equipment and specifically engineered fire appliances of today.'
Tom has held numerous positions within the Duranbah and later Cudgen Brigades including the position of Captain for over 17 years.
In 1988 Tom accepted a paid position in the Service as Deputy Fire Control Officer (DFCO) of the Tweed District. In his role as DFCO Tom became a 'jack of all trades' sourcing and fixing equipment, training firefighters, managing fires and generally improving the level of fire protection for the people of the Tweed.
After his retirement in 2001, Tom continued serving the local community as a member of the Cudgen Brigade where he put his vast experience and exceptional leadership qualities to work mentoring younger brigade members and maintaining equipment.
'Tom is greatly admired and respected by his peers in the NSW RFS due to his good nature, integrity and honest principals,' said Superintendent Cook. 'Due to his selfless volunteering he has received the Australian Fire Service Medal, National Medal Clasp 1-4, Long Service Medals 10 -70 years and Life Membership of the Cudgen Brigade.
'Tom continues to be an inspiration to the next generation of firefighters in our local area. His professional expertise, local knowledge and history of the local area is invaluable.'