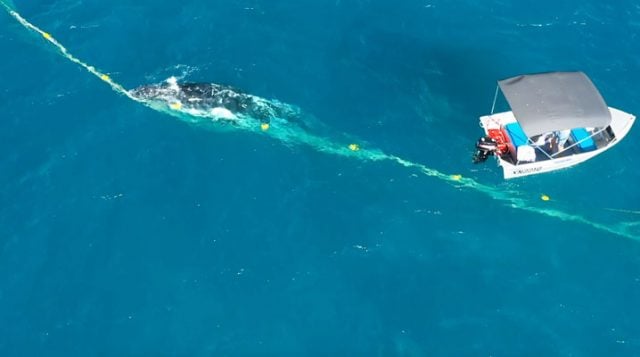 Queensland saw its third whale caught in shark nets yesterday as Sea Shepherd calls for the removal of shark nets during the whale migration season on the Queensland coast.
Fisheries Queensland confirmed to Sea Shepherd Australia that the third whale of the season was caught yesterday morning in a shark net off Mooloolaba on the Sunshine Coast.
The young humpback whale was left to struggle for at least an hour and the Government Marine Animal Rescue Team managed to release the calf around 10am whilst the mother was nearby.
'This is the third entanglement in a Queensland shark net this year. In August, a young whale trapped in a shark net on the Gold Coast was released after over two days of struggling for its life with a length of anchor chain and large, deflated shark net buoys still attached. Sea Shepherd Australia fears for the fate of this whale as it does for all whales caught in these deadly shark nets,' said Sea Shepherd in a press release.
Sea Shepherd Australia's Shark Campaigner Jonathan Clark said, 'Hervey Bay, Queensland, is the first place on the list of internationally certified Whale Heritage Sites and less than 200km away at Mooloolaba, for the third time this year, a whale was caught and struggled for its life in one of Queensland's deadly and useless shark nets.'
'There have been at least 27 whales caught in Queensland shark nets in the last five years – a predictable and growing problem that is counter to the goals and needs of our tourism industry and local marine ecosystems,' he said.
Sea Shepherd Australia is calling for the removal of shark nets from the Queensland coastline to protect whales during their migration season.
'The Queensland Government, via the Minister for Fisheries Mark Furner, has opted to continue the pointless barbarity of these shark nets passing on opportunity after opportunity to get rid of these killing devices for non-lethal options that really do make beaches safer for swimmers and surfers. The solutions are well known and available right now,' Mr Clark said.