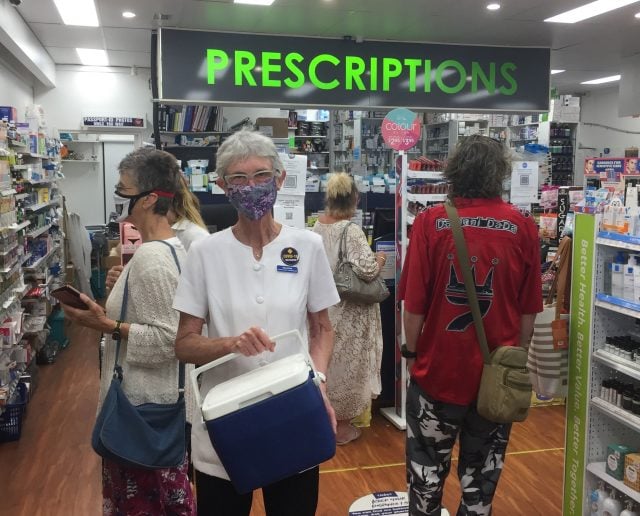 From Casuarina to Byron many of the local options for getting the COVID-19 vaccine or booster aren't currently available over the Festive Season. However, Ocean Shores Pharmacy has managed to scrape together some extra doses of vaccines and boosters and have opened up more  days to make them available.
Pharmacist, and owner, of Ocean Shores Pharmacy Brett Dyer says he has called in a few favours to get extra doses, mainly from the Gold Coast, to meet demand.
'We ordered extra vaccines and boosters on 16 December but they won't be delivered until next week,' he told The Echo.
'A number of places have run out in the area but I was able to pick up some extras up the coast. We should be able to get through the next week now.'
Pre-fill the pre-screening
Mr Dyer said the most helpful thing anyone seeking a vaccine or booster can do is fill out the pre-screening form on the app or online.
'Filling out the pre-screening via the app online is essential for anyone wanting to get a shot,' he said.
'There are approximately ten questions and people need to do them all, not just name and medicare number, so that we can ensure everything runs efficiently. When people do it it helps us out so much. It takes another 15 minutes each vaccination if they don't do it.'
Mr Dyer said they have now provided free internet access at the pharmacy to assist people accessing the app as they realise that access to the internet is a challenge for some people in the region.
Book online
To get an appointment you need to go online to MedAdvisor download the app and book at the Ocean Shores pharmacy or go online to the NSW Health Vaccination site.
'Our bookings were going through the roof. I had no idea that no-one else in the area was doing boosters and vaccinations at the moment. So we have opened up extra days and called in an extra pharmacist and it is just filling up,' said Mr Dyer.
'All my staff need an award, everyone is doing an amazing job under the circumstances.'
---
Recent stories, information and updates regarding COVID-19