Rous County Council (RCC) met this morning to decide, amongst other things, to put the controversial Dunoon Dam back on the table, after Rous voted to abandon the idea in late 2020.
Around 200 people opposed to the dam met outside RCC's Lismore office to make their voices heard.
Before Council looked at the dam motion, Cr Robert Mustow and Cr Sharon Cadwallader were voted in unopposed as Chair and Deputy, respectively.
This was the first meeting of the new Council and unsurprisingly Councillor Big Rob had proposed the motion to reverse a decision already made by a previous RCC.
Public access
With no community members speaking for the motion, RCC heard from Hugh Nicholson, previous Chair of Rous Ros Irwin and Widjabul Wia-bal woman Skye Roberts during public access.
Hugh Nicholson said the Dunoon Dam was first suggested as a possible water source in 1995. 'In 1997, when Uncle John Roberts was asked if that was ok with the Traditional Owners, he replied with an emphatic "NO".
'Just last week, when Uncle John Roberts who is now an Elder, was speaking to NSW Parliamentarians Catherine Cusack and Cate Faerhmann, he again said "NO" and explained why the area is important to his people.
'For 25 years, a third of a lifetime, he has tried to protect this area of significant cultural importance for the Widjabul Wya-bal people.'
Stress and mental anguish caused to the Widjabul Wia-bal
'Imagine the stress and mental anguish caused by being entrusted as the one responsible for protecting Country and being ignored for 25 years!' said Mr Nicholson.
He then spoke about the Cultural Heritage reports prepared for Rous. 'If you read these reports you would become aware that, though these studies were not completed, due to weather constraints, there was enough evidence for newspaper headlines over a decade ago (8 December 2011) to report, "Plans for new dam washed away".
'A week later an article in The Northern Star reports, "Rous Water announced last week that the discovery of significant Aboriginal sacred sites in the inundation area of the proposed Dunoon Dam added to the growing list of ecological, environmental and cost concerns with the project."
'This banner headline story reveals a pre-European cemetery with 25 rock mound burials. This is a site of enormous significance to the Traditional Owners, the Widjabul Wia-bal people of the Bundjalung Nation. It has significance for Australia as a whole. To drown such a site, especially when there are alternatives, would be an act of vandalism.'
Rainwater tanks on all residential properties
Mr Nicholson said there was another newspaper report in 2007 saying Rous Water had a new leader, who had already announced he would be looking at ways to encourage more responsible use of the water resource in the region. 'The story said "Robert Mustow replaces Phil Silver as the chairman of the water authority. He says he supports a push by the Greens party and the Shires Association of New South Wales for rainwater tanks on all residential properties."
'In April 2010 The Northern Star reported – "Rous Water technical services director Wayne Franklin said a desalination plant was one of the options Rous Water would explore as it looked for alternatives to the expensive, and politically difficult, plan to build a new dam at Dunoon."
'In 2011, Ballina Mayor Phil Silver said Rous Water "is at a fork in the road" in terms of future water security, and speculated that the Dunoon Dam proposal may be abandoned in favour of "serious demand management and alternative sources."
'In June 2014, Susan Meehan, Chair of Rous reported, "high capital costs associated with constructing a large dam, have made Dunoon Dam less preferable to the groundwater and water re-use options".
'Recycled drinking water is used by Lismore, Casino, Canberra, Orange, Wagga Wagga, Perth, Singapore and London. It is not new, it is not revolutionary. It is being done.'
Mr Nicholson then shared other news reports. 'In 2010 The Northern Star reports 17 per cent water loss. In 2020 in The Daily Telegraph Sharon Cadwallader is reported as trying to find the 18 per cent of water "missing" from the Ballina reticulation system.
'In 2022 in The Echo, Councillor Jeff Johnson reports that 19.5 per cent of water supplied to Ballina by Rous is lost to leaks.
'To vote for revisiting the Dunoon Dam as an option, is to vote to waste money-gathering more evidence which will just confirm already existing knowledge.
'The endangered rainforest still exists; the pre-European graves still exist; the koala habitat still exists. There are serious cultural, ecological and expense concerns which is why the Dunoon Dam has been rejected as an option.
'Reject this motion and let Rous get on with establishing a secure multiple-source, scalable water supply for our region.'
The Widjabul Wia-bal will protect Country
Widjabul Wia-bal woman of the Bundjalung Nation, Skye Roberts, said she was speaking to Council to represent her Elders and her Nan, Leonee Nowta. 'I feel that is my duty as the next generation coming through, to step up and protect the Country – protect the land, protect our sacred sites and protect the waterways.
'It's my duty as a custodian to do that.'
Ms Roberts then read a statement from her mother Cindy Roberts: 'We, custodians of Widjabul Wia-bal lands of the Bundjalung nation and neighbouring tribes want you to know that the area to be affected by the proposed Dunoon Dam is very significant to our people.
'We need to protect this land. It is important to our ancestors and for our future generations to be able to connect to our ancestors and traditions.'
A living heritage and culture
'This land holds our relationship with our living heritage and culture,' she continued.
'For thousands of generations we have lived on this land and protected it while it protected us and fed us. To destroy this land is to destroy the environment which sustains us.
'The proposed dam would destroy the learning grounds for future generations.
'The suggestion to drown our sites to protect them, as stated in the 2013 Cultural Heritage impact assessment is deeply offensive to us.
'Additionally, the valley to be drowned by the dam at the end of Fraser Road is a site where we were moved to after we were dispossessed just over 100 years ago. It is important as a part of our survival journey.
'We, the traditional custodians of this land, will not accept its destruction. No compensation will replace its importance to us and our following generations.
'We call on Rous County Council to return the land that it controls to their traditional custodians. Do not construct the Dunoon Dam – do not destroy our living culture,' said Ms Roberts.
A f

riends of the koalas
Ros Irwin spoke about the environment and koalas. 'I was on Rous County Council for eight years and chaired it for two, so I'm well aware of Rous County Council processes and the issues concerning the dam at Dunoon.
'However, whilst I totally oppose the dam for many reasons, including that the dam would decrease Lismore's water security, I'm here today as a representative of Friends of the Koala (as a former President and Committee member for ten years), and also as a resident of Lismore who is fortunate to have koalas that range through our property.'
Ms Irwin said koalas are on a path to extinction, as reflected in the upgrading of koalas on the east coast to be officially endangered. 'Once they pass beyond the tipping point, which could be caused by even a single development or road, there is no capacity to save them from extinction – there's no going back…

'As koala experts know – contrary to a suggestion made to me by a representative of the pro-dam National Party in regard to the koala habitat that the dam would remove or impact – establishing sanctuaries and fencing them off is something that should simply not occur.
'Koalas know their ranges and trees, and when those are removed it causes them stress, which is the cause of diseases such as retrovirus and chlamydia that are devastating koalas in many places, and certainly in Lismore.'
Dunoon koalas are critical to survival
Ros Irwin went on to say, 'In regard to Lismore's koalas, the Dunoon koalas are critical to their survival. They are healthy koalas, whereas those in Lismore are not. They're genetically poor and inbred, whereas the Dunoon koalas in the north of the LGA are not.
'They have come from the north and their continued progress to the south is seen, again by koala experts, as the potential salvation through future breeding for Lismore's koalas.
'Seventy-two hectares of koala habitat will be drowned, damaged, or fragmented by the dam and this will break the connectivity between these two groups of koalas and will have a disastrous impact on Lismore's koalas,' said Ms Irwin.
'If 72 hectares of koala habitat was going to be destroyed, damaged or fragmented in Ballina or Byron Shires, there would be public outcry. However, because the Dunoon Dam site is in the hinterland, the significance is being swept aside as unseen. This habitat cannot be offset or mitigated, and if destroyed, only tips koalas closer to extinction.
'Of course, it's not just koalas who inhabit the area to be inundated. It's all the wildlife that share their habitat.
'We should be truly ashamed as Australians that our country has the worst record in the world in regard to extinction of wildlife, and that Rous can consider even for a moment doing something that will almost guarantee the extinction of koalas in Lismore is shameful.'

Rous will be

held accountable for loss of the koala
Ros Irwin told councillors, 'If like me you have have children, grandchildren and great-grandchildren, I hope you will think about the future you will be leaving to them, and ensure that this dam does not proceed.
'After all, in regard to the Dunoon Dam, the future of these wonderful species is in your hands, and you will be held accountable.'
The most controversial issue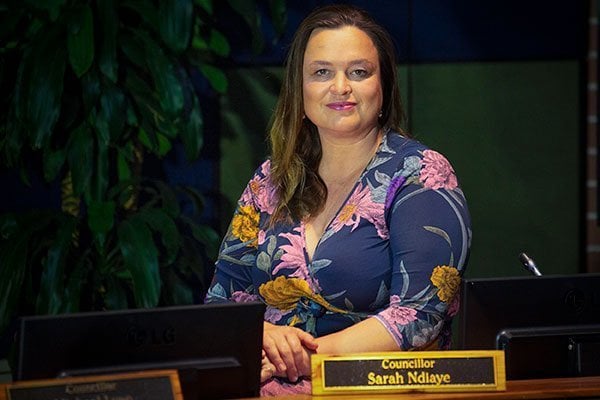 Byron Shire Council Sarah Ndiaye said that even though it was the first meeting of the new Council, they were already dealing with the most controversial issue.
'I'm grateful that over 70 years ago people went ahead and built the Rocky Creek Dam and we've had the privilege of turning on the tap whenever we've needed to, but with just two per cent of the potable water produced actually used for human consumption, we have a lot other options that don't involve the Dunoon Dam,' she said.
'I can't imagine them doing an environmental study at the time, let alone a cultural heritage study. We know better now that we did almost a century ago.
'With a projection of 22 per cent reduction in rainfall do we have the time and energy to spare to waste on continuing to explore an outdated, culturally insensitive, environmentally destructive, potentially unfeasible option that doesn't even meet the varied needs of our vast landscape and communities?'
Election campaigns propagating fear
Cr Ndiaye said some councillors used their election campaigns to propagate quite a lot of fear around certain options. 'If it came to reverse treatment or reuse, are we somehow better than people in London or Barcelona, and in fact our people in Richmond Valley who seem to manage to drink it – it's been awarded, in fact, as the best water in Australia.
'This area is comparatively unexplored. Are you really going to flood up to six per cent of the last remaining Big Scrub which would be inundated with the dam was built?
'The project is listed at $150 million on the website and $220 million in the business papers, and that isn't even taking into account the 40 per cent increase we've seen in the cost of steel, concrete and labour in recent times.'
What if it were your ancestors?
Cr Ndiaye asked, 'Does that include compensation? How much would you expect if places that were sacred to you were flooded? If your ancestors were going to be decimated?
'What is the blowout going to be on a project like this and who's going to be able to pay for it?
Councillor Ndiaye suggested that there be a workshop to explore the reintroduction of the dam to the Future Water Strategy and that Council await a report on the environmental, social and economic, impacts of the reintroduction of the dam as an option to the Future Water Strategy – her words fell on uninterested ears.
Supportive of investigations into the dam
New Rous Deputy Chair Sharon Cadwallader said she was supportive of continued investigations into the viability of Dunoon Dam.
'I've supported staff recommendations to Council and particularly the one acknowledging the 10,000 submissions, who also wanted further investigations into the dam. I appreciate and I understand communities in our constituent councils having different opinions on the provision of water for their own communities.
'However, Rous is a regional water supply. And therefore, a regional approach and solution needs to be found. So I'll be supporting the motion as written.'
Cr Cadwallader said this issue is clearly a very important one for many people in the community. 'I really want to acknowledge the deputations that were made here this morning, I really appreciate those.
'Water is the lifeblood of our community. We can't do very much without it, we can't progress business, which creates jobs, there's very little we can do without water – for our burgeoning population, we need a secure water supply.
'The unfortunate thing is with this whole issue is that it was taken off the table – all options were not left on the table, as they should have been, and due process should have been followed, which it wasn't,' she said.
'So that has set us back now to our 2024 deadline. And that's going to make it all the more difficult for Rous to actually ensure an ongoing water supply without water restrictions. That's what I found disappointing about this, we would have been so much further down the track now.'
Put all options back on the table
Cr Cadwallader said, 'We have to get all those options back on the table. Due process has to be followed and the Dunoon Dam may well come back that it's not viable, but let's find out. Let's do what should have been done in the first place. And let's consult with everybody involved in this. The consultation's imperative.'
Cr Cadwallader said Rous needed to work together for the best outcomes for the community. 'It has divided our community, but it was very clear to me that the community was very upset, the majority of the community very upset, that all options weren't left on the table as they should have been.
'It's a shame that has happened. But let's move forward. Let's move forward in unity so that we can get the best outcome for out community.'
Cr Rod Bruem said that he was not 'pro dam' and was affronted at that suggestion, but his place on pro-dam Cr Cadwallader's ticket would suggest otherwise. He did not vote against the motion today.
The Rous Chair called for a vote, and the motion was passed 6:2 with Councillors Mustow, Cadwallader, Humphrys, Gordon, Rob and  Bruem for, and Councillors Ndiaye and Lyon against.
---
More stories about Dunoon Dam: