'I have to admit that I've had better days, possibly every single day of my life has been better than this.
'And yet, it's quite pretty.' 
– Lucy Vader, February 28, 2022.
A flood that will never be forgotten
The catastrophic rain event that hit the Northern Rivers on February 28, and the subsequent floods that lasted for many days, will not be forgotten in this lifetime.
Fine artist Lucy Vader lives on the outskirts of North Lismore as you head to Nimbin. She is backed by cow paddocks and flanked to the south by vegetated land. To the east, there is an industrial property and to the north a two-storey house which sits higher than hers. If you are a person who likes privacy, this is a wonderful haven. If you are alone on a roof in the rain waiting for a hero, not so.
Lucy says the flood map states that her floor level is 12m. 'I had the house re-stumped and it was raised slightly and the local knowledge is that the worst flood in history still sat below my floor level.'
Flood water levels behave differently in different areas and Lucy's house sits on the very outer edge of the Lismore flood map. She was confident that with the information provided, the upstairs of her house would not flood.
'Houses further up the street sit well outside the flood map, however, some of these houses were flooded up to the gutter line.'
Lucy bought the house in November 2020, then spent 13 months painstakingly renovating what was basically a condemnable dump into a home crafted with detail and love and fantastic design. 'Huge physical labour went into it, not to mention money,' she said.
'But that's all gone now.'
Lucy said she was in the region for the 2017 floods, but only saw it on TV, so she didn't have anything to compare it to for her own reality.
The warnings
Lucy said the warnings she got were life 'threateningly inaccurate and reassuring'. On Sunday, February 27 in the afternoon, the Lismore Council advice text said there would be a flood of 9.7m. She knew her road was safe and so was her house.
'The next warning I got was at 8.30pm, just before I went to bed. It said that the flood could reach 10.6m by 6am the next day. This is considered a very "manageable" flood. It meant a bit of knee deep water under my house.
'Under the house.
'My valuables were raised high off the ground. They are obviously gone now…
'Sadly the council text message system was fatally incorrect – there were two midnight text messages that I received from council after I woke up (at 2am) and discovered I was in deep shit – the messages were too late. Also, the stated levels were well below what was happening, and I was now on my own, facing an existential battle.'
The other warning Lucy got was was earlier in the day from a neighbour who lived 'flood-free' (not this time) up the road. 'He knew I was an artist and said I should bring my paintings upstairs.'
She followed his advice and placed some of her large works on the dining table and left medium sized works 'safely' on the wall.
No idea how much water was on the way
Lucy says she had no idea of the amount of water was on the way. 'The water and banging woke me up at 2am – I just didn't think it was possible, but as I looked out the window, and my entire free stand studio had disappeared underwater – well I knew that was unprecedented. And I knew I couldn't get out and I couldn't get away.
'The water was deep around the house, and visibility meant if I swam I had no idea where to swim to. My house at that stage – and continued to be – the safest place, yet in spite of its relative safety I knew it held the potential to kill myself and my dog.'
Lucy said she looked at the rain radar and she couldn't see any end to it. That's when she started to get on the phone and felt the slow dread of drowning start to become a reality.
Lucy says the water entered her house at around 4am. 'I'd been awake for two hours watching the water outside and I was on the phone – I was frightened. I was trying to find out about a boat.'
'Sit on the kitchen bench, the roof, stay safe'
From 4am to 6am the water rose one and a half metres. She was able to speak to the SES at some point while it was still dark.
'They said "sit on the kitchen bench, or, if the water keeps rising, sit on the roof," and, to "stay safe". This phrase, as well-meaning as it is, is somewhat irritating in an ordeal lasting hours where one slip of concentration means death.
'They said they couldn't get into Lismore while it's dark and that they were waiting for daylight, and were sending helicopters. I knew a helicopter had Buckley's of coming to my place – surrounded by trees, powerlines, and now nearly five metres of water.'
Once the water got to about 1.5m depth inside the house and was still rising, Lucy knew she was going to have to try to get onto the roof. 'My roof is very high, and has no footholds to get up, and I tried five times to get up, and failed each time.'
No choices left
As daylight came, she had no choice left but to stand on the balustrade and grip the sharp steel edge of the steeply pitched roof. 'I looked about. There was a silky oak tree about two or three meters from me that had some thin branches almost within reach. I was finally able to grab them and use them as a counterbalance to help hoist myself onto the roof.
'I don't know how I did it, and I remember when I was halfway up and it seemed impossible that I just gripped and refused to fall back and just surged more survival strength and there. I got up on that roof. This was just before 7am.'
Lucy then faced unknown hours, with her dog Dotty trapped on a floating mattress inside. 'The last time I saw her, the mattress was almost touching the ceiling fan blades. From the roof, there was not another human in sight and just a blessed third of a phone battery left to keep trying to get help. My phone died just after noon.'
Lucy feels she would have drowned if she had not been able to get on the roof. 'The water topped at 2.2m inside my house. I was too heavy to float on a mattress. Maybe if I stood on a kitchen bench with my head about water for 24 or 48 hours (I would not be found if I stayed inside) I might have survived, but I don't know if it's possible to do that, physically. Also, the carcass structures underneath would have given way and buckled,' she said.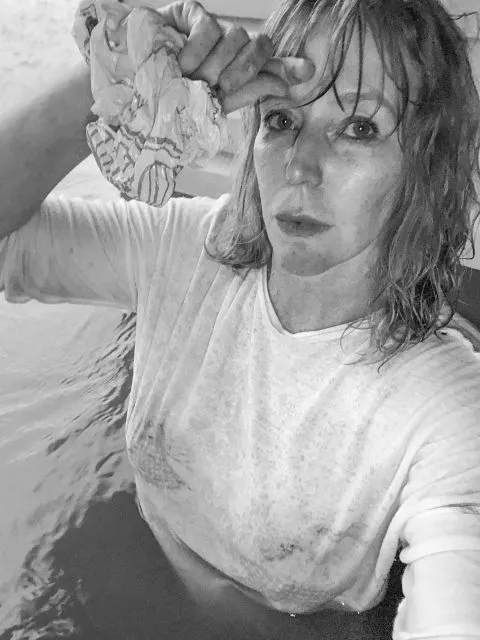 The will to survive is strong
'The will to survive however is strong, so maybe I would have clung to a ceiling fan for a couple of days. Though my doctor tells me hypothermia sets in and fainting can occur. One lapse of consciousness and it's goodnight.'
Lucy was on the roof for nearly seven hours. It was very physically draining because the roof pitch was quite steep and it was slimy, which meant her muscles were tense the entire time, poising and flexing to avoid slipping into the flood.
'I tried not to think "positively" at any point on the roof. Not negatively. I kept a neutral position, trying not to be selfishly needing to be saved before people who were drowning and in worse situations than myself, yet at the same time, I had some growing concerns.'
Lucy says she had no indication that any rescue boats knew where she was. Her friends on Facebook knew, but it appeared to Lucy that she must be low on the list of people to be saved. 'I don't think the rescuers knew quite how precarious my position was. Or maybe they did, and their abilities were stretched beyond capacity. I'm any case, my thoughts took a concerning turn after many hours on the roof.
'As fate would have it, at around the time that I thought I may be worse off than I was, a man in a single person orange kayak appeared. He looked like heaven. Like gold. Like goodness. I said, "Are you the army?!" (I had been told the army was on their way.) He laughed and said, "I'm 'nobody'. And I'm going to get you off this roof".'
'I asked if he could save my dog – the windows to the house were now submerged – and he did! He swam underwater, and under the door into my bedroom where the ceilings were higher, into the air pocket were Dotty was floating, and dragged my her underwater and back out the window and onto the roof to safety. He risked his life to save Dotty.'
Rescued at last
All three, two humans and a dog, squeezed onto the wobbly one-man kayak and made their way up the street to safety. 'We paddled past huge gas bottles and floated debris, and the boat was so finely balanced we were almost tipping upside down every few seconds. He said he'd already fallen in a few times that day saving other people.
'I didn't say it, but I'm an ex-rower, I know how hard it is to balance, and I'm here to tell you I was not going to let us all fall into that five-metre deep brown water and potentially lose Dotty. So using every ounce of concentration and muscle tension, I kept the kayak upright.'
Nothing but love for her rescuer
Lucy says she has nothing but love for her rescuer. 'People like him should not just be recognised, not just handsomely rewarded, but also be the wise community members who might like to form an advisory committee to the way forward.
'My saver/saviour saved my life, my dog's life, had already saved other people's lives, and after he deposited the dog and me on solid ground, he got back in his kayak and paddled straight back to save others. And all the while, he had told me, that he urgently needed to get to these donkeys that he believed were in danger of drowning. But he felt he had to save people first.
'I want to say thank you to him, but the words don't express the level of gratitude I have for him. I don't even know his name – he's "nobody" – because nobody is perfect.'
Lucy said she was very eager to get back to the house as soon as the flood started to recede. 'When the alert came through that the flood has dropped to 12.9m I was in such a deluded state that I thought 12.9m was fantastic, and I could go home! But of course, in fact, a drop to 12.9m is actually 760mm still above the worst flood in history. My rescuers said, "sit down, have a cup of tea, you're not going anywhere".'
I will rebuild
Lucy has her eyes on a hopeful future. 'I will rebuild my house. I have a background in building design. I have the capacity for invention and transformation. The challenge I accept is to design smarter. Suitable to the conditions and to observe science more closely, and have more potent home systems and response systems in place for rare catastrophes.
'Lismore is a beautiful place with very beautiful people. It is a very special place.'
---
When nobody came to Lucy Vader's rescue (the story from the rescuer's point of view)