Water, croquet, parks, sheds, Wardell and vice-regal visits were on the agenda for Ballina's May meeting.
Proceedings opened with delegations for and against massive agricultural greenhouses proposed for Rous Mill. Proponent David Selzer wanted to know why he was being treated differently to everyone else (there are already a number of very large enclosed horticultural operations in the area).
Bryan Douglas said 25,000 square metres of white plastic was too much for the neighbours, and urged council to agree with staff's recommendation that the DA should be blocked.
In the debate, Cr Rod Bruem said he was in favour of supporting businesses who want to come to the area and invest and create jobs.
He said it was not council's job to speculate on what might happen if businesses fell over, and there was a need to support the future of agriculture in the region.
Cr Simon Chate took issues with this, saying the proposal was too big, and would negatively affect state significant farmland. He noted council had received many submissions opposed, with only one submission in support. Cr Dicker said she would vote against the DA, but might consider a smaller proposal if it was resubmitted.
Cr Meehan said the proponents had already reduced the size of the development since it last came before council, and he would be supporting it, but council voted by majority to go along with staff and block the DA from proceeding in its current form.
Coastal walk to be fenced?
Cr Sharon Cadwallader presented a late mayoral minute urging council to prioritise the manufacture and installation of over 100m of fencing along the cliffs between Boulder Beach and Pat Morton Lookout, a very popular walk.
The minute also mentioned other 'safety measures such as cameras and signage', referencing the fact that this area also has a darker side.
Despite the controversy the fencing idea would likely cause if it was more widely known in the community (it has apparently been in the works for more than ten years, but lacked finance or agreement on the design), the mayoral minute gained the support of all councillors apart from Eva Ramsey.
Parks
With many more people in the chamber than usual, Mike Gidding from Ballina Croquet Club spoke in favour of the Draft Master Plan for Cawarra Park, which would give the club some room to expand into areas currently used for baseball.
While he said it was difficult for some of his members to make their views known in the online survey (such as member Ethel who is 94 and doesn't own a computer), his research showed that croquet use would amount to 16,000 hours per year, as opposed to less than 1,500 hours use per year in the case of baseball.
Mr Giddings said the value of croquet to the community needed recognition, as a sport which is rapidly growing in popularity, particularly with elderly women, providing exercise and social opportunities, as well as high school kids and NDIS groups.
Council voted unanimously for the Cawarra Park PLan to go on exhibition, with further comments from the public welcome.
Legal matters
Ballina Council's legal budget remains in the black. Cr Phil Meehan said it was important to defend council decisions in court, despite the risk of costs.
A discussion followed about the large manufactured home development proposed for flood-prone land adjoining Burns Point Ferry Road. Cr Johnson argued that it was clearly inappropriate to build something on a mountain of fill in a flood zone, especially considering it was rezoned on a casting vote from the former mayor, and would worsen flood impacts on neighbouring existing homes.
With the threat of legal action hanging over the removal of rights to develop the site, councillors debated options ranging from land swaps to state acquisition as a park. Staff said there were pros and cons to all approaches, with council utimately resolving to receive a report on options for a Local Environment Plan amendment for the area (which would seek to create a non-urban zone).
Water and playgrounds

Most of the morning was taken up with discussion of mitigating flooding issues, at Ross Lane and the wider Ballina area.
It was unanimously agreed that council's preferred company BMT would not have to compete at tender for the flood mitigation works.
The following debate about council's playground upgrade and management plan was sidetracked by Cr Jeff Johnson into a debate about saving the play equipment at tiny Montwood Park, which some councillors were unaware of, despite driving past it 'hundreds of times'.
Cr Johnson's amendment to provide a safety fence for that park (which now fronts busy Montwood Road, instead of a cul-de-sac) failed, and councillors then voted unanimously to back the new park plan for Ballina Shire, which will lead to a smaller number of bigger, better parks, placed to provide the best service at the lowest cost to the most users, according to staff.
A debate followed on the Wardell Memorial Hall lease issue, with a rethink urged by Cr Phil Meehan on council's recent decision to not give Wardell CORE a chance to submit an expression of interest on the hall, despite their acknowledged and outstanding recent efforts for the flood-affected community. This was defeated, with Cr Meehan attracting the votes of Crs Dicker, Chate and Johnson.
Cr Rod Bruem voted against the motion, although he seconded it.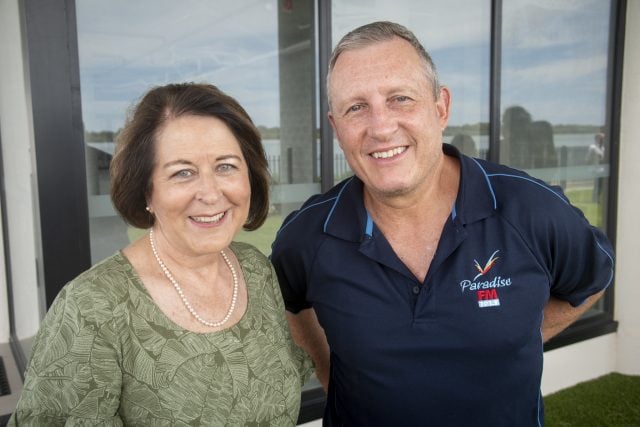 Dorothy Dixer in council
Cr Bruem was also involved in the final episode of the meeting, in which he appeared to imagine he was in the House of Representatives, inviting Mayor Cadwallader to expound on her recent adventures in Canberra.
Cr Cadwallader was happy to do so, reading from notes as she told council about being one of four mayors from flood and fire-affected areas of the country to address a panel discussion.
She said she was able to thank the government for its support of the CSIRO study of the whole river catchment, and the cash support of residents 'which was appreciated, but the delay and inconsistency in the declaration was a problem.'
While in Canberra, she said she also expressed thanks for the role of the ADF in flood recovery, and hoped that government re-insurance might be extended to help cover the many people who were uninsured in the Northern Rivers of NSW.
Mayor Cadwallader closed by saying her dinner with the Governor-General and his wife was 'fantastic', with the highlight of the evening hearing Her Excellency Mrs Hurley sing. 'She had us all singing "You are my sunshine", which was which was really terrific. absolutely terrific.'
More stories about Ballina Shire Council: