A new automated flash flood alert system for the villages of Burringbar, Mooball and Crabbes Creek is being launched following a successful trial last summer.
The alert system is specific to residents in the Burringbar Creek and Crabbes Creek catchment areas which are not covered by the Bureau of Meteorology's (BOM's) flood warnings as the time between rainfall and flooding is too short.
Residents of theses ares are encouraged to register for the service that will provide automated flash flood alerts via SMS, email and recorded voice calls (landline) for free, ahead of the upcoming wet season.
'The trial was done in consultation with local residents who advised project officers of their concerns, what flood impacts they needed to know in advance, how much warning time they needed to prepare their homes and to evacuate. They also advised officers of their preferred channels to receive the warnings,' said a spokesperson for Tweed Shire Council. 
It is estimated that those registered on the service can expect to receive a 'heads up may be issued between 12 and 6 hours before the predicted flash flood' and an alert for 'minor, moderate or major flash flood alert may be issued between 6 and 3 hours before.'
The system was created in collaboration with officers from Council, SES, BOM and the Department of Planning and Environment and funded under the NSW and Australian Government's Natural Disaster Resilience Program.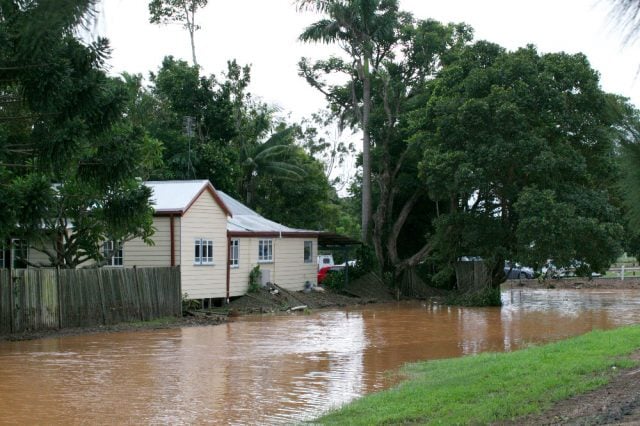 Flash flooding
Council Engineer – Flooding and Stormwater Leon McLean said previous events and Council's flood risk management studies have shown these areas are subject to flash flooding with little to no warning.
'The small Burringbar Creek and Crabbes Creek catchment areas are not covered by the Bureau of Meteorology's (BOM) flood warnings, as the time between rainfall and flooding is too short,' Mr McLean said.
'The new Burringbar and Crabbes Creeks flash flood alert service is an automated system that will provide residents with advanced notice of approaching floods.
'The new early warning system was developed following extensive consultation with local residents and lead agencies and we are grateful for everyone's input on this critical service.'
The system has two main components: flood forecasting and alert distribution.
The flood forecasting system involves a Cloud-based computer system, running continuously, that accepts data from local rain and stream gauges and combines this with various BOM prediction products to forecast flooding in the near future.
Mayor of Tweed Shire Chris Cherry thanked the community for their participation in the project and said the forecasting system would be monitored at all times by Council's alerting partner, Early Warning Network.
'Thank you to the residents who participated in our community consultation. You told us what your biggest flood concerns were, what flood impacts you need to know about in advance, how much warning time you need to prepare your home and evacuate, how you would like to receive alerts and what level of flooding you consider to be minor, moderate or major,' Cr Cherry said.
'The community's input was critical to designing a flash flood alert system that reflects their specific needs.
Which roads are cut?
'When flood forecasts exceed certain thresholds, the predictions will be verified and an alert will be distributed to the community, SES and Council, advising of approaching flooding, the expected timeframe and magnitude at key locations.
'Being able to know when evacuation paths are likely to be cut in these small catchments is critical, so these flood alerts, with specific information about what roads are compromised and where, is a really helpful tool for knowing whether you can evacuate or reach your home safely if you are out at the time.
Doesn't replace existing services
'It's important to note the new flash flood alert service does not replace but rather complements advice from the SES, BOM and other leading authorities during flood events. Please continue to follow directions from these agencies.'
SES Murwillumbah Unit Commander Inspector Grant 'Jack' Frost said the pilot study had proven beneficial and encouraged residents from the three villages to sign up for the service.
'With another wet season well and truly underway and predictions of another La Nina weather pattern coming to fruition, it is critical members of the community are prepared in case of another flood,' Inspector Frost said.
'Flash flooding, as the name suggests, can occur quickly, and there is no better way to receive a warning than direct to your mobile phone or email inbox. I urge residents to sign up to this flood alert system as soon as possible – you can never be too prepared.'
To register for the free flash flood alerts, visit tweed.nsw.gov.au/flood-alert.