Ballina Shire Council announced its Australia Day Awards yesterday at the Lennox Head Cultural Centre. The awards were presented by Sandra Jackson and netballer Liz Ellis, with music by Katie Rutledge and Levi Maxwell. The event was also livestreamed.
Fifteen new Australian citizens from Brazil, Germany, India, Ireland, Kazakhstan, Philippines, United Kingdom and United States were warmly welcomed to Ballina by Mayor Sharon Cadwallader before the awards began.
Citizens of the Year were Rex and Di Farrell from the Wardell Rural Fire Service, who were recognised for their outstanding commitment to their community during the February 2022 floods.
Two days before the floods hit, Rex Farrell organised a team to fill sandbags. As water rose and houses became inundated, Mr Farrell accompanied local fishermen to perform dangerous boat rescues on a river full of debris.
Meanwhile Di Farrell was hard at work at the evacuation centre. She organised donations of food, clothing, bedding, and medicines, and found accommodation for elderly and unwell people. She tended wounds, cuddled babies, wiped tears, and held traumatised residents.
In the weeks following the floods, Di Farrell conducted welfare checks, coordinated volunteers, and organised the distribution of essential items, while Rex Farrell organised a team of 15 fire engines and RFS personnel from across NSW to hose out houses.
Mayor Sharon Cadwallader described the winners as 'absolute shining beacons in our community', among a very strong field of nominees.
Rex Farrell said, 'I was not expecting this, and I'm so humbled and grateful. But I must say that two people on their own can't do too much. We are part of the Rural Fire Service, and it's that organisation that allowed us to achieve something during the floods, when Wardell was cut off.'
Di Farrell thanked everyone in the Wardell community who helped out in a time of need.
Young Citizen of the Year
This year there were two winners in this category, Chai Healey and Illarrah Roberts.
Both young people distinguished themselves during the floods, Mr Healey rescuing people in his tinnie at West Ballina and providing follow-up assistance at Broadwater, and Ms Roberts assisting her Cabbage Tree Island community to evacuate and ensure they all had a safe, warm place to sleep.
Illarrah Roberts said, 'I'm extremely honored to receive such an important award.' After discussing the floods and the 'very testing year of 2022' she went on to discuss what 26 January meant to her.
'We don't celebrate Australia Day in our house,' she said. 'We celebrate the survival of our people… This always was and always will be Aboriginal land.'
Chai Healey said all the nominations showed 'how many good people we really have in this town… and I think today is one of the best days to be acknowledging this in our community.
'So with that said, thank you for the award, and thank you all for coming out today.'
Senior Citizen of the Year
The winner of this category was Kerrie Gray, who has been with the Red Cross for 40 years. Originally heading up Emergency Services in the Northern Rivers, she developed The Pillowcase Project, a school-based program that helps young people prepare for a disaster.
Ms Gray also works with the Rural Health Services to assist individuals with mental health challenges following a disaster. During her career with Red Cross, Kerrie has been awarded Honorary Life Membership, The Distinguished Service Award, and a Forty Year Service Award.
Recently Ms Gray has coordinated a gift program for those affected by floods in the Northern Rivers, and she also continues to provide care and goods for those recovering from the 2019 fires.
Kerrie Gray said, 'You're all winners, as far as I'm concerned, because our community would be a lot less without all the volunteers we have in so many different areas.
'Everyone has a skill and I'd encourage anyone to volunteer in something that you're passionate about…
'I'd also like to acknowledge the land on which we stand, and pay respects to elders past, present and emerging. I think you've got a good group coming up with young ones which is really great. And I'd love to see them encouraged to spread their wings.'
Volunteer of the Year
Winner Mark Ross (one of a very large number of nominees) was described as 'the heart and soul of Ballina in the aftermath of the 2022 floods', having helped the Ballina community for many years.
During the disaster Mr Ross called for people to donate their Stay NSW vouchers so that he could organise accommodation for flood-impacted residents. He fund raised and collected donations of mattresses, beds, and other essential items.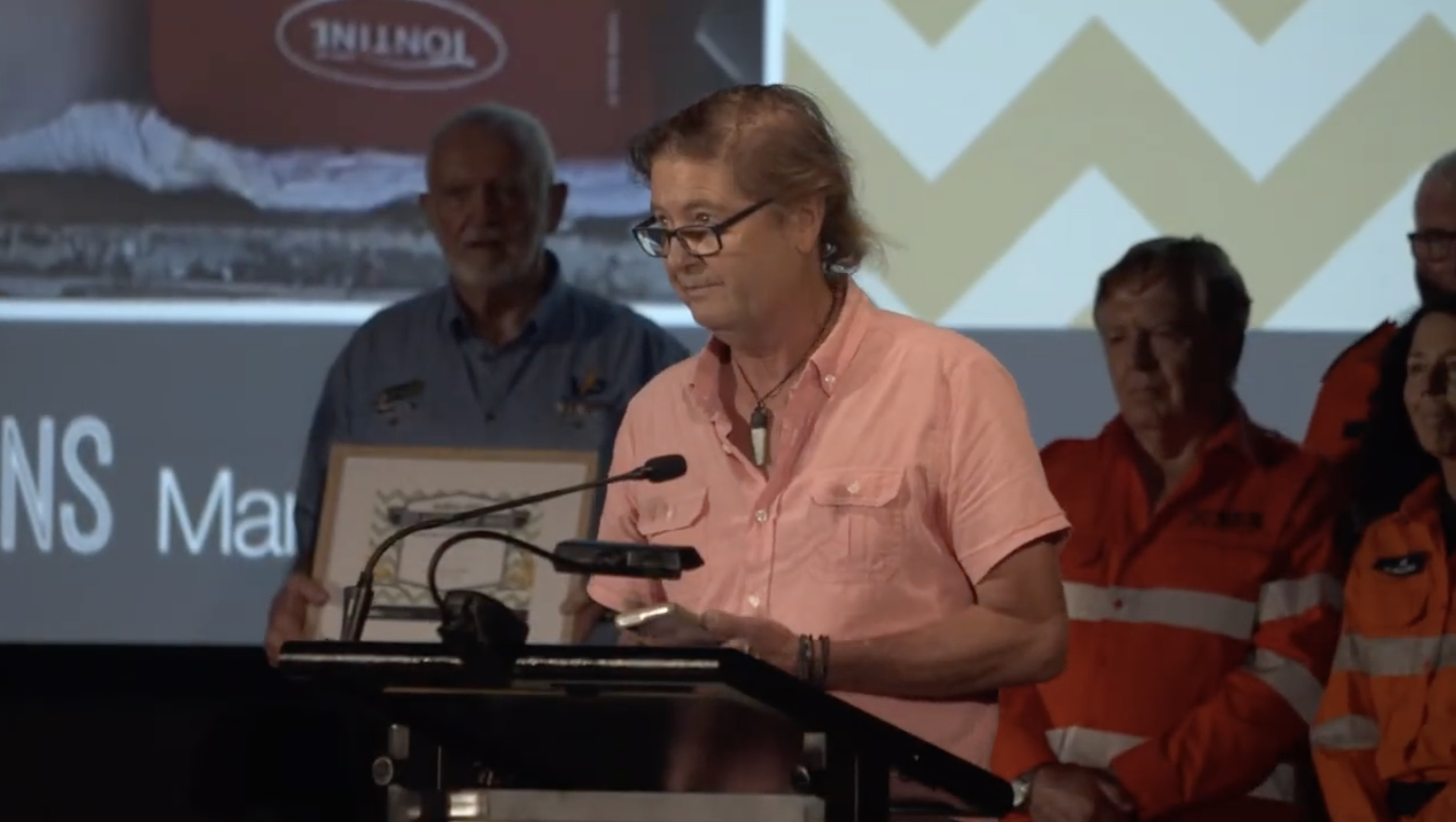 Mr Ross also supported the community during COVID, by providing free meals to people in need.
In his speech, Mark Ross said he 'accepted the award on behalf of the entire Ballina community', who were so generous with donations, which he passed on to those who needed them most.
He also paid tribute to helicopter pilot Ash Jenkinson, who lost his life recently in a tragic accident, after helping the Ballina community during the floods.
Community Event of the Year
This one went to Lennox Head Lions Club for their 2022 Flood Relief and Recovery program.
Since March last year the club has delivered more than $200,000 in flood recovery and relief to the community. Members have supported flood-affected and displaced people across Ballina Shire as well as residents in towns and villages in the Mid-Richmond area.
Lions provided practical assistance at the Lennox Evacuation Centre during the floods, assisting with cooking and cleaning. They delivered groceries to flood-impacted residents, set up food vans to feed mud armies and workers, and provided residents with vouchers for food, fuel, and hardware.
The club worked closely with recovery hubs and those on the ground to ensure support was targeted and needed.
Now in the recovery phase, Lennox Lions continues to assist the community through a variety of projects including mould treatment for hundreds of homes, bedding packs for flood-impacted residents, and repairing rooms to enable residents to move back into their homes.
The club say they are always focused on meeting the community's needs and 'making sure no-one falls through the cracks'. They thanked everyone for their support in what had been 'an absolutely unique year.'
Sporting Achievement Award

In another tightly contested category, the 2023 winner was athlete Alexander Crimmins. Still just 16, Mr Crimmins is from Lennox Head and has had a passion for athletics since he was eight.
In 2022, Alexander's triple jump talent landed him seventh place at the Australian National Championships and second place at the NSW State All Schools event. He is hoping to continue this success in 2023, having qualified to head back to Sydney Olympic Park to compete in the Australian National Championships.
Mr Crimmins thanked his family for helping him travel everywhere, and also his coach, because 'sometimes it goes unnoticed in an individual sport that there's quite a bit of stuff that goes behind the scenes.'
Arts/Cultural Award

This one went to Tania Marlowe and Debra Cole from Jugan Dandii Weaving Collective. In the last year the collective has delivered a series of 'meaningful and profound' weaving workshops for the Ballina community, through the Northern Rivers Community Gallery's Public Program.
Bringing people together in a relaxed, friendly, welcoming environment to learn the art of weaving with natural fibres, Ms Marlowe and Ms Cole have delivered their free workshops as part of the flood recovery response, providing a space for connection, healing, learning and creative expression.
Tania Marlowe explained that Jugan Dandii meant 'embrace the land'. She said, 'It was a tough year last year, but it was really good to come in and hold that space for a lot of our flood affected community members, regardless of their race…
'I'd like to reflect on what today means for my people,' said Ms Marlowe. 'It's a day of mourning. It's a day which began with slaughter, dispossession of our land, and genocide. And that resonated right across Australia.
'I hope one day soon, we'll be able to celebrate a day we can all come together, sit and share all our cultures, in this beautiful, diverse local government area. Thank you.'
Environmental Award
This one went to Lennox Head's Marlon Denning for his octopus film The Rock Pool Waltz. Mr Denning is a fifteen year old naturalist with a passion to inspire people to love and respect the environment, and the creatures within it.
His film, which has won fifteen awards to date, explores his connection with nature and friendship with an octopus, which was inspired by his daily visits to a local rock pool.
Mr Denning said he felt very honored to receive the award. 'I visited Mr Octopus in the rock pools just near our house, every day for five months of lockdown. He was pretty cheeky and loved to play games, and we became pretty good friends…
'I'm overwhelmed that the impact my film has had so far, how it's touched people's hearts and how people said it changed the way they felt about wildlife. I've learned that film is a very powerful way to communicate.'
Marlon Denning said his dream was follow in Sir David Attenborough's footsteps and make a difference for the world's animals and our planet.
A complete recording of the livestreamed event can be viewed on Ballina Shire Council's website: ballina.nsw.gov.au/AustraliaDay or on Youtube, below:
More stories about Ballina Shire Council: