Since the tragic dual helicopter accident near Seaworld recently, there has been an outpouring of grief on social media.
One of the people who lost his life in the crash was Seaworld pilot Ash 'Jenko' Jenkinson, who is warmly remembered by people in the Ballina area for his heroic role during the Northern Rivers flood emergency in February 2022.
Ballina local Deanie White shared her memories of Mr Jenkinson with The Echo.
She said she was uncomfortable talking about him at first, but Ash's mates said, 'Please talk to everybody because what he did was amazing, and that's how we want him to be remembered.'
Ms White first met Mr Jenkinson at Kingsford Smith Park in Ballina, just as the seriousness of the local flood emergency was becoming apparent. 'I heard on the radio that they were flying out donations and so I just went down there with the contents of my pantry. He was there with a few mates from the Goldie.'
She said volunteers were helping load the helicopter with emergency donations to areas that were cut off by rising water, particularly south of Ballina, around Empire Vale and Wardell.
Mates helping strangers
Although the helicopter had been provided by Seaworld, Deanie White says the rescue enterprise came from the initiative of pilot Ash Jenkinson and his mates, who had experience with logistics and being part of Brisbane's 'mud army', as well as a truckload of additional donations. 'Ash was flying this stuff all over the place,' she remembered.
'The waters weren't receding. So they came in and set up at the park and from there it was immediate. We didn't have phones, we didn't have the internet. We were just literally turning on the local radio going, where can we go? What can we do?'
When Ms White saw the donations were piling up fast, she volunteered to help coordinate things on the ground. When the internet came back online, she put out the call for more help on Facebook. 'Ballina just came out in droves,' she remembers.
Mr Jenkinson was flying constant missions to deliver supplies where they were needed, carrying everything from food, to nappies, to toilet paper.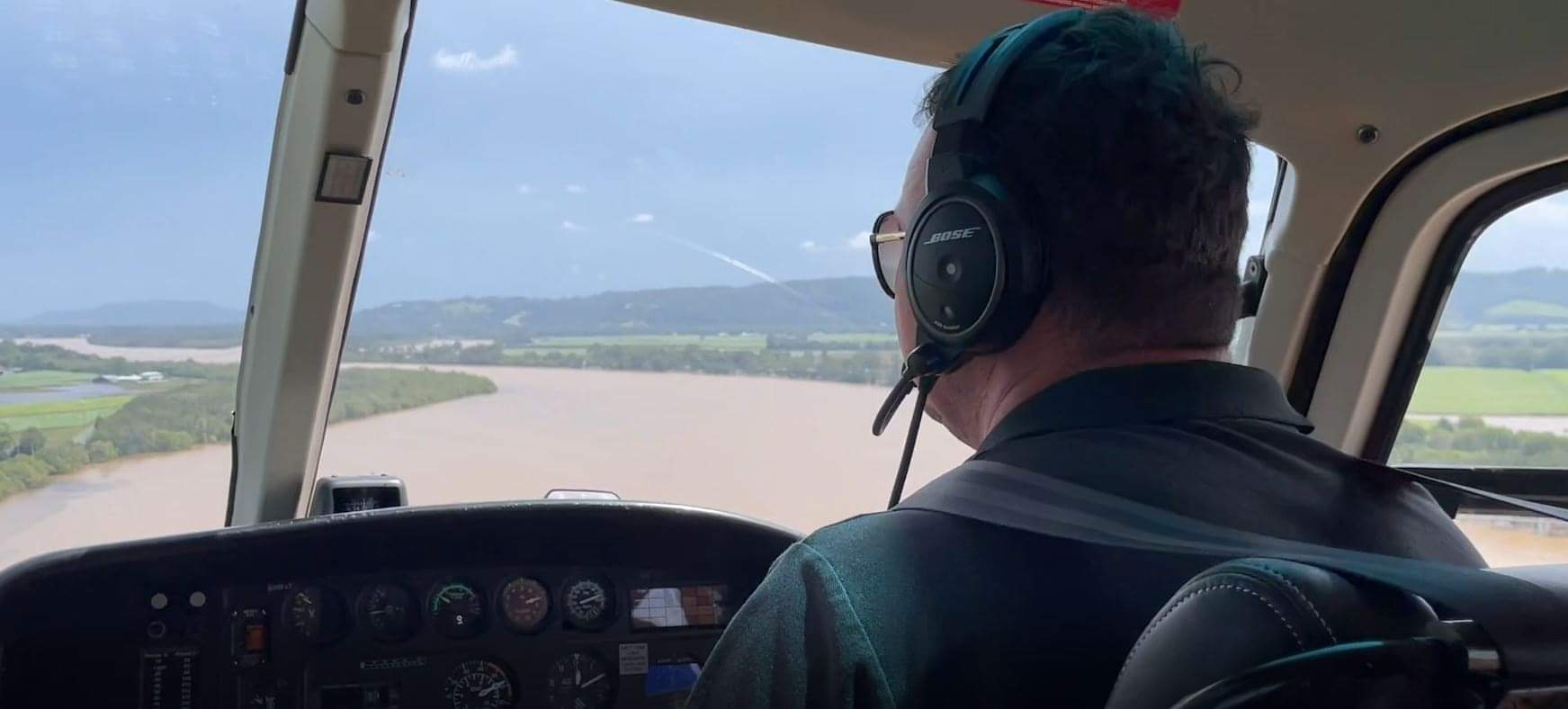 This impromptu rescue effort went on for five days, until the defence forces took over the airspace and control of relief efforts.
Careful pilot
At one stage Deanie White flew with Mr Jenkinson. She remembers him as a very careful pilot. 'Absolutely. He was extraordinary. He was just so deliberate.' He also flew Ballina's Mayor, Sharon Cadwallader to see the devastation.
Ms White remembers Ash Jenkinson saying, '"We're going to show her the shire so that she can see what we've been looking at over the last few days." And I was in the helicopter when he did that, and he was just incredibly professional. He didn't take any risks and he was really sensitive to what we were experiencing.'
She remembers Mr Jenkinson and his mates as a terrific bunch of guys, 'amped up and full of energy. And Ash was just a voice of calm. He was so stable and consistent, caring and quiet – and he did his job with a smile on his face.
'Ash was a unit. He was this big, tough looking guy, but he was as sweet as anything,' remembers Ms White. 'He was very sensitive to the fact that we were all traumatised… After each flight, he'd come back shocked at what he'd seen, and that would motivate him to do more and keep going.'
She was surprised at news reports Mr Jenkinson was originally from the UK – 'he was Aussie as!'
Deanie White remembers Ash's last mission was to deliver some emergency medication to some people who were cut off in the hinterland. After the flood emergency, they kept in touch via social media. 'He wouldn't take the praise,' she remembers, despite his heroic behaviour during the floods.
Debt of gratitude
Ms White believes the people of Ballina and surrounds owe Ash Jenkinson an 'enormous debt of gratitude'.
She says the outpouring of emotion on social media shows locals share her horror about the tragedy, and sadness at a wonderful man lost.
'Ash and his mates didn't know anybody here, they just came down, and put their hands in their own pockets for the helicopter fuel… They just looked at each other and went, "Oh, well, you know, we're not gonna stop."'
Ashley Jenkinson leaves behind a fiancée and young son. Investigations into the cause of the dual helicopter crash are continuing.
A fundraiser has been set up to help the victims of the Seaworld tragedy, including Mr Jenkinson's family, on GoFundMe: https://www.gofundme.com/f/ash-still-helps