Just off the road between Alstonville and Ballina, the spectacular Duck Creek Mountain Bike Park has re-opened, bigger and better, after an injection of funding and lots of hard work from dedicated volunteers.
The rebuilt tracks were getting a steady stream of enthusiastic two-wheeled visitors when The Echo visited recently. The park is managed by Northern Rivers Dirty Wheels Mountain Bike Club Inc. Pete Sugden is the club's president.
Mr Sugden said NRDWMBC was founded eleven years ago, before there were any local mountain bike trails, to give people a place in the Northern Rivers to ride. Now the club manages both the MTB park at Duck Creek and the trails at New Italy.
He said Duck Creek has been in development for several years, and is on land owned by Ballina Shire Council, along with the disused quarry next door, currently the subject of feasibility and environmental studies to see if it could be added to the mountain bike park.
Mr Sugden said the existing Duck Creek site covers 18 hectares, with 9.5 kilometres of trails, including 'probably about thirteen' descending trails.
'We're always looking to build more, and we're trying to fit more in on the current site, to make the most of the available land,' he said.
Recent funding
It's an exciting time for the club, with growth in members and support from different levels of government. 'Last year we received $50,000 from Ballina Council,' said Mr Sugden. 'That's helped us to repair the trails after the storms. 'We've also got another $50,000 as a club, and a lot of that's going to be spent in New Italy.'
He said the money would also be used to replace undermined bridges at Duck Creek, as well as building new railings and other improvements.
Most recently the Northern Rivers Dirty Wheels Mountain Bike Club received $122,000 of additional funding for business and strategy development, just announced by Ballina MP Tamara Smith.
Ms Smith said the Regional NSW Business Case and Strategy Development Fund 'supports strategies and initiatives that will strengthen community infrastructure, regional prosperity and planning for future projects… I look forward to supporting the NRDWBC with its future projects.'
Mr Sugden said the club would be using that funding, in part, for consultants to help them build a business case to expand the MTB trail network to other locations across the Northern Rivers.
50,000 happy trail users a year!

Pete Sugden said the feedback had been 'really positive' since Duck Creek MTB Park reopened. 'Yeah, Everybody's loving the fix up, which has been really nice to see.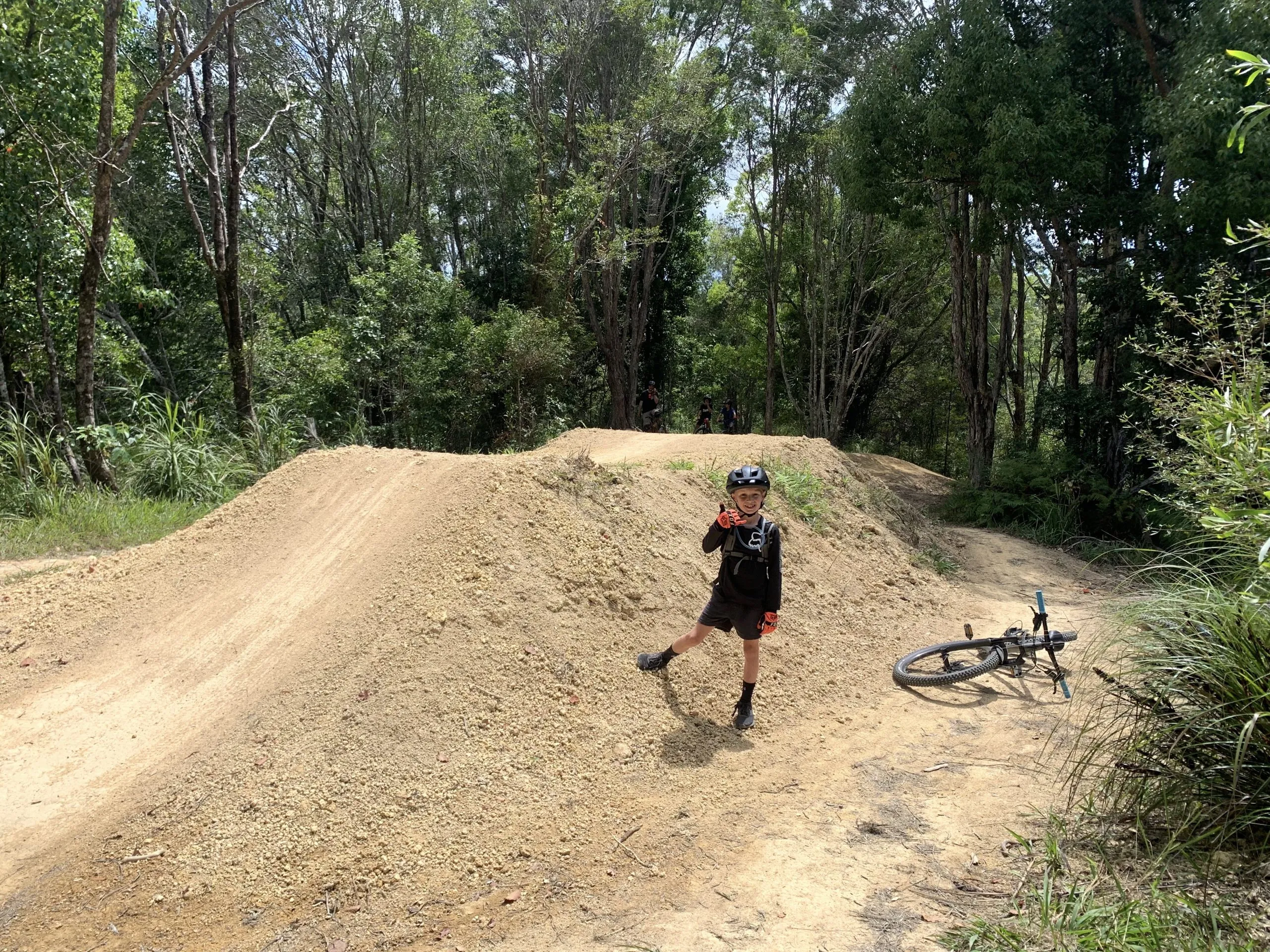 'Obviously, it's a lot of work behind the scenes, not just from me, but from a huge number of people.
'We went through a period of being closed for quite a while because of how wet it had been. When we reopened, we got it to a level where it was reasonably safe. But there were still a lot of ruts, all the drainage was full, and there were a bunch of trails that we hadn't managed to reopen.
'So we've gone through and resurfaced all of the machine-built trails in the park, cleaned out all the drainage, and improved trail resilience,' he said, 'so next time it rains, it's not going to have to be closed for as long.'
Mr Sugden said anyone was welcome to ride the trails, but 'it would be lovely' if riders could join the club too. 'We currently have around 450 members, but we get around 50,000 annual visitors to Duck Creek.'
Prospective members can check out the club's website, send an email or message via their Facebook page. Membership also includes insurance coverage, via the club's affiliation with Cycling Australia.
Mr Sugden said the support of members brought tangible results on the ground as well.
'For example we bought a motorized wheelbarrow, which allows us to move much larger pieces of rock and water around the park to maintain the trails, also other new tools and that sort of thing, to help us build new trails.'
What's your favourite trail?
'If I had to choose one, I would probably pick Pacific Rim as my favourite,' said Mr Sugden. 'It's technical. It's reasonably steep, but it makes you work hard. I feel like if I can get my way down that without putting a foot down, I'm having a pretty good day.'
What about people who aren't as experienced? Is there a good option for them? 'Yeah, Pinzen Needles is one of the more approachable trails. That's a longer one. It's got a bunch of flow in it, you can pump your way down; just a really enjoyable trail that winds through a few different bits.
'It's a fabulous place to go for a ride because you get to experience all the little pockets of different ecosystems in there,' he said.
Have you done anything to minimise environmental impacts with your trail design? 'Yeah, they're all designed to minimize erosion,' said Mr Sugden. 'And they're designed to take into account the landscape in which they're built, to complement the landscape.
'We don't run bulldozers through, but try to keep them as narrow as we can. There are some trails that include large earthworks, but a lot of them are really just working with the landscape that's there.'
Although there's no sign from the main road, 50,000 people a year are managing to find Duck Creek Mountain Bike Park through word of mouth and the web. Pete Sugden said the plan for the next few years is to make the park bigger and do some events as well, as well as more junior rides.
Heaps of variety
The Echo bumped into mountain bike enthusiast Christian Schader emerging from the trails, unlucky to get a broken bike chain on the day so he had to walk back up the hill. Mr Schader is from Queensland and has ridden lots of bike trails.  How does this one compare?
'It's one of the better ones, he said. 'There's a heap of variety, and you can go really hardcore, or you can go nice and cruisy. If you're a learner, it's a good spot. And if you're really experienced, there's more than enough to keep you heavy.'
Mr Schader said he was impressed with Pacific Rim. 'It's really steep!'
He said all the tracks were clean and running well. 'Yeah, you can ride without any kind of hesitation. A lot of the tracks are fantastic. I'd recommend it, definitely.'
Pete Sugden says the great thing about mountain biking is the variety of people who come and ride, from kids of eight up to seventy year olds, and both men and women.
'It's a great thing for the entire community. Mountain biking is absolutely one of those sports that's growing. There's a huge variety of people. You never know who you're gonna bump into!'