Andrew Broadley is running in the electorate of Ballina in the March election. Busy out on the campaign trail, he's been a bit hard to pin down in recent weeks, but agreed to a written Q&A with The Echo.
The NSW electorate of Ballina, currently held by Greens MP Tamara Smith, includes Byron Bay, Bangalow, Brunswick Heads, Mullumbimby, Alstonville and of course Ballina, which is the particular focus of this discussion.
Why did you decide to run this time, and why Labor?
When the floods happened in our region, I watched how effective Janelle Saffin, the Labor member for Lismore, was in representing her community. She fought constantly to get support, standing up against political opponents and delivering outcomes. I was moved by her commitment, and it motivated me to stand up and be that voice for the Ballina electorate.
The Labor Party reflects my values that everyone deserves to have a secure and fulfilling life. Being part of the Labor Party in government also provides the capacity of legislating, a chance to make real and effective change. Minor parties can only make suggestions.
The other reason I put my hand up to run is that we are the fastest growing regional community in NSW and yet for the past 12 years our electorate has been neglected by the
NSW Government. Essential services such as disaster preparedness and response, hospital fundings, affordable housing and support for young people and aging, have not received the resources they desperately need.
We must have a strong voice in the government that addresses these priority issues.
Background
Could you tell us a bit about your background and connections with the Ballina community?
I am a maths teacher at Richmond River High School and an advocate for public education. I've been actively involved with the Teachers' Federation, campaigning and lobbying for a better deal for teachers and students, and improvements to public schools.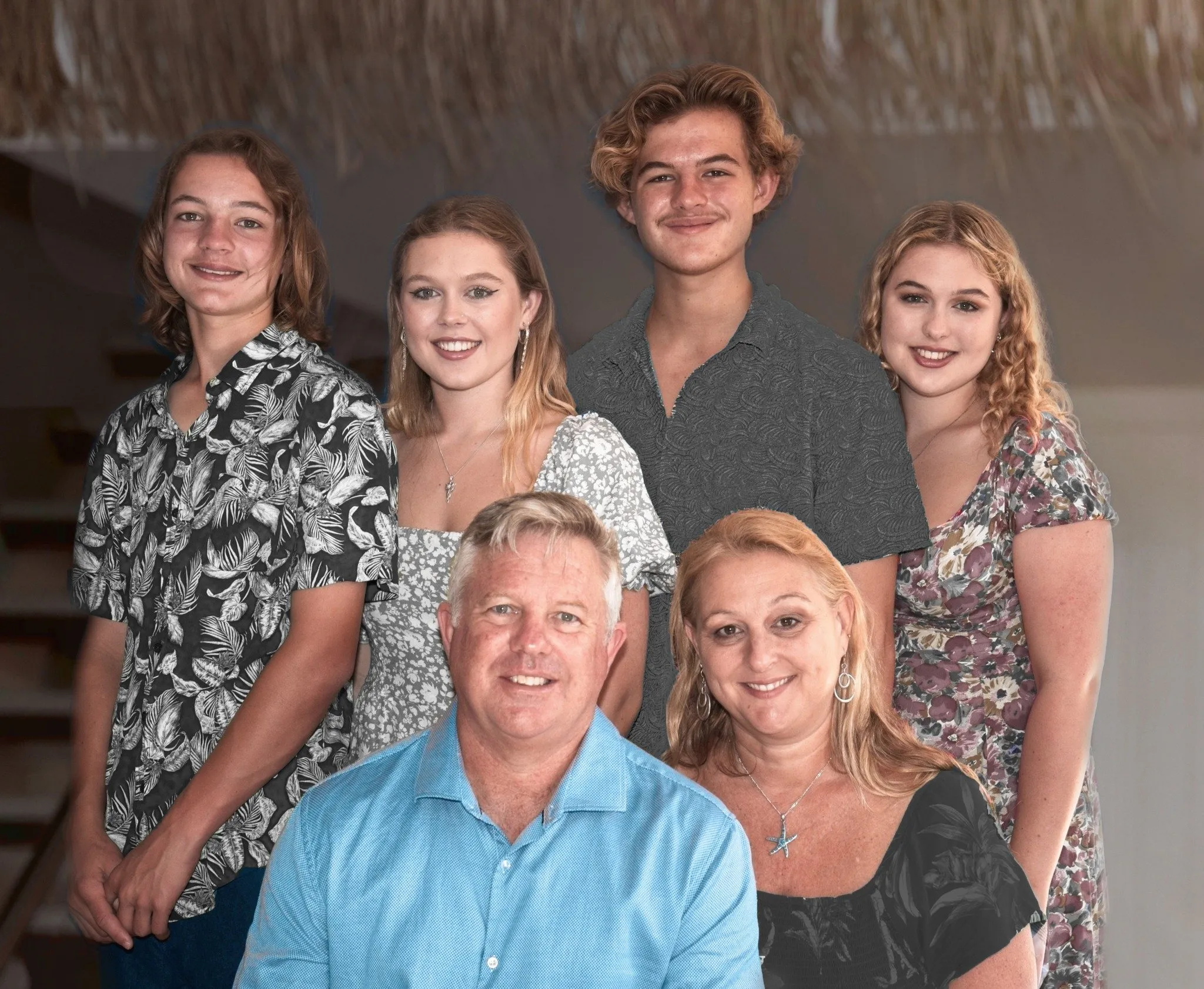 My wife Leanne is also a teacher, the director of Creative Arts at Xavier College.
Together we've juggled work with a busy growing family, four in all – now young adults. I've been a dad coach to many a sporting team and a proud audience member as Leanne and the children have performed in local theatre productions.
We also volunteer as a family. During the floods, like many, we helped door knock the low-lying areas of Ballina then we gave a hand at the Skenners Head Evacuation Centre.
One of the rewards of volunteering is that I have met many people from different walks of life. It has given me insight into the important issues facing people in our community.
Do you have any thoughts about the local housing crisis?
My four kids will not be able to afford to buy a home in the community they grew up in. It's impossible for kids in our community to live and work here.
The Nationals and the Perrottet government have done nothing to address the housing crisis. After 12 years of neglect there is no quick fix, but Labor has a plan aimed at short term relief and long-term solutions.
Labor will make it easier for first home buyers to get into their own homes by abolishing stamp duty outright for first home buyers purchasing homes up to $800,000. And, let me be very clear – under Labor you will never pay land tax on your own home, whereas the Liberal and Nationals are promising you will pay land tax forever.
Our housing crisis also means that people can't afford to rent and are sleeping in cars and tents. This is the largest social dislocation our community has ever seen.
Labor understands that in communities on the north coast the underlying lack of supply is being exacerbated by the impact of short-term letting. This is creating significant pressure on prices and availability of rental properties for local working people.
We are keen to work with local government to find practical solutions to this crisis.
One of the most exciting NSW Labor housing initiatives is the mandatory requirement for 30 percent of homes built on surplus government land to be set aside for social and affordable housing.
Floods
Do you have any thoughts about how Ballina (and the wider region) can better prepare for the next flood emergency?
When the floods were happening and I was out helping people evacuate, I did not think that 12 months later there would still be people that don't have a home. The Liberal National government has failed us.
When our community needed the government the most, the National Party was not there – they left us to fend for ourselves.
NSW Labor will adopt a proactive approach to planning and mitigating against the impact of floods by drafting new rules and streamlining planning processes.
We will work with all flood-impacted communities across the state, and with the NSW Reconstruction Authority, a new agency championed by the Member for Lismore, Janelle Saffin MP. This was a key recommendation of the O'Kane and Fuller flood inquiry report.
And we need a hospital that does not need to get evacuated if there is another flood.
Do you have any thoughts about the state of the Richmond River? Ideas for the future?
The Richmond and Brunswick Rivers are at the heart of our communities, and both rivers are in need of repair.
The Richmond River in particular is in crisis and has been for far too long. There have been many reports, much talking and little action on the recommendations.
Rescuing the Richmond River is a personal passion of mine. I've worked as a volunteer removing disused oyster baskets and have seen firsthand the microplastic problems.
I am committed to working with all community groups, councils and government agencies to turn recommendations into action.
Another 10-year Coastal Management Plan for the Richmond River is in final stages of review, but I suspect it will be as spectacularly unsuccessful as the last one. An Independent Audit of the previous plan found it had failed to attract the resources necessary to begin the repair of decades of neglect.
Project after project has demonstrated the community's willingness to contribute to river rehabilitation works and the LNP Government's total unwillingness to fund it. It needs a 'whole of river' approach where all the stakeholders and communities along the river are supported in the actions needed to rescue it.
Farmers need support to repair the riparian corridors on their land and we need to get rid of the barriers for the community to repair the riparian corridors on public land. We need to look upstream and reinstate the crucial wetlands and river flow that mitigate floods and pollution.
Cleaning up the rivers is not only about sustainable river industries, environment, recreation, and flood mitigation, it's also about clean water supplies and water security for agriculture and for towns.
Future water
Do you have any opinions on the Rous Future Water Strategy, the use of underground water, and the prospect of a Dunoon Dam?
I don't profess to be an expert in water supply planning, but it seems to me the Dunoon Dam site is unlikely to proceed due to the 33Ha of Big Scrub rainforest, 52 Ha of koala habitat and the significant indigenous heritage to be found there.
Given our region's recent experience with more extreme weather I think we need to be looking at more climate-independent sources of water.
Of course, saving water through greater efficiency and demand management must be our first priority.
Do you have any thoughts about crime in Ballina, particularly domestic violence, and the rising number of homicides?
The only two major crimes to trend upwards across NSW in the 24-month period to March 2021, were domestic violence and sexual assault.
In New South Wales 63,554 domestic violence related assaults occurred and sexual assault increased by 14.4 per cent to 7,262 incidents.
It's clear, the time for rhetoric alone has ended and the need for action is overwhelming.
I'm proud to be a member of a team who have a plan.
Labor have committed $100 million over five years to Women's Health Centres, doubling their current funding and securing their future. As 80% of their clientele have experienced
domestic or family abuse these services are essential to supporting victim survivors in our community.
Labor have also pledged an additional $923,000 a year to the NSW Sexual Violence Helpline to ensure they can continue to provide critical 24/7 state-wide specialist counselling services. When a victim reaches out for help in this state, there must always be someone at the other end of the phone.
Additionally, following years of advocacy across multiple sectors we have committed to introducing longer-term five-year funding arrangements for key community service providers including Domestic Violence support services. This will mean these services can forward plan and expand, providing women fleeing domestic violence with the certainty these vital organisations will be there if or when they need them.
These policies are the first step in what we know will be an ongoing conversation between Labor, victim survivors and stakeholders but we are committed to taking meaningful action on domestic and family violence in NSW.
Pokies
What are your thoughts about gambling, and poker machines in particular?
I fully support cashless gaming with preset limits. I support effective regulation of gambling advertising.
The findings of the NSW Crime Commission report found billions of dollars in proceeds of crime were being laundered through poker machines. We also know that very vulnerable people are wooed into emptying their bank accounts into pokies.
NSW Labor has a major plan for reform to gaming to reduce the harm caused by problem gambling and put a stop to money laundering.
At the same time, it ensures the industry and sector can smoothly transition in a way that secures its future, as well as protecting the 127,000 people employed in 2,260 pubs and clubs across the state.
What do you think of the Coalition's response to climate crisis and natural disasters around the region in recent years? What would you have done differently?
Our region is at the frontline of the impact of climate change in Australia. We are still dealing with the lack of support and planning that is the result of decades of the Nationals and Liberals denying climate change is happening.
And even after the floods, fires and more floods of the past 12 years, this government has a questionable track record on climate change.
Currently, the NSW Liberal Government is not actually required by legislation to meet its carbon emissions target. Matt Kean's emissions reduction targets are merely aspirational.
The Nationals and Liberals had an opportunity to demonstrate a commitment to taking action last year but chose to vote against Labor's bill to legislate the state's emission reduction targets. Labor's legislation simply sought to make those targets law so they cannot be wound back.
Business, industry and the environment need certainty that these targets will be guaranteed regardless of who is in power in New South Wales. Labor will legislate the state's carbon emissions reduction targets and establish a Net Zero Commission.
We will legislate to guarantee net zero carbon emissions by 2050 and an interim target of a 50% reduction by 2030.
Labor's bill reflects the gravity and urgency of the climate crisis; opportunities for job creation and economic diversification in new high growth sectors such as renewable energy. That's the long-term picture.
In the meantime, we have to plan and respond to the natural disasters caused by climate change. Labor takes a sensible approach where we will ensure evacuation routes are safe, that portable Cells on Wheels are on hand, so telecommunications failures don't hinder the response.
Unlike the current National and Liberal parties, we won't pork-barrel disaster relief funding but make sure every community who needs it gets it, in a fast transparent process.
And, we will put a stop to floodplain development. It is just too dangerous.
Health and education
Is there anything else you would like to discuss?
Public health and education is in crisis, particularly in the regions. I believe everyone deserves access to good quality health care and a good education.
People living in regional areas should have the same access to health care as people from Sydney. The Nats have really failed us here – they promised $80 million to finally fix Ballina hospital and they have broken that promise.
I know too many people that have to be transferred to the Gold Coast for basic services. We need a new hospital for Ballina, we need 24/7 ambulance service.
NSW Labor have a comprehensive plan for healthcare, including a commitment to safe staffing for nurses, 500 more regional paramedics and implementing the Rural Health Inquiry recommendations.
We should also have a fully funded, well-resourced public education system that meets the needs of every single child. As a teacher I have witnessed my colleagues devote their lives to educating our kids – working over 55 hours a week to provide the education our kids deserve. The system is only held together by the sacrifices these staff are making. Children are missing out because the system is broken.
NSW Labor have committed to establish an Education Future Fund and provide permanent and ongoing literacy and numeracy program for all students in NSW. We will also convert 10,000 casual teachers to permanent and cut teacher administration house by five hours per week.
NSW Labor have also committed to commencing a 12-month consultation process with First Nations communities on a treaty process for New South Wales. NSW Labor understand it's not for us to decide what treaty should look like, that's why we'll make sure the process is led by First Nations communities.
It's time for change in New South Wales, it's time for a fresh start in Ballina, and only a Minns Labor government can deliver that.
The 2023 NSW State Election will be held on 25 March.