On Saturday morning Magellan Street, Lismore, came alive with colour at the opening of Lismore Regional Gallery's latest pop-up exhibition – Hiromi Hotel: Rainbow.
Hiromi Tango is no stranger to Lismore, she and her other personality 'Momo' held an exhibition with the gallery in their old space on Molesworth Street in 2015
Hiromi Hotel: Rainbow is a sensory installation that takes inspiration from the rainbow, drawing on colours and symbology of this natural wonder (hope, equality, new beginnings). 
The rainbow is a recurring theme in the artist's work, however, it has particular significance for Lismore. Lismore is in the 'rainbow region,' and its ever-changing weather means residents enjoy the regular privilege of seeing these beautiful arches of colour. The significance of the rainbow to Lismore is so pertinent that the Auslan sign for Lismore is rainbow, expressed through an upward, arching motion of the hand. 
Importantly, the rainbow is a symbol for the LGBTIQA+ community, a key part of Lismore's cultural identity.
Gallery curator Kezia Geddes said we live in a beautiful place – the rainbow region. 'People all over the world are envious of where we live, except for perhaps, for a little while last year. One might have thought for a short time about leaving, but what other region has rainbows of all types? From the natural rainbow, to the LGBTQI+ rainbow. Lismore is a place of Rainbows.'
Geddes said she didn't want to dwell on the flood, but the project did come out of it. 'In the immediate aftermath of the flood, where there is such risk to human life, you think about art's value. It is something I never question, but I do think about the work it does, for the community, for the conversions about art, for politics, to find new perspectives, to enjoy the experience of art, whatever it is, but in this case, after the flood, we needed something that worked very gently and genuinely with the community.'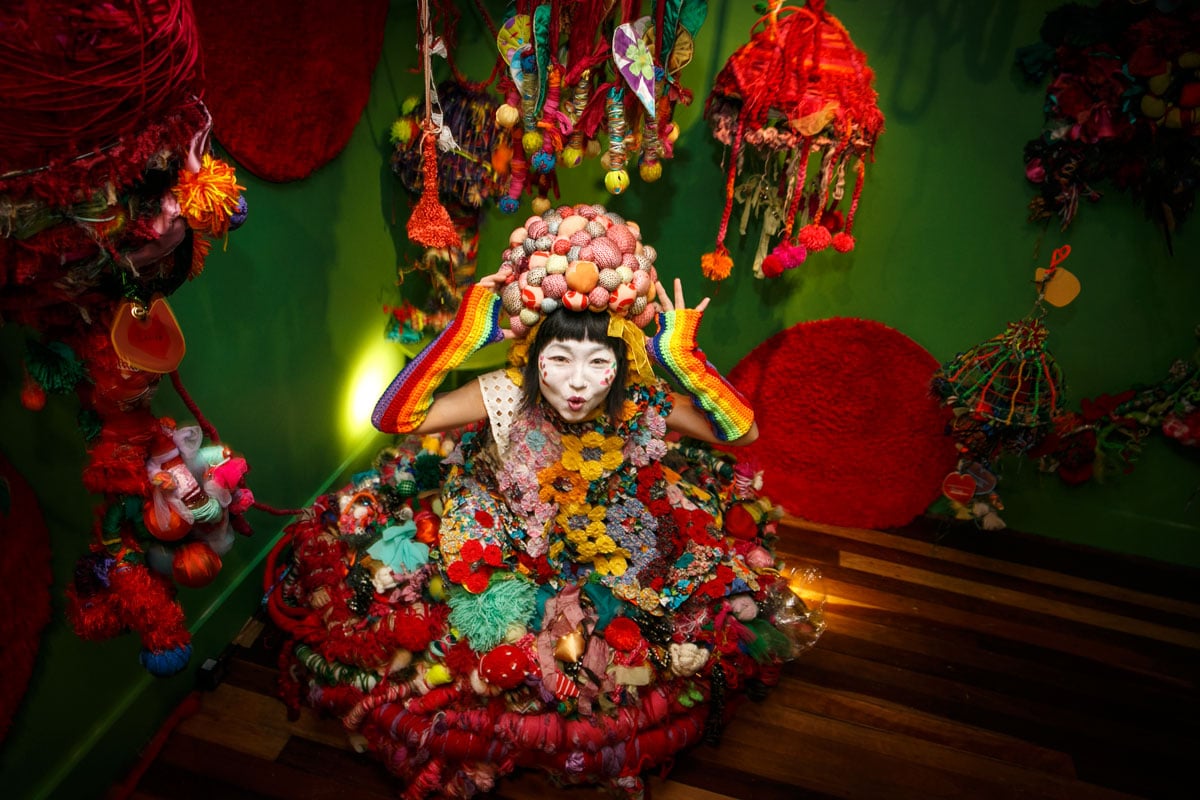 Hiromi is an old friend of Lismore – she and her family came here after the flood to help.
Geddes said Lismore was already in love with Hiromi from a previous visit. 'We knew Hiromi from a previous project Remnant: Personal Perspective. During that project, racing from here to there, I let myself sit down with art. With Hiromi's project and slow down without the pressure of an outcome. To spend slow time. 
'It is therapy, in the same way as yoga is, or going for a walk, or having lunch with a dear friend; it creates a very nurturing space.'
One of the central works in the exhibition is a rainbow garden. Applying Tango's playful and effective techniques, the gallery visitors can contribute to this collaborative piece, tucking in flowers, foliage, a spectrum of colours, and twisting abstract forms created from fabric and yarn. 
The garden speaks to ecologies in nature and in community, valuing growth, relationships and balance.
People viewing Hiromi Hotel: Rainbow can experience it as they would any exhibition, or they can get actively involved. Tango has turned much attention to the value of art, so it is inclusive and engages the body and mind. This gentle engagement and the propensity of her artistic processes to encourage movement, and uncomplicated human interaction, have known therapeutic benefits. Her work explores how colour, playful spaces, and movement influence mood.
Geddes spoke of why art was meaningful after the flood. 'We wanted to give the opportunity an opportunity to be nurtured, or even better, be with joy. And one of the pleasures of this exhibition has been seeing people walking past and responding. People respond with happiness. They are elevated by the colour.'
The delivery of this exhibition is wildly handmade. It is over the top and colourful. It's generous. It's accessible.
But, the contents of the exhibition are the sum of many years of hard work. Hiromi's work – but also that of many communities that she has worked with. One
of the central works in this exhibition is a Rainbow garden made by communities in Townsville, Wollongong, and now to be added to in Lismore.
Geddes said there is heartbeat speaking to the body, a garden speaking to nature and ecology, and everything expressing human connection and humanity. 'The rhythm in the work is the space – it's about balance, and relationships, because this is in all of these things.
There is the rainbow. A frequent symbol in Hiromi's work. And who doesn't like a rainbow? 
It is also about joy, because it is very easy to put energy into something that isn't joy, whatever this is, but this exhibition looks at the cup half full. 
It says heal, not injured. It goes forward. It goes up. It embeds this philosophy for us.'
Hiromi Tango became emotional during her speech and just said: 'I love you all', before demonstrating how two arcs of a rainbow can become a big heart and then sharing Gilbert Laurie's smoke around the circle.
The Hiromi Hotel: Rainbow exhibition runs until April 15 at the Lismore Regional Gallery – pop-up space at 46 Magellan Street, Lismore.