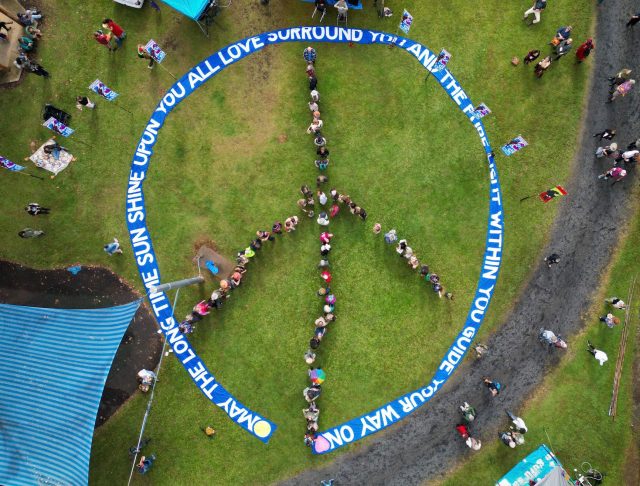 The vibrant and lively Nimbin Aquarius Festival caravan, adorned with an array of bells, whistles, and rainbow flags, made its way to the Channon Craft Market last Sunday, marking a momentous celebration of both the Aquarius 50th Anniversary and the cherished occasion of Mother's Day. The 50th celebrations continue throughout the coming week with a range of art, music and discussion. 
One of the highlights of the day's festivities was the presence of Benny Zable, a prominent environmentalist and dedicated advocate for peace. With an enchanting display, Zable led attendees on a merry dance around the Channon oval, carrying a massive sign that bore the heartfelt message: 'May the longtime sun shine upon you, all love surrounds you, and the pure light within you guide your way on.' This iconic phrase resonates with the timeless Aquarian anthem, which came to life once again, evoking memories of a misty morning in Nimbin back in 1973.
Captivating the spirit of unity and harmony, festival-goers joined hands and formed a breathtaking Living Peace Mandala in front of the Rainbow Chai Tent. The mandala, a symbol of peace and unity, served as a powerful reminder of the collective efforts required to foster a peaceful world and honour the principles of the Aquarius Festival.
Amidst the joyous atmosphere, dedicated peace activists at the Channon embraced the chance to speak up and advocate for significant change. Urging governments worldwide, they called for an end to funding the military-industrial complex and a redirection of resources from wasteful and dangerous weapons of mass destruction towards earth repair. This resounding message, delivered on the honoured occasion of Mother's Day, emanated from the very heart of Australia's Rainbow Region, inspiring all to safeguard and honour Mother Earth.
The Nimbin Aquarius Festival caravan's arrival at the Channon Craft Market created a vibrant tapestry of celebration, peace, and environmental consciousness. As attendees reveled in the spirit of togetherness, the event echoed the festival's historic legacy while emphasising the ongoing need for global cooperation and sustainable action.