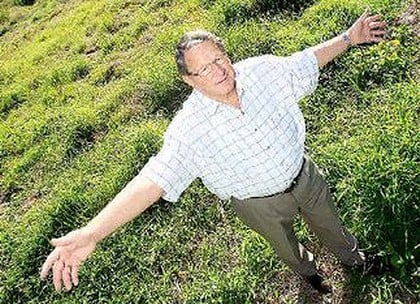 Luis Feliu
A new bid by former coalition state MP Don Beck to rezone some of the state's most protected farmland at Cudgen and turn it into a 231-lot housing development has been criticised as poor planning by Tweed Shire Council staff.
It's the third bid in recent years by Mr Beck, a former National Party whip, to try to have the 48-hectare parcel of land on Cudgen Road excluded from a State Significant Farmland designation, which protects all red-soil farming land throughout the entire Cudgen plateau.
Previous contentious attempts to rezone the land, which was once owned by Mr Beck's mother in law, have included proposals for a large supermarket, up to 200 houses and a fire station.
More recently the land, which once grew small crops and has sweeping ocean views, was touted as a site for a regional police command centre and pushed by leading National Party figures on the Tweed, including Cr Warren Polglase and Tweed MP Geoff Provest.
The land is held by the Kingsliff Land Unit Trust, of which Mr Beck is one of two directors, which has applied to the state government for a 'site compatibility certificate' for a seniors housing development costed at around $20 million.
The state's planning department has asked council for comment, but council's planning director Vince Connell has recommended that council seek extra time to review the proposal's certificate documentation and provide more detailed comment 'outlining the broader strategic planning implications' of the development.
Councillors will consider the issue at tomorrow's monthly meeting, but in his report Mr Connell expresses reservations over the plan, which, if it proceeds, will be determined by the Joint Regional Planning Panel (JRPP).
The latest proposal has been made under the State Environmental Planning Policy (Housing for Seniors or People with a Disability) introduced in 2004, under which one description for a 'senior' is 'people aged 55 years or more'.
The plan is to build 90-square-metre apartments and 155-square-metre town houses with an internal road network, onsite ancillary facilities, bus and ambulance.
Each dwelling would have an undercover car park and a driveway parking space.
A 'gateway' plan
Under the policy, developers first have to obtain an approved Site Compatibility Certificate (SCC) from the planning department as a form of 'gateway' to enable a development application (DA) to be lodged with council.
Mr Connell said council staff have not had sufficient time to fully review the certificate documentation and were only in a position to provide preliminary comments as part of its initial report.
He said the proposed development of a new aged residential community on the site 'poses some concern for council officers in the absence of any broader strategic planning investigation and justification, particularly in terms of the council's long held support of retaining the State Significant Farmland areas of Cudgen'.
He said the planning department had previously rejected a DA for a subdivision for the subject site to enable a new police station facility to be built for several reasons.
These included the undermining of the commitment of council and the state government 'to protect the remaining land of high agricultural value from urban uses in this locality'.
Mr Connell said it also had raised 'issues of state and regional significance for the preservation and protection of significant agricultural resources'.
It was also, he said, 'inconsistent with the objectives of the 1(a) Rural and 1(b) Agricultural Protection zones in that it will not result in ecologically sustainable development of land primarily suited and strategically identified for agricultural purposes and does not protect identified prime agricultural land from fragmentation'.
Mr Connell said the policy permits residential development for seniors on rural land 'provided the site adjoins land zoned primarily for urban purposes'.
Threshold test failed
'As the site is part zoned rural and part agricultural protection and part environmental protection, the applicant is relying on the site's proximity to the residentially zoned land at Cudgen to pass this threshold test,' he said.
'There has been judicial review of this test and the Department of Planning and Industry will be required to make a legal interpretation of this issue.
'It should be noted that the land immediately to the east of this site failed this threshold test recently.'
The Cudgen site has a chequered history of development proposals.
In 2004, it was acquired by the Kingscliff Land Company, of which Mr Beck became a director, from his wife, former Tweed mayor Lynne Beck, and her sisters for $4.5 million.
The company also offered a further $5 million to Mrs Beck and her two sisters if it could be rezoned for urban purposes.
Former longtime mayor and Mrs Beck's political rival Max Boyd once described the bid to build the police command centre there as 'folly' and 'possibly a last-ditch rezoning bid in a test of the new government's stand on protected farmland'.
Mr Provest also described that bid, estimated to have cost $200,000 in preliminary costs, 'like tearing up $20 bills on top of the Opera House.'
Film parody
Labor MP Walt Secord had also accused Mr Provest of lobbying for the Cudgen site to build the new police station after the new government was elected in March 2011, comparing him to a character from the Australian hit movie  Muriel's Wedding.
The 1994 film parodies the controversy surrounding a former Tweed council and its former deputy mayor Tom Hogan, a Labor powerbroker who was found to have acted corruptly by the Independent Commission Against Corruption (ICAC).
Mr Secord called at the time for any decision over the future of the land to be made by an independent body.
Mr Beck also earned a public rebuke when JRRP chairman Garry West, a former National Party colleague of his and state coalition government police minister, revealed that Mr Beck had phoned him to spruik the advantages of his company's land on the eve of the determination of the Kingscliff police station application.
Mr Connell said constraints of the land's suitability for the latest development plan also included that it was zoned a combination of rural, agricultural protection and environmental protection, located next to existing agricultural operations and partially subject to flooding.
He said a wider strategic planning assessment for the area should be undertaken 'prior to providing support for individual site redevelopment that is contrary to current zonings and proposed zonings under the draft Local Environmental Plan 2012'.
'The ad hoc nature of strategic compatibility certificates for Seniors Living Development at this key location is not conducive to sound long term planning,' he said.