A rescission motion was lodged to overturn the Ballina Council decision seeking permission from the state government to develop State Significant Farmland (SSF) between Alstonville and Wollongbar that would essentially turn the two rural towns into one. The motion is due to be debated by the councillors at today's meeting.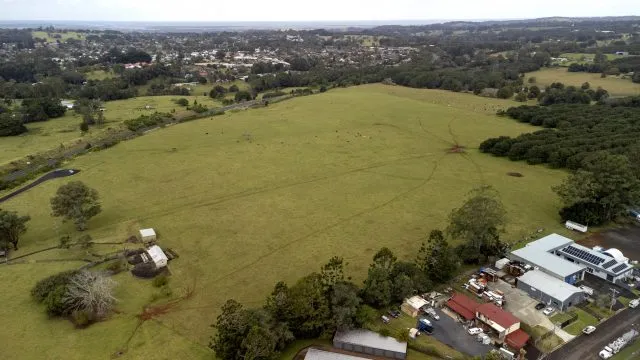 The 23 hectares is within the greenbelt that ensures Alstonville and Wollongbar remain two distinct villages, and it is also mapped as Farmland of State Significance – the highest value agricultural production land in the State,' said Wollongbar resident Marilyn Perkins.
'There is a push by influential parties to have this land included in the Sustainable Urban Growth Area (SUGA) immediately, and this push for immediate inclusion was endorsed at the September Council Meeting. These Councillors feel that there is an immediate need for industrial land to be expanded at Russellton, in spite of the fact that there is an eight-hectare parcel of land within the Russellton Estate that has been zoned for "Industrial Use" for over thirty years, and has not been developed. These eight-hectares are owned by Council ie, ratepayers. There's irony for you!'
Ballina MP Tamara Smith told The Echo that, 'Alstonville residents have championed long and hard to preserve the village nature of Alstonville surrounded by farmland, and recent floods in food belts across the state are a warning to preserve rural land as much as possible.'
'Maintaining the rural buffer zone around Alstonville, and holding on to rural land for primary production seems more important than ever.'
Community want greenbelt
Ballina Councillor Simon Chate highlighted the fact that, 'As result of an extensive community survey in 1987, this "buffer zone" land was recommended to be maintained for the communities of Alstonville and Wollongbar by the then NSW Planning Commissioner, Mr Bill Simpson. The community had voted 92 per cent in favour of maintaining the "two village" concept.'
Opponents to the inclusion of the land in the SUGA say the council have not demonstrated the need for further allocation of industrial land. 
'The land currently available for Industrial purposes is more than the staff's estimated requirement,' said Ms Perkins.
'Inclusion of this land will mean the green buffer is reduced to 350 mtrs from Alstonville to the industrial area. As well, inclusion of this land in the SUGA will set a precedent, and encourage a number of other development applications for development within that buffer area.'
Cr Chate listed another 37 hectares at the Southern Cross estate as part of its industrial area expansion and more than 50 hectares at two other sites, Ballina's Ross Lane and Coast Road.
'Council staff have stated we need 50 hectares of zoned light industrial land to take us to 2041,' Cr Chate said, 'there's 87 hectares right there with those previous two'.
Councillor Jeff Johnson told The Echo that, 'The State Government will need to go against its own planning guidelines to support any rezoning of this land. Given the increasingly unpredictable weather all state significant farmland should remain exactly that. We are so lucky to have such productive farming land within such close proximity. It's precious and needs to be protected.'
Developers have sights on Kingscliff SSF
Similarly, the SSF on the Cudgen plateau near Kingscliff continues to be under ongoing pressure to remove the zoning of SSF and develop the land. The recent approval of the new Tweed Valley Hospital on the SSF of the Cudgen plateau created damaging community divisions as people fought to have the hospital located at an alternative site. 
Since that approval a developer has started pushing for a large development called 'Cudgen Connection' regardless of the fact that the land is SSF. Tweed Nationals MP Geoff Provest, NSW Planning Minister Anthony Roberts and Minister for Agriculture Dugald Saunders have confirmed they support retaining the SSF zoning. 
MP Smith told The Echo, 'I would like to see Ballina Council look at models of integrating small scale industrial spaces in appropriate areas rather than sticking to the outdated strategy of zoning big industrial parks'.
'I believe it is irresponsible of Council to even contemplate rezoning SSF anywhere, given the current global situation. Again, the "Precautionary Principle" must apply,' said Ms Perkins.