Luis Feliu
Former senator and leader of the Australian Greens Bob Brown paid a special tribute at Bangalow on Friday night to the environment officer shot dead near Moree last week.
Mr Brown told the hundreds in the Bangalow audience that department of environment and heritage worker Glen Turner was shot dead for 'going about his job upholding the laws that our parliament set' for the 'protection of the planet'.
He read out a letter he had written to Mr Turner's family to pay condolences and share this expression of honour for the 51-year-old husband and father of two children.
Mr Brown said Mr Turner's 'courage and work for a better future' and 'his natural realm' will 'never be forgotten'.
He then led a moment's silence in tribute to Mr Turner, who was shot dead by a property owner under investigation for illegal clearing.
Mr Brown also said he was prepared to be jailed in order to protect 'the tallest flowering forests on the planet' in Tasmania' and the endangered (pure-white) Grey Goshawk which nest and feeds in them.
He said the new state Liberal government in Tasmania had recently introduced harsh laws targeting peaceful protests which set mandatory $5,000 fines for the first offence and three-month jail terms for the second.
'There is no such mandatory sentence for murder or violent crime,' Mr Brown said to stunned disbelief in the audience.
'But there is now for defending peacefully what's left of the wild face of this planet which gives us all we human beings are in terms or a reference point and anchor on the past and the creativity and the beauty that we enjoy as a mammal, part of a herd now of seven billion on this planet this century,' he said.
'It means that in future if you peacefully go and stand in front of the chainsaws or bulldozers, as we did with the Franklin and in the forests of Tasmania, the first step is a mandatory sentence, all for peacefully defending rare and endangered wildlife, and the second time the penalty is a jail term.
'And we're going to face more of that as we go into the future.'
Mr Brown said the threat faced by the pure white form of the Grey Goshawk in Tasmania had inspired him to write an essay on the raptor and that he was prepared to protest non-violently and jailed if necessary to stop old-growth forests there being hacked down.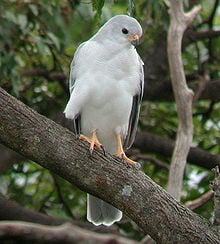 He described how he recently marvelled at a female white goshawk with 'fierce' red eyes which stood above his head in the Tasmanian forest and looked straight at him with a 'pulverising' look.
'But they're down to a few hundred breeding pairs, and they depend on the forest, and one thing we can't get away from is that if you take away their nesting site, you take away the birds, no nest, no bird,' he said.
Twenty-five per cent of bird species in Australia , he said, 'will be extinct by the end of this century and 75 per cent of birds globally will be extinct by the end of next century'.
'And the question is: who of us is going to turn their back on that magnificent part of our natural ecosystem in Tasmania, who is going to turn their back on those because we are threatened with a jail sentence?
'I will be there to stand in defence of the white goshawk because who else is going to?
The former senator was introduced to the audience in the packed A and I Hall at Bangalow by Byron-based former state Greens MP Ian Cohen, who described Mr Brown as always an 'inspiration and an 'eco-warrior of the highest calibre'.
On the other hand, Mr Cohen slammed retiring Ballina MP Don Page (Nationals) for 'letting his community down badly' after having 'disarmed' lots of people over the years.
Mr Cohen said the Greens had 'a real chance' of winning the seat of Ballina in March with Mr Page retiring and the 'odium' of Labor lingering.
Greens candidates for the state election, Dawn Walker (state upper house) and Tamara Smith (Ballina), also spoke on Friday.
Mr Brown was also warmly welcomed at his packed-out appearance at the Byron Bay Writers Festival on Saturday.