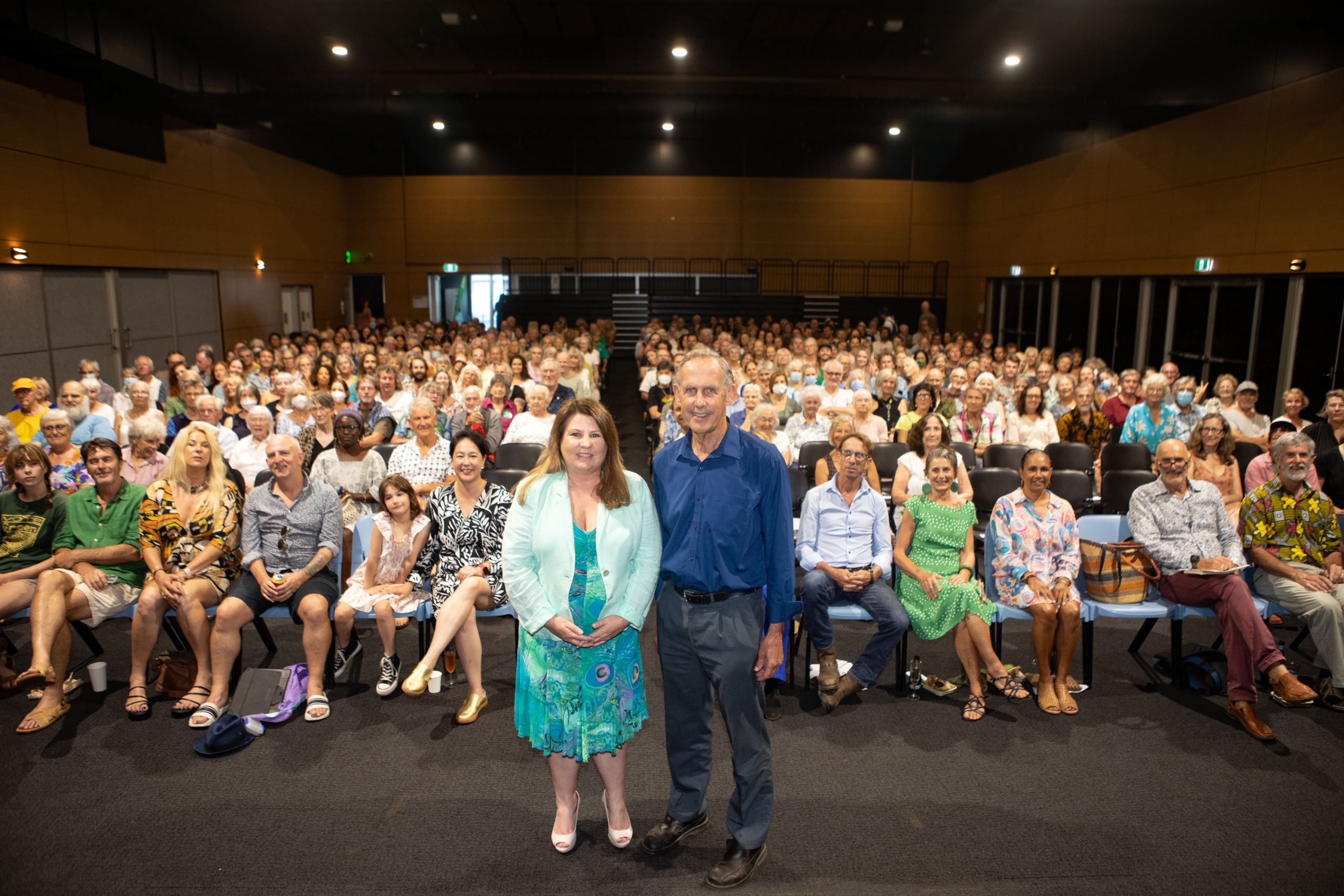 With hardly a vacant seat in the auditorium, Bob Brown kept the party faithful's eyes, ears and hearts glued to the stage on Saturday night at the Lennox Head Cultural Centre to support Greens candidate Tamara Smith MP's campaign for reelection for the seat of Ballina.
Five hundred tickets were sold for the event and Saint Bob delivered so much bang for everybody's buck that the crowd floated out the door on a magical green mist.
After a heartfelt introduction by Delta Kay, the event's host Tamara Smith said she felt a bit nervous in front of such a large crowd. 'You are in for an absolute treat tonight. I really want to thank Bob and Paul (Thomas), for giving up their precious time to come up here. Bob is literally just coming up from the Tarkine and a recent arrest. 
'He's been on the planet seven decades and he's still getting arrested, defending our precious wildlife.'
Dedication to the Tarkine
Brown was on fire as he traversed his love for the environment and its creatures. His absolute dedication to the Tarkine was unmistakable. 
The Tarkine is an unprotected area of northwest Tasmania that contains significant areas of wilderness and the largest area of Gondwanan cool-temperate rainforest in Australia. Brown is insistent that the federal environment minister, Tanya Plibersek, is prioritising industry over the environment by not accepting his invitation to tour Tasmania's takayna/Tarkine rainforest when she visited the site of a controversial mining proposal. 
Tailings waste dam and pipeline in the rainforest
He says Plibersek visited Tasmania to meet with representatives and workers from the minerals company MMG about their proposal to build a tailings waste dam and pipeline infrastructure in rainforest near the town of Rosebery in the state's northwest.
'The Rosebery mine has two big waste repositories. These are many football fields in size with dams built up at the side and the waste has been put there over those many decades.
'They want to put a pipeline across the Pieman River into the cathedral-like Tarkine rainforest, with a dam at the bottom of McKinney's Creek in this pocket of that rain forest, and fill it with acid mine waste, which will kill every living creature in that forest. Tanya Plibersek is making that decision in the next few weeks.'

Direct line to the front line
A highlight of the event was when Bob spoke live to a tree-sitter in the Tarkine. 'Tonight while we're here Viola Barnes is up in the tree on her 40th night – she's at the centre of the camp to defend the owls if Tanya makes the wrong decision.'
At the end of the evening, Ms Smith said it was very special to have Brown supporting her election campaign. 'The crowd were not disappointed.
'We watched never before seen footage of some of these incredible creatures and crossed directly to one of the protesters in one of the ancient trees that are being felled to mine iron ore.'
'Bob's stories highlight a new era of environmental activism and reinforce the need to radically influence the Coalition and Labor who continue to open new mines and side with powerful vested interests over protecting the planet.'
Photos Tree Faerie