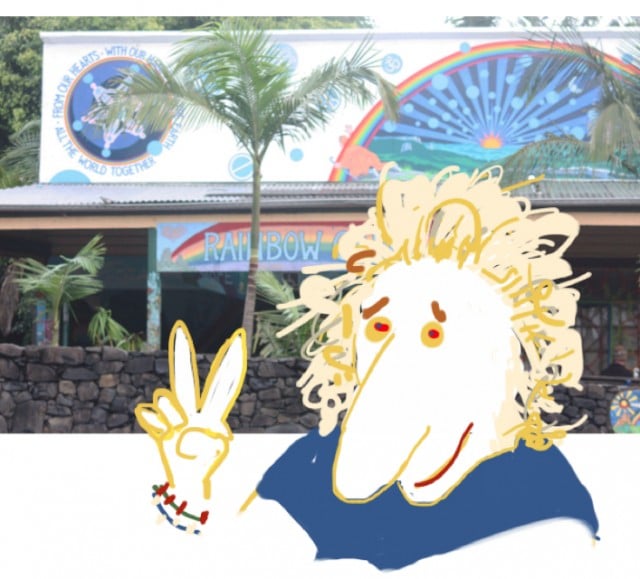 S Sorrensen
Larnook. Wednesday, 6.45am
Change is the only constant.
This antithetic epigram is cute – the sort of fancy-fonted fluff you might see on a bumper sticker or on a Hallmark 60th birthday card – but it's also true.
This morning, Nimbin's Rainbow Cafe and Nimbin Museum both burnt to the ground. Gone.
Now, in a week where I have grieved the awful immolation of a neighbour and shaken my head at the growing firestorm in Iraq, this burning of buildings is a blazing reminder that at any time, anything can happen.
Sure, as the owner of the museum said – in true hippy style as the old heart of Nimbin lay smoking in the street (the building, not Michael) – it's just stuff. But it is (was) the stuff of dreams. The Rainbow Cafe and Nimbin Museum were where the Nimbin dreaming was mulled over, and the flames of change were fanned.
But lately it seems to be fire season for dreams.
Change may be the only constant but I'm not sure how to cope with it. When I was younger I embraced change. Nimbin was the agent of that change. Change opened my eyes; saved me from a fate worse than dull.
But now, I'm such a stick-in-the-mud. I am a collection of cultivated habits and rusted-on opinions that resist change. Age has hardened me. I'm scared.
As the forests burn, Gaza smoulders, love sears, and Abbott heats up the war rhetoric for the polls, change is ever threatening to torch the house this little pig built.
But hey! I'm not going to be all negative and gloomy. No, I am determined to be upbeat and positive in this wonderful world, this lovely life. I am determined to write a happy column. La, la, la.
After all, I was recently called a 'cynical bastard' by a woman I respect. Me? Cynical? I didn't realise. So, I'm changing. La, la, la. Just because the planet is spiralling into oblivion doesn't mean it's all bad, right? No need to be Mr Grumpypants…
Like a dam across a wild river, I will hold back my negativity and rejoice in fond memories of the Rainbow Cafe. I suppose it's an obituary of sorts – so it'll be upbeat and partly true.
I came to Nimbin in the early 80s, a refugee from north Queensland where the police had taken to shooting hippies. (That's not cynical. Police were protecting the livelihoods of barbers and cobblers.) I thought it was a pretty place, set among the hills, a pall of smoke hanging over the muralled shops. (No building was burning, there was just this pall of smoke…)
Keen to try something new, I started working.
The Rainbow Cafe had been empty for some months so my north Queensland family and I took over the lease. We spent a few months preparing the cafe for its opening. During those months we actually lived in the Rainbow (living wasn't illegal in the early 80s), sleeping on mattresses in the kitchen by night, and installing stove, stage and potbelly by day.
Uncomfortable in a world of social conformity, religious abuse and environmental degradation, I'd found a haven of love, gentleness and positivity that fearlessly embraced change.
On grand opening day, I put a Bob Marley cassette on the stereo (Catch a Fire), a new sarong around my waist and welcomed my new community into their cafe, as lovingly as they had welcomed me into their town.
Nimbin was, and is, my place of dreams. The Rainbow Cafe was my portal into a softer world that not only didn't fear change, it embraced it.
(I went into the museum once and very nearly didn't come out…)
So farewell, Rainbow Cafe and Nimbin Museum.
Thank you.
---
More stories about the Nimbin Fire