Eve Jeffery
Local muso Pete Murray is preparing to join almost 70 acts across eight venues including Sydney's Enmore Theatre, for Australia's biggest concert to support rural communities uniting to protect their farmlands from fracking and unconventional gas mining.
Murray first came to the northern rivers for a weekend in the early nineties and fell in love with the area. Once he moved up here from Melbourne, he fell in love with the community and the bohemian lifestyle.
'This is my ninth year of living in the area', says Pete who will play a 45 minute set at Sunday's event. 'I moved up here when my eldest boy was two-years-old. I wanted to give him a good upbringing and I knew growing up in this area would be way better than in a city.'
To many people mining is just mining, you might not like it but there it is, but also like many people, Pete wasn't aware of the dangers of unconventional mining to the land and to the health of its inhabitants.
'I was contacted my Nick Hanlon (Rainbow Region Gigs and founder of Rock the Gate) to play at a Mullumbimby Lock The Gate rally back in 2012.
'I wasn't really very familiar with CSG at that stage but soon realised the damage that it was doing. My home town of Chinchilla was also starting to have its own troubles with CSG mining.'
Pete says that his biggest concern is what real damage is being done now by CSG and how is this going to affect us in the future. 'The CSG mining companies have no concern about what they leave behind', he says. 'They make their money and then leave. Chinchilla is a prime example. When mining was thriving the town grew 10 times its size, now the mining company has moved further west and Chinchilla is starting to slow down.
'There are so many new houses now that sit vacant, farmers that can't use their land due to the contaminated water, and locals who had to leave their town because of extremely high rents.'
Pete says he is concerned about health issues that have already affected people and the damage that the contaminated water has done and is doing to our food bowl land. 'Of the 11 companies with significant CSG exploration licences already approved across Australia, more than 83 per cent are foreign owned!
'My global concerns are that Australia is still one of the biggest polluters in the world and CSG plays a big part in that.
'We are living beyond our means already. It is scary to think what the future is going to be like. Humans are like a virus the way we take over the planet. At least now some of our world leaders are agreeing that action on climate change needs to happen.'
Pete, who performed earlier this year at Bentley's Gate A says that by performing at events like Rock the Gate, he is trying to help raise awareness of what CSG is and the damage it is doing to our land and our children's future. He feels that high profile artists and performers have a part to play in the fight against the destruction of the planet.
'Most artists I know have a little of that bohemian quality about them and they love nature (that's why we don't wear suits).
'We all want peace and freedom and we all want a healthy world to live in. Artists with high profiles have the ability to get their message across to large masses of people. This has always been the way and I hope there are more artists that stand up for what they believe in because they have the power to cause change.'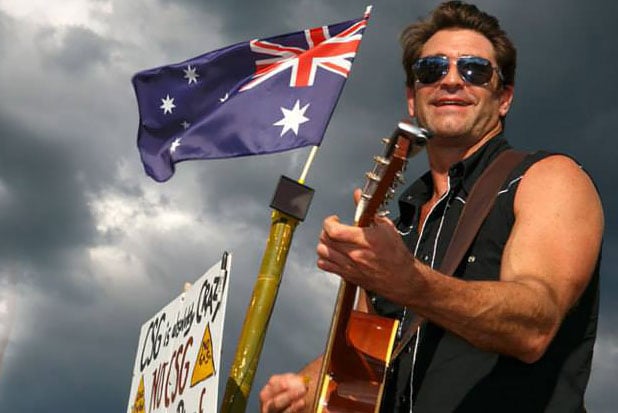 Murray, who will play the Enmore along with fellow north coast musician and Bentley brother in arms Ash Grunwald, is rearing to get on stage in Sydney on Sunday.
'I'm really looking forward to playing and hanging out with the other artists that will be there, and meeting fellow supporters of the event.'
The event will be webcast live to a national and global audience with messages of support coming in from artists from across the world. The live webcast will allow rural communities and people across the planet to be part of this growing movement.
There will be a video available from Wednesday November 26 of the show at The Enmore as a fundraiser for Lock The Gate. Pay by donation, all proceeds to LTG. Go to rockthegate.org.