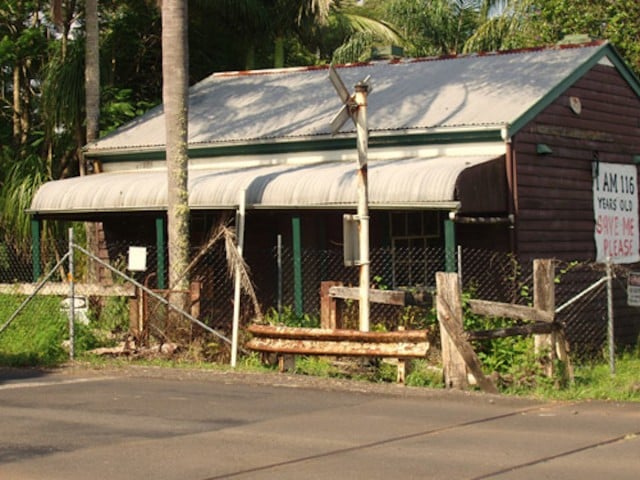 Darren Coyne
The former Eltham Railway Cottage, slated for destruction in 2006, looks set to be handed back to the community.
The Lismore City Council has agreed to negotiate a lease with Transport NSW with a view to sub-lease the cottage to the Eltham Community Foundation Inc.
The Foundation is hoping the cottage will play 'a substantial role' as part of an historic precinct if the proposed rail trail goes ahead.
The cottage is in close proximity to other historic landmarks including the Eltham Gallery, Eltham Friendly Inn, Masonic Hall, tennis courts and other historic built elements, and forms part of the streetscape.
Foundation spokesman John Maxwell told councillors recently that the fight to save the cottage had been 'a long and frustrating journey' but 'we're pleased to endorse the recommendation.
Mr Maxwell said that while site contamination was a serious issue, the Foundation was confident it could be resolved.
Mr Maxwell was referring to an environmental assessment conducted by State Rail in 2005 which found the site highly contaminated and unsuitable for public access.
The contamination assessment detected elevated concentrations of arsenic, lead and polycyclic aromatic hydrocarbons.
'The Eltham community foundation has retained Land, Fire and Assessments to prepare a full site report upon which we will act,' Mr Maxwell said.
The battle to save the cottage has involved a community survey undertaken by the Foundation in 2009.
That survey found that members of the community wanted the cottage to be used as a combined archive/museum, visitor centre and community centre.
Mr Maxwell said that while there was a certain lack of clarity as to what use would be made of the restored building, 'hopefully if the rail trail goes through the cottage will play a substantial role'.
When it came time to vote on a recommendation to lease and then sub-lease the cottage to the Foundation (which would pay for remediation of the site), councillors agreed unanimously to support the proposal.