Chris Dobney
The main access stairs to Byron Bay's popular Clarkes Beach have had to be demolished after erosion made them unsafe.
An Echo drudge noticed the state of the stairs on the weekend and took the above photo of the main entrance to one of Byron's most visited beaches.
The collapsing staircase has since been demolished and a  secondary access point rebuilt by NSW Crown Holiday Parks Trust, which manages the beach's foreshore.
The trust, which has been taken to task by Brunswick Heads locals over its controversial plans for foreshore parks there, has nevertheless moved quickly to reinstall access stairs to the adjoining caravan park, which it manages.
A spokesperson for the trust told Echonetdaily, that erosion events had moved quickly at the site.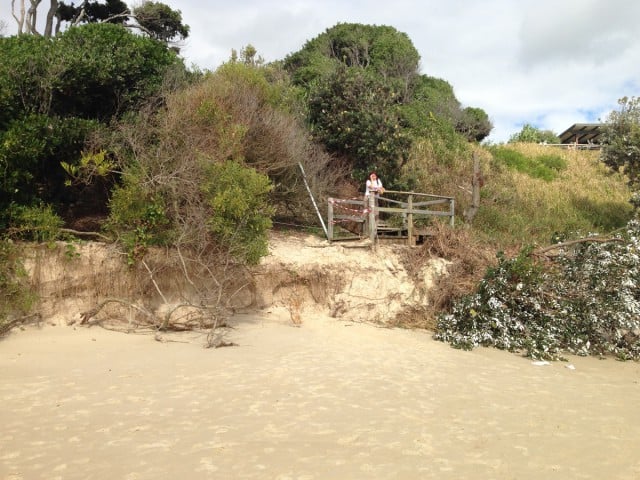 After an onsite inspection of the primary beach access to take measurements on June 12, two days later on Sunday 14, the secondary beach access was destroyed by further erosion
On Tuesday 16, a design for the secondary beach access was completed and a builder engaged.
By Friday 19 the secondary beach access repair was complete.
But the spokesperson said, 'the repair of the primary beach access is a significant job and will it take some time for the Trust to determine the construction solutions available and consult with the relevant government agencies on approval requirements.
'In the interim, this access has been closed and made safe and the 2nd beach access will provide access to the beach for park guests.
'The Trust will coordinate the removal of the main stairs with the removal of other debris along the beach in consultation with [Byron Shire] Council and government agencies,' the Trust spokesperson said.
A spokesperson for Byron Shire Council told Echonetdaily, 'Council is currently preparing a draft Coastal Zone Management Plan (CZMP BBE) which takes a strategic look at the coastal zone from Cape Byron through to the beach south of Tyagarah Nature Reserve.
'The CZMP BBE will consider issues such as beach amenity, public access to beaches and managing risks from coastal hazards such as beach erosion,' the council spokesperson said.