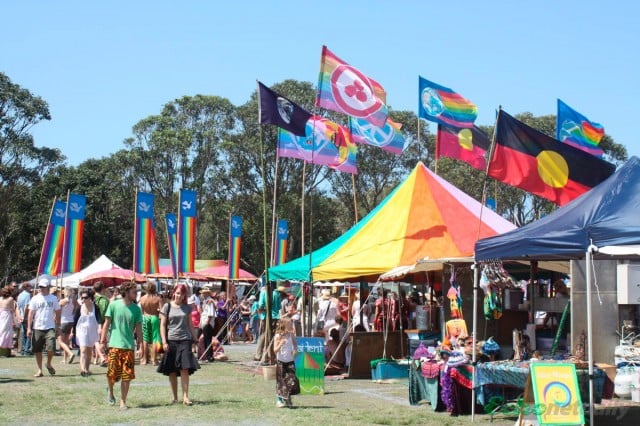 Hans Lovejoy
Both Byron Farmers and the monthly Sunday Community Markets have rejected plans to be relocated from Butler Street Reserve after Byron Shire councillors voted last Thursday that their licences 'may not' be re-issued next year.
A unanimous motion supported the staff report and will 'provide written advice' to market managers of the decision.' Cr Dey was absent and Cr Spooner abstained from voting.
While council will 'enter into discussions' with the operators on a future location, it will also offer assistance in 'seeking and facilitating a suitable long-term markets venue in or around Byron Bay.'
But that's it – no prior planning or discussions with market operators appear to have been instigated by council. The Echo reported last week that Farmers Market organisers sought a meeting with council's general manager Ken Gainger after learning of the plans, and have now confirmed the fight is on.
Farmers Market treasurer Kaye Shadbolt and Community Market manager Tess Cullen confirmed with The Echo that both markets met last Friday and plan to unite against the eviction.
Ms Shadbolt said, 'The Community Market sees no reason for Farmers Market to have to re-locate for the bypass or a car-parking trial.'
'We also want to stay on Butler Street Reserve and only move temporarily when the bypass is being constructed. We are preparing a joint letter to council regarding this issue, to be sent early this week.
'We believe that markets and car-parking trial should be able to co-exist. Also, Farmers Market has requested a meeting with councillors, as we have not had the opportunity to speak with them as yet.'
'Currently Council is asking for submissions for the Byron Bay Bypass. Council is telling us this is another reason why we have to vacate Butler Street Reserve. [But] in the DA from the proposed Construction Engineers (GHD report, page 4, 1.2.3 Market Relocation), it says, 'The weekly Byron Farmers' Markets is not anticipated to need [sic] to be relocated.
'It is a shame that the council is so out of touch with the community.'
Cr Paul Spooner, who is also the manager of the Byron Community Centre, which manages the monthly community markets, told The Echo he is concerned that the markets have not been considered in enough detail.
He also said that he is concerned that council's current projects are putting too much pressure on staff and the community.
Regarding the market location, Cr Spooner said, 'The council motion indicated the licence "may not be re-issued". So, at this stage there is no definite decision that markets cannot operate on the reserve.
'This is what requires discussion and clarification. The position of the Byron Bay Community Association is that the markets' home is Butler Street Reserve and that's where they should be located.'