The Tweed River has a new $240,000 pontoon jetty, at Chinderah, which is set to increase use of the popular waterway by locals and visiting boaties from further afield, including the Gold Coast.
At the southern end of Chinderah Bay Drive, the new pontoon is 30 metres long and three metres wide and connected to the shore by a 17.5 metre gangway.
In officially opening the new facility on Friday, Tweed mayor Gary Bagnall urged boaties using the pontoon to take care with the surrounding fragile mangroves and seagrass beds, which were a cause for concern when the pontoon wasd first mooted.
Tweed MP Geoff Provest, who joined the mayor in the opening ceremony, said the pontoon would  also give boaties better access to Chinderah village, while providing fishers and other community members enhanced facilities on the foreshore.
Installation of the new boating infrastructure was completed in May and included building a new pathway to the pontoon, as well as associated landscaping.
Cr Bagnall said the Tweed River 'is one of our shire's greatest environmental and recreational assets and this new pontoon is an excellent addition to our river infrastructure'.
'With the surrounding mangroves and sea grass beds, it is important to take care when using this particular pontoon,' he said.
'I know the people of the Tweed Shire will enjoy this new asset and that it will further enhance their experience of our wonderful river.'
Mr Provest said river access to Chinderah was important for local and visiting boaters and the river 'is one of the most popular waterways in NSW due to its proximity to south-east Queensland, warm climate and suitability as a holiday destination'.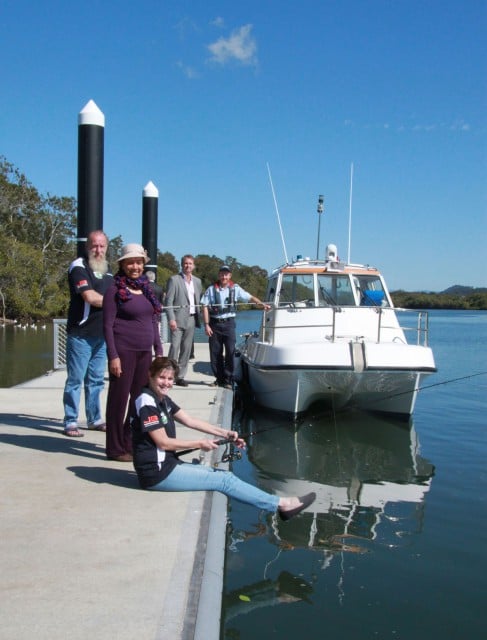 He said the pontoon was delivered through a partnership of the NSW government, Tweed Shire Council and the Chinderah community.
'The NSW Government provided $120,000 for the new facility through the Better Boating Program, which delivers recreational boating infrastructure improvements across the state,' he said.
Tweed Shire Council also contributed $120,000 and managed the delivery of the project.
During debate last year on the proposal, Greens Cr Katie Milne opposed the pontoon due to concerns about the surrounding mangroves and seagrass beds, which she said would be damaged by increased boat use in the area.
Mr Provest said that last August, the government announced $14 million in annual funding for the next five years as part of the new NSW Boating Now program, which replaces the Better Boating Program.
Revenue is raised from boat registration and licence fees to fund the program for improvements to public wharves and jetties, boat ramps, car/trailer parking, sewage pump-out facilities, dinghy storage and boating improvement studies.
For more information on the program visit http://www.rms.nsw.gov.au/projects/key-build-program/better-boating-program/index.html