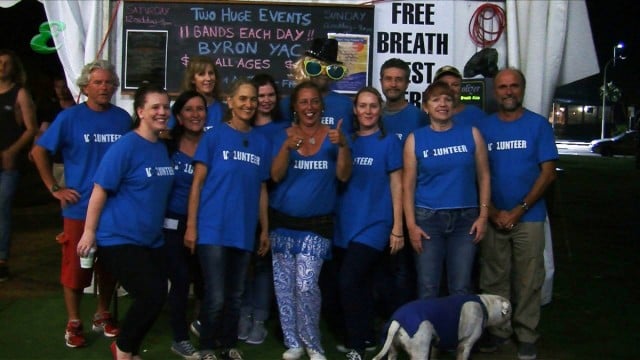 Two young men who are walking from Bondi to Byron Bay, raising funds along the way to build schools in Timor L'Este, epitomise a new and positive energy among schoolies, according to HUB organiser Niqui Yazdi.
Ms Yazdi told Echonetdaily that the first weekend of this year's school-leaver celebrations had gone off remarkably smoothly, despite being the town's busiest so far, with no incidents to report.
She said the one incident that did take place in the Bay on the weekend, did not involve schoolies.
Other media reported that a young woman was 'coward punched' after she chased a man who had stolen her headphones at the silent disco, some distance from the Schoolies HUB.
Ms Yazdi said the woman involved was a German tourist and the man was a Mullumbimby resident.
'It is irresponsible and inaccurate reporting to link this incident to schoolies,' she said.
Pancakes and music
'It's been a great weekend – the busiest weekend since we started the Schoolies HUB seven years ago,' Ms Yazdi said, 'most likely because the dates are a bit later this year.'
'The Red Frogs arrived on Saturday. They've started their free pancakes and chai at the HUB with us every night.
'We've got a great band of volunteers and the shifts are pretty much filled up now.'
Ms Yazdi said a large percentage of kids were from Sydney 'and they're all very happy that they've chosen Byron Bay – a lot of them tell me that they've come here specifically because they didn't want to go and do a Gold Coast –style Schoolies'.
'We haven't had to do a lot of first aid, which quite often is from intoxication.
'The police have been amazing. They've been with us in the park on the last couple of nights and between us we're onto the alcohol.
'It's not just the schoolies: most people wouldn't be aware that you can't bring glass or alcohol into the park or onto the beaches, but as soon as you tell them they're very respectful about that.
'Every night we play music in the park as a strategy to keep the under 18s with us, all in one area, so they're not bored, wandering around town, getting into mischief. And it works.
'We've reduced schoolies-related crime so dramatically over the last seven years that the last few years it's pretty much been non-existent,' Ms Yazdi said.
Byron Schoolies HUB and Fishheads restaurant are supporting the Schoolies Walk for Schooling with a big seafood BBQ next weekend.
For more details check out this video.