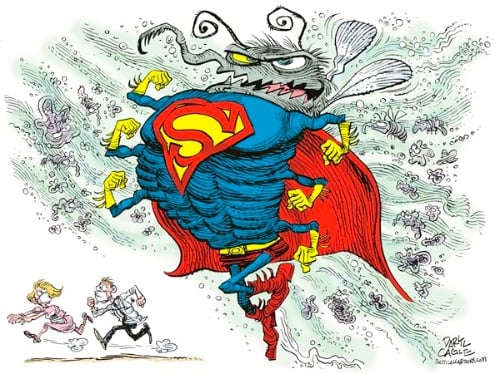 So this week we're being told the overuse of antibiotics has caused the emergence of a superbug. A woman in the US presented with a urinary tract infection and was identified as having a strain of E Coli that doesn't respond to Colisti, our top-gun antibiotic. According to thought leaders on Sunrise, the place that many go to get their information about the world, that's scary. (Personally I am more terrified of Sunrise.) According to Kochie, it's back to the Dark Ages where you could die from a scratch. Samantha Armytage would look a lot more worried if she didn't have so much Botox. I guess deep down she's actually more worried about wrinkles having the same adaptive properties as bacteria. (Oh my god! What if we were to develop Botox-resistant winkles!)
I'm not against antibiotics. They've saved us from what could have been certain death. Ever since then we've bred like amoeba in a petrie dish. Our population is becoming unsustainable. But we won't stop breeding. We won't stop pumping carbon-creating toxins into the atmosphere or sociopaths into the politi-sphere. (I think I just made up a word. Shit, I'm becoming vocab-resistant!)
As a species our destructive behaviour goes unchecked. Or does it? Right now, bacteria are threatening to kick our butts. Unless we start taking more responsibility for our health, we could be done. The woman in the US recovered from her bacterial infection. Not through drugs, but with something old-fashioned and pre-installed – called her immune system! Bacteria aren't just a badass. Bacteria have a plan. Bacteria aren't a lone gun. Bacteria are all about community. To save their community, bacteria get clever. We could learn a lot from bacteria. And right now, bacteria aren't just smart, they're smarter than we are.
They're smarter than we are because they're not disabled by the mythology of the 'individual'; they work for their community. Sound too communist? Still romanticising the incredible acts of individuals? Sure we're capable of moments of sublime genius. We have spawned Mozart, Einstein, Leonardo da Vinci. When was the last time bacteria wrote a symphony? When did bacteria develop relativity theory? Or paint a whimsical smile on bacteria's transgender self?
But by the same token, when did bacteria decide to let loose an idiot like Donald Trump as a presidential candidate? Trump wouldn't survive as bacteria. In fact, I'm less frightened of bacteria than I am of Donald. Bacteria are at heart altruistic (albeit to their fellow bacteria). Trump is something worse than antibiotic resistant. He's ethic resistant. Intelligence resistant. Kindness resistant. He is the greatest living threat to humanity since Adolf Hitler. I don't think it's a coincidence that we are facing the possible emergence of antibiotic-resistant superbugs at the same time we are facing the reality of a sociopathic superbug such as Donald Trump as supreme leader of a global superpower. It's going to take more than a good immune system to fight off the damage he causes.
I have no doubt that Donald Trump will be elected president. And yes, we have an election looming too, but it's hard to care that much about what happens in Australia when a maniac is about to take the world's driver's seat. At least Bill Shorten had the integrity to acknowledge him as a madman. The only hope the world has now is not the 'superman'. It's the superbug. Let's hope some toupée-resistant bacteria colonise Donald's creepy world-domination-obsessed brain.
In the meantime, I guess we should start working on our immunity. To stupidity.