The 2016 council election has a larger line up than 2012, and includes current councillors and a swag of new faces.
There's eight groups and two independent councillors to choose from, and six choices for mayor. Of note is the retirement from public life of conservative councillors Di Woods, Chris Cubis and Sol Ibrahim, while current conservative councillors Rose Wanchap and Alan Hunter are seeking the mayoral position. All five held the balance of power in the 2012–16 term.
Current Greens mayor Simon Richardson is seeking re-election for the top job; he spent the last four years without a mandate after the early defection of Cr Wanchap from the Greens. Current left leaning councillors Basil Cameron (Our Sustainable Future) and Paul Spooner (Country Labor) are also running for mayor. Jack Sugarman is also having another crack at the top job of mayor, having previously promised to abolish Byron Shire Council if elected.
New faces include James Wright, Byron Bay Chamber of Commerce president and realtor Gail Fuller and Cate Coorey from Byron Residents Group. Independents include Matthew Hartley and George Graham.
Group A – Our Sustainable Future
Goonengerry resident and current councillor Basil Cameron is again seeking to be mayor, and brings to the table Ash Stennett, who is active within the Mullumbimby Chamber of Commerce.
Main Arm resident Malcolm Price is third, and Judith D'Abbs from The Pocket is fourth.
Cr Cameron said in his pitch for mayor: 'Our Shire faces major challenges in a rapidly changing world. Development pressures, climate change, protecting our biodiversity, wild coast and heritage, supporting rural communities and local economies, building resilience through clean local food and energy production, planning for liveable and inclusive neighbourhoods.'
'Our Council has to work hand in hand with the community for a sustainable future.
'More than ever we need leadership that listens and actively consults rather than confronts. Leadership that promotes transparency rather than secrecy. Experienced leadership with a strong record, skills and determination to harness the brimming talent in our community.
'Standards of governance must lift in the new Council to strengthen our ability to deliver the support, infrastructure and services we need for a sustainable future. As Chair of Finance Committee since 2010, I have played a strong hand in moving Council's finances from precarious to 'fit for the future.
It's our future and together we can make it sustainable with strong, experienced and effective leadership.'
Group B – The Greens
Current mayor Simon Richardson is again vying for the top job, and has a ticket of three fellow candidates. Second on the list is Santos Health Foods manager Michael Lyon, third is Mullumbimby chamber of commerce secretary Jeannette Martin and pitched fourth is school teacher and journalist Sarah Ndiaye.
Cr Richardson said, 'Each candidate brings strong Green credentials to the team, with long histories of community involvement across important local issues including anti-CSG, chemical and plastic-free Byron, affordable housing, youth training and development, small business development, and affordable housing.'
'The combination of professional experience, community-leading experience and rich personal experience ensures that our team will embrace the responsibility of being a councillor with humility, sensitivity and intelligence.'
'For committed, talented and positive community leaders – who can steer Byron shire towards a future that embraces the challenges of change – while preserving the uniqueness of our community, look no further than the Green Team in 2016.'
Group C – Country Labor
Seeking a second term on council Cr Paul Spooner, from Byron Bay, will also be standing as mayor.
His ticket includes author and educator Jan Hackett (Byron Bay) and school teacher and principal William Constable (Mullumbimby). They are followed by SCU student of politics and government, Joe Dawson (Ocean Shores), former ALP advisor Monika Wheeler (Bangalow) and United Voice union organiser Peter Doherty (Bangalow).
Cr Spooner told Echonetdaily: 'I want to lead a constructive council that makes the best decisions for our community. I will provide a sensible alternative for the Shire's top job.'
'People can have confidence that the shire's finances will be professionally managed, that the roads will be fixed and their rates will go towards maintaining the community facilities and infrastructure our community needs.
'I want to ensure that locals can afford to live in decent housing while maintaining secure employment in our region.
'We live in one of the best places in the world and I want to support, promote and protect our wonderful community and it's north coast lifestyle.
As a progressive mayor I will deliver better planning policies, greater investment in renewable energy, effective communication and improved transport options. I will ensure that our environment is in safe hands and the diversity of our community is respected.
'I ask you to join with me to create a caring, inclusive and vibrant Byron Shire together.'
Group D – The Middle Ground
Current councillor and mayoral candidate Rose Wanchap is again running for council, having been elected on a Greens ticket in 2012. She quit the party early in Council's term. She brings three others – Brian Latham (builder/farmer), Scott Cantrill from Byron Bay (farmer/teacher) and also from Byron Bay is number four on the ticket, Walter Halvorsen (small business owner).
Ms Wanchap's statement reads: "Its time for a new type of politics. Time for the LEFT and the RIGHT to come to the CENTRE. We need to find the Middle Ground. Our shire faces a number
of challenges that our elected councillors will need to have the courage and foresight to address. Not just the growing concerns around climate change, pesticide proliferation and water degradation but our economy is also on dangerous ground. We should be looking very carefully at how we can create jobs, expand and protect our businesses who employ our people and find a way to reduce the cost of housing, either as owners or renters. New housing estates can provide a win/win for the community in that they offer shelter to more of those who live in the community at more affordable prices, jobs for our tradies and local businesses and more rates income to share the cost of ever increasing infrastructure maintenance.
"It is too easy for those who would like to keep the value of their own real estate spiralling ever higher to block all new development but truly, the rates collected from the present residents fall dismally short of meeting budgets – hence "Paid Parking" the untameable dragon that came to town.
"Ideologies need to be funded. Keeping Byron Bay as a sleepy little village is to return to the days of failed businesses, empty shops, high unemployment, broken homes and many of our youth leaving to find work in the cities. It is time to find the middle ground with Development. Those of our community who live in illegal garages and humpies all over the hills, who have to clock up travel miles and own second cars should have the choice of being able to purchase or rent close to where they work.
"Every new estate should use bioenergy technology, renewable energy, reusable recycled waste, third pipe storm & grey water reuse and rainwater tanks.
Renewable industries will boost our economy and provide jobs."
The website the group have provided is yet to go live: www.themiddleground.com.au.
Group E – James Wright
Young newcomer to politics is James Wright, who lives in Mullumbimby.
He also ran for the senate in the recent federal election with a platform of democratic reform and the use of technology to enable a greater level of participation by all members of the community.
Second on his list is Coorabell resident Liam Munday, who stood as an NSW independent candidate for the Senate as a member of Ubuntu.
Mr Munday says Ubuntu Australia promotes a system of local banking and Contributionism .'Contributionism allows every person to contribute to the community,' Mr Munday said. "Skills are valued, rather than monetary value or the position they hold in the workplace or on the corporate ladder. These include the creation of ecovillages that combine the use of sustainable energy, clean water, local interest-free banking and the skills of community members."
Third is Blair Beattie, also from Coorabell. Blair is a local business owner (Goddess of Babylon) and was one of the main organisers for the recent Freedom Summit festival, held last October. He hopes to support the Byron community's continuing evolution in becoming a healthy, sustainable and vibrant community and model this nationally and internationally. Blair has recently been appointed to the working group for the Brunswick Eco Village (http://brunsecovillage.com.au/about-bruns-eco-village/working-group/) to assist in its outreach and consultation process to help craft the most desirable outcomes for the local community and residents.
Bradley Wodiske from Byron Bay is number four and a local business owner (NAMI). Bradley previously ran on outgoing councillor Sol Ibrahim's ticket in 2012. Bradley says he stands again this council election dissatisfied and unhappy with the decisions made by Mr Ibrahim in his term as councillor. Bradley stood with Mr Ibrahim on the foundation of a platform of consultative and transparent governance and leadership. He does not feel these were followed and stands with James in his team to ensure Byron see's the return of a green and progressive majority, enshrining the protections needed to make sure any further development in the shire is done with community consultation and environmental best of practice processes.
His profile from then is available at www.echo.net.au/2012/08/bradley-wodiske-byron-candidate/ where he emphasis's his values and priorities in this critical area of community consultation.
Mr Wright's statement reads: "Local government is the ideal place to explore and enable this upgrade to our democratic process. Why should we wait every four years to have our say as a community? If elected all members of the group will make a firm commitment to use new technology platforms such a FLUX and Udemi to allow the people of Byron Shire to make up their mind on issues and have a voice on an ongoing basis".
"We stand as a group united with a clear single focus and goal to make the Byron Shire a leading example not only nationally by globally for its support services for those living without a home and the creation of new affordable housing communities.
"Our goal is to work with other Councillors and Council officers to develop a combined public and private funding platform that creates a new ecosystem of support for those sleeping rough or without a safe and warm place to live.
"Such an ecosystem would be created through the combination of services modelled on those proposed by sleeperbus.org in Byron and Mullumbimby taking 44 people a night off the street, the washing services of Orange Sky Laundry and food redistribution services of OzHarvest and its REAP initiative.
"Working cohesively these three services will be a major enabler in creating a support bridge to low-cost affordable housing solutions much needed for the Shire. Such solutions will be the focus of the members of the group if elected to ensure they are enshrined within the  Rural growth and land Policy ensuring the right protections are in place for non-progressive and affordable developments put before the Land and Environment council."
James Wright's website is www.ejameswright.com.
Group F – Gail Fuller
Gail Fuller who is the president of the Byron Bay Chamber of Commerce and local long-term real estate agent, heads the ticket for an all women team.
Gail feels the business community needs clear representation in the shire and believes strong community consultation essential to deliver positive outcomes. She is very active in the community and assists on many projects.
Second on the ticket is Cerise Gollogly who has been an is an Artistic Director and Arts Representative working in the Visual and Performing Arts and Entertainment sector for over 20 years.
She is focused on creating Sustainable Solutions for the Future of the Byron Shire. Her attention is set primarily on Integrated Design, Education, Art and Business innovations and the Activation of Public Spaces.
Third is an original locally born Leah Kapral, an Environmental Scientist from Ocean Shores who has worked in both the public and private sectors. Leah has lead environmental planning aspects of railway, aviation, water sustainability, community engagement, and waste management projects. She is currently leading the Ocean Shores Master Plan group and other community based local projects.
Last on the ticket is Kirsty Harland. She is passionate about supporting the younger community in securing jobs and mentoring young businesses to grow. She wants to see young locals thriving and building a solid foundation in the shire in both housing and employment.
The team represents a cross section of the community says Gail. 'We feel that without the duress of a politically party flavouring their views on important infrastructure and planning decisions, wew can bring a common sense representative point of view to the table. Opening up the conversations about the community needs so that the ratepayers can have their views voiced and included in the decision making.'
'Politically we hold a very moderate, centrist view and our focus is on sensible planning, community engagement and supporting a sustainable economy for our diverse community. The environment is a very important factor in all planning decisions, and ensuring the protection of our landscape in what the Byron Shire represents to this region is paramount.'
Gail Says she is very passionate about protecting the rural landscape and farming industry and encouraging more joint food production ventures. Working with rural landholders is paramount to the success of biodiversity corridors she says. 'Our team is interested in that protecting the environmental values such as vegetation and wildlife that are endemic to the region.'
'I feel we need diversity in our housing to support both affordable housing objectives including small housing initiatives.  We need smart planning with designs and space that compliment the look and feel of the Byron identify. Our culture and arts sector needs nurturing and strategic support, such as incubator hubs for the entrepreneurs to collaborate and grow. Let's keep the town free of fast food and showcase our incredible regions culinary delights and value add this to the visitor experience of the Byron destination.
'Ocean Shores and Billinudgel have been our forgotten towns for too long. Community infrastructure and facilities are urgently needed in Ocean Shores for the families and the high population that live there. Planning is well behind other towns with basic upgrades to roads, footpaths street lighting, pedestrian safety and amenity needed.
'We appreciate there are many sensitive issues in the Byron Shire at present and very radial differences in opinion regarding development and the environment. We feel that a transparent, common sense, considered approach is needed so that we can continue to support the shire in making decisions that build a truer foundation for our people. And from these decisions see movement and action.
'We have finally got money in the bank to start rebuilding our shire, and we need to ensure that through good governance with finance that we continue this and also ensure that we don't have to sell more assets to become "fit for the future" again to avoid amalgamation so the Byron identify can be retained.'
Gail Fuller's website is www.gailfuller.com.au
Group G – Byron Shire in Balance
Current councillor Alan Hunter has a ticket and is also putting his hand for mayor. Cr Hunter previously won a seat on Council on Cr Woods's ticket and is a National Party member.
Second on Cr Hunter's ticket is Marc Patten, a retired police officer and president of Shores United Soccer Club. Third is fellow Ocean Shores resident Tina Petroff and fourth is Brian Grant, who is form Byron Bay.
Cr Hunter's statement reads: 'New team to put Byron Shire back in balance'
'A team comprising an experienced councillor and three long-term community-focused residents are running in the local government elections to put the balance back in the Byron Shire. The Byron Shire in Balance team comprises Alan Hunter, who is also running for mayor, well-known Ocean Shores resident Marc Patten, lifelong resident Tina Petroff, and Bangalow businessman Brian Grant. Mr Hunter says the team aims to balance opportunity with the obligations that come from living in such a unique location. 'The opportunities for the shire are endless but we need to remain focused on building community capacity and not tearing it down," Mr Hunter says. 'We can do so much for measurable outcomes such as jobs, visitor numbers, established environmental benchmarks and community social expectations. 'But we also have an obligation to respect our environment, as well as our financial capacity and social diversity to capitalise on our international profile, regional strength and local talent for the benefit of all residents.' Mr Hunter says his team is best placed to deliver on these outcomes through a mix of a proven track record on council and community involvement on the ground. 'In the last four years we have worked hard to reduced council's debt by over $20 million, increased our annual infrastructure spend by 10 times, developed master plans for our towns, upgraded our parks and sporting facilities, improved business confidence and much more,' says Mr Hunter. 'But this hasn't been easy to achieve with a faction within council determined to scuttle any attempts to get on with a responsible attitude to managing the shire. Byron Shire Council has been deemed fit for the future because difficult decisions have finally been made, debt has been reduced and an opportunity has been offered on a way forward for a sustainable future. This is why my team is best placed to continue this work for the benefit of the shire.'
Group H – Community Byron 
Catherine Coorey, president of the Byron Residents' Group, heads up Community Byron. Second on the ticket is permaculture student and design consultant Ben Mallinson from Mullumbimby. Third is scientist, ecologist and environmentalist  Caitlin Weatherstone from Suffolk Park. Fourth is locally born and raised Byron Rogers, who is a former police officer and is currently studying building and construction. He's also secretary of the Byron Bay Malibu Club.
Cate Coorey says her the team is made up of all first-time candidates, who bring a 'new and vibrant energy to the Council fray.'
'It's no accident that Byron is special and unique,' says Ms Coorey, 'it's the result of a vigilant and defiant community protecting what we value and nurturing it. Byron is a welcoming place, but increasingly we are being squeezed by demands placed on us by outside forces. Our group will make community wishes and the environment the top priorities in the whole Shire. We support sensible development and we are interested to hear what people can give to this place not what they can get from it.
Their website is at www.communitybyron.com
Independents
Independent George Graham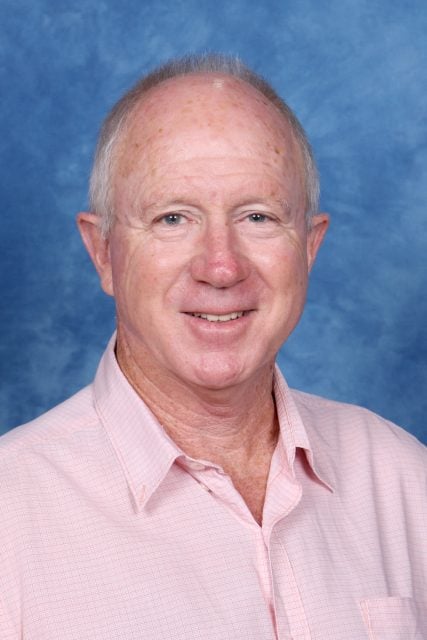 Mr Graham wrote this of his candidacy: 'I am not National, not Labor, not Green, not Rose. I will be an independent councillor not locked into a group voting ticket. No vested interests or political affiliations.
'We need transparency and common sense in all decision making. Social justice should be high on the agenda.
'Wealth and stealth are a constant threat to community values. Councillors should represent the community first. I don't plan to make any promises but to consider all proposals on their merit in relation to community, environment and sustainable practices. We have a great opportunity in this shire to set the standard for the nation in the way we progress into the future.
'Born in Bangalow and first moved to Byron Bay 50 years ago. High school in Mullumbimby and then moved for study and work. Returned to Byron Bay in 1991 and loved living here ever since. This is a great shire to live in and we have a great responsibility as we face increasing pressure from outside.'
Independent Matthew Hartley
Matthew Hartley, from Byron Bay, is again running as an independent councillor, having previously ran for state and feral parliament.
His statement reads: "Friends introduced me to Byron Shire in 1989.   I fell in love with the place, and have never wanted to live anywhere else.  Some of that is the beauty of the land, sea, and sky, but mostly it is the people and culture.
"My love for them drive my sense of duty.  To protect the rights of ratepayers and renters.  Ratepayers deserve a 10-year rate rebate.  Yes, because for 10 years we've been robbed, our money used to subsidize illegal businesses.  Thousands of dollars must be returned to every ratepayer.  Renters are overcharged, or driven from the area itself.  When the people are gone, the town will be a shell, a shit-hole, a soulless, pointless monument to crookedness and greed.
"It burns my heart to see the people driven out by corruption.  Areas zoned residential handed over to those lacking the decency or acuity to run an honest business.  Fraudulent DA's approved, laws not enforced…unless you are poor, or parked wrong.  Corruption is the death of all that is decent.   Every community in this Shire will be torn to shreds, unless people who care stop the rot.  So, wheelchair or not, I am standing.
His previous profile is www.echo.net.au/2015/03/matthew-hartley-independent-candidate-ballina/
Independent mayoral candidate Jack Sugarman
Jack Sugarman is running for mayor, but not a councillor.
He has also previously ran as councillor. His brief description for himself from the 2012 election reads: 'A frustrated older Australian having watched rates going up and services decline,' and he said his vision is to 'merge Ocean Shores and the north with Tweed Council, and Ballina, Byron, Lismore and Rous combined and administered in Goonellabah.'
His previous profile is at https://www.echo.net.au/2012/08/jack-sugarman/