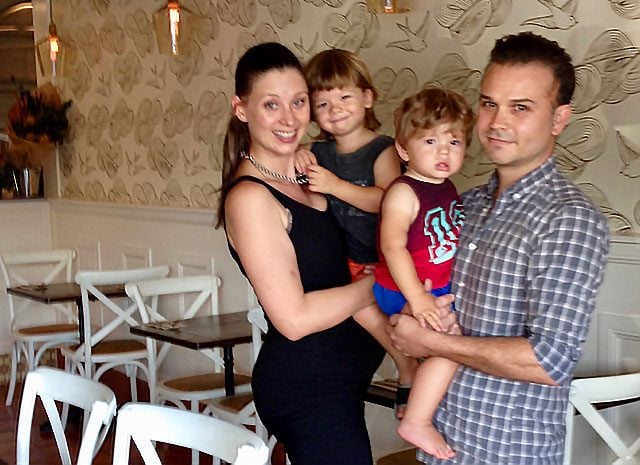 A great deal of thought has gone into a new vegan restaurant – The Beet – that has opened in Byron Bay.
The thoughtfulness towards customers extends to people on all parts of the vegan spectrum.
Firstly, to vegans. 'We wanted to put more options out there for vegan people,' says co-owner Heather Myers. 'It can be hard to get a good meal out.'
Equally, The Beet is for people who are curious about veganism and those 'transitioning' towards this way of eating. 'Most people become vegan for issues of ethics but that doesn't mean they don't like the taste or texture of meat,' Heather says.
Heather, who became 'mainly vegan' a year ago, understands this conundrum. She eats vegan at home but says she tends to 'slip up' when eating out. 'I'm a really social person and there are pressures to eat differently when you are out,' she says. 
This is why The Beet offers meals that are tasty and texture-full. 'A lot of people think vegan food is all salads and lentils,' says Heather. She stresses that, while those options are fine, The Beet wants to offer more options more suitable for a special night out – something you wouldn't be likely to cook yourself at home.
There is a 'Beet Burger' (try saying that three times fast without lapsing into saying 'beef') that has eggplant parmigiana as the 'meat' of the burger, along with avocado, witloaf and sauerkraut, all on a beetroot-coloured bun. 
There is also Vegan 'Pulled Pork' Crespelle, that uses jackfruit as the 'stand in' for pork. 'When you cook the jackfruit, it breaks down like pulled pork,' explains Heather. She tells me that this is currently an on-trend dish in the vegan world: 'It's not a unique concept but we do it differently; elegantly with more of a French feel.'
There are a couple of raw dishes, including raw cakes for dessert. 'Cooked desserts are coming down the track,' says Heather.
The Beet is a team effort. Heather and husband, Aaron Bilbija, are co-owners and creators. Aaron's parents and brother are both in the background as investors as well as in the foreground assisting with set-up and caring for Heather and Aaron's two (soon to be three!) young sons (Jesse, aged 3 and Brody, aged 1).
The Head Chef is Sebastian Goldhorn who, after years working in fine dining in Sydney, converted to veganism and was eager to have the opportunity to lead a kitchen without meat, and be able to use his knowledge and skills to help tranform some of Heather and Aaron's ideas into reality.
The other group that The Beet is pleased to be catering for are friends of vegans. 'We're getting a good response from non-vegans,' says Heather, saying that they've had people confess that they didn't realize they could get vegan food that is like 'real food'.  'Vegans are finding it a relief to be able to go out to dinner with their friends without having to worry about whether they will be able to eat anything, or having to ask about every dish.'
'We want to make vegan food more accessible,' Heather concludes.
Given the thoughtfulness that can be seen in every aspect of the new restaurant, I assumed that there would be a detailed story about the name: 'The Beet'.  When I ask about the name, Heather firstly notes: 'We don't want to have beetroot in every dish, though funnily the House Made Beetroot Gnocchi is proving to be their most popular dish.
And the inspiration for the name? Says Heather: 'I just thought naming it after a vegetable would be good' It seems that this is one aspect of this new business that didn't require too much thought!
The Beet Vegan Restaurant, Shop 6,
North Byron Plaza (near Woolworths) Byron Bay. Lunch 12–3pm,
Dinner 5.30–9.30pm, Tuesdays–Sundays.
@thebeetbyronbay