It would be tempting after 13 and a half months working on a project, to make some money from it, but two local film makers are giving away their hard earned work for free.
David Lowe and Eve Jeffery from Cloudcatcher Media are so determined that every pair of eyes in the country see their latest film Sacrifice Zone, that they have mounted it online without a ticket price. Not only that, you can download it and share it around.
The 100 minute feature documentary Sacrifice Zone, is a huge conversation between about 70 people on the hazards of drilling into the Pilliga Forest and the Great Artesian Basin (GAB), by a greedy big gas co in their quest for Coal Seam Gas (CSG).
The film is a response to South Australian mining company Santos who are seeking government approval to develop a gasfield in the Narrabri area in northwest New South Wales.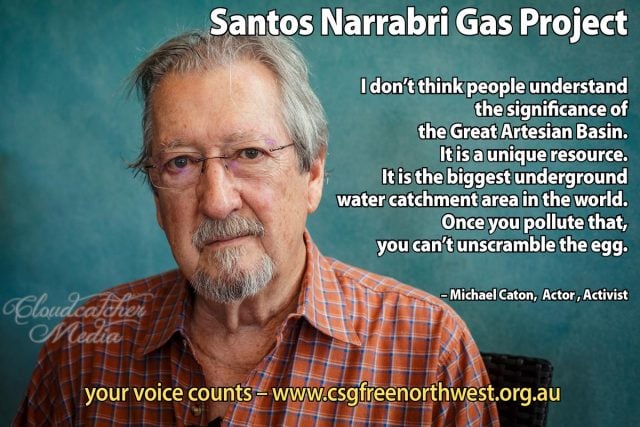 In a thin-end-of-the-wedge proposal, the Narrabri Gas Project plans to start by drilling 850 gas wells into the Pilliga Forest and through the GAB. The Pilliga is the southern recharge zone for the GAB which in many cases is the only secure water supply for famers across the Liverpool Plains and beyond. If that water is contaminated by the drilling process, in the words of actor and activist Michael Caton who appears in the film: 'You can't unscramble the egg.'
'We have interviewed every expert we could find to speak about the issues surrounding this invasive mining industry', says co-producer/director Eve Jeffery. 'We have created a very large wall of information that will be impossible for Santos to get over, go around, or drill under.
'Every conceivable argument Santos can find to get this project up and running, is answered by science and local knowledge in this film.
There have already been some great testimonials for the film. Multiple Golden Guitar winner Luke O'Shea says that he feels Australia is at war and the enemy is apathy, short-sightedness, greed and corruption.
'Be inspired by these remarkable everyday people featured in this incredible documentary', says O'Shea. 'Learn just how powerful you can be! Your voice – Your vote – You can win this war.'
The Oils songwriter and drummer  Rob Hirst said that the documentary is inspiring and tragic, compelling and utterly convincing. 'NSW and Queensland's unfolding coal-seam gas is a catastrophe', says Hirst. 'The grave danger to the priceless Great Artesian Basin is described in passionate terms by a diverse cast of farmers, firies, boffins, greenies, pollies and First Nations elders.'     
The film's co-director/co-producer David Lowe says that if the film connects with you, then forward the link to politicians at all levels of government. 'Then they can't say they don't know. We are encouraging people to do house and hall screenings around the country. Please get in touch with us.'
When asked why they were delivering the film for free, Cloudcatcher Media said they need this film to be seen by as many Australians as possible before a decision is made about the Narrabri Gas Project, and we need word of mouth to make that happen. 'This is a fighting film', says David Lowe. 'The Northern Rivers may be safe from CSG for now, but the rest of the state is not, and north west New South Wales in particular needs the rest of the country to get educated and stand with them'.
The film will be available on DVD and bluray soon.
For more information about the film, screenings or how you can support Cloudcatcher Media, email: [email protected]